Last Friday's "must" win ...
By Pete Mohr | October 8, 2008
Unless you've been living under a rock these last six days, you know the Football Falcons raced out to a commanding 24-0 lead, then held their own in the 4th quarter to score a 24-14 "must" win over the Shadow Mountain Matadors. For-get the incentive of Homecoming. For the Falcs (3-2, 1-1 Region) to break even or better this season, they had to beat Shadow – and they did.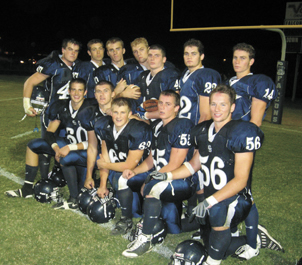 The 'Birds grabbed the "mo" in the 1st quarter and never let go. On the Matadors' first possession, a deep throw had them 1st-and-10 at the CSHS 15. A botched handoff fumble was recovered by Junior DT (and game quad-captain with Dillon Classen, Zach Sexton and Bo Campbell) Tyler Souva. Seven plays later, following a 50-yard strike from Classen to Danny Trittler (the first of his three critical receptions), Senior running back Jackson Donahue burst 12 yards off right guard for six at 9:39. Bryce Redmond's successful P.A.T. almost made the Carefree Highway!

At 6:36 of the 2nd, Redmond booted a 23-yard FG out-of-sight! Falcons, 10 - Shadow, 0. Then came the dramatic end to the Matadors' "bullfight." After the "Bradshaw Bad-Asses," led by a sack and a 4th down "hurry" by Junior Connor Dubin, stopped Shadow, Classen moved the Falcons to the S.M. 37. With only 0:07 left in the half, Trittler (who did everything but sell 50/50 raffle tickets!) raced behind the MAT safety and made a terrific catch for the TD. Falcons into the locker room, 17-0. Time for Melissa Velez's triple-snappy Dancers, Rika Cuff's super-acrobatic Cheer, Gary Wykoff's robust Band and presentation of the Homecoming Court.

After Senior linebacker Kenny Prodan's fumble recovery at the SM 42, fresh-legged Senior running back Anthony Stephens punished the tiring Matador defense, exploding the last 12 yards for the TD. The Souva-[Paul] Walsh-Redmond trio converted: Falcons, 24 - Matadors, 0. No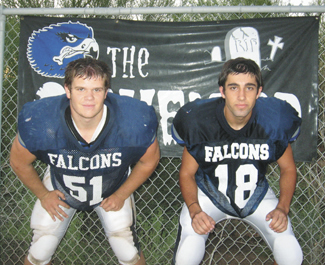 w about "class" (the Falcons) and "no-class" (the MATs). Shadow would score 14 unanswered points; and their ensuing onside kick bounded high out-of-bounds (whew!) at the CSHS 43: 4:35 left. Facing a 3rd-and-13 from the Falcon 40, Classen hit Trittler short, who twisted and fought to a 1st down at the Shadow 31. On three carries, Stephens powered to a 1st at the Matador three. 1:05 on the clock. Stephens to the one. Then, "Touchdown, Falcons!" exulted P.A. announcer Kevin Aholt. "Mighty Falcons!" struck up the band. But the head linesman ruled that Stephens had not crossed the goal line plane. ("I know I had one foot in the end zone," Stephens to Sonoran News, postgame.) Time for one more snap. At Coach DeGrenier's call, Classen takes a game-ending knee. That's "class."

And the Matadors' "no-class?" Planting an ugly-looking black sledgehammer near midfield before the start of their warmups. Shades of "T.O.", as a 49er, dancing on the Cowboys' "star" logo! Or the U of A's Clarence (?) Farmer precipitating a postgame brawl with his similar stunt on ASU's midfield "Sparky."

Walking to my car in the company of Prodan, Stephens and "King" Nick Bennett, Kenny (Prodan) said it all, quietly but proudly: " Tonight, we were the hammer, and they were the nail."

Top photo: GAME BALLS were awarded by Head Coach Chad DeGrenier first to Junior linebacker Alex Samartino (standing, 5th from l.) and next, to the offense: (kneeling, l-r) Nick Bennett, Tommy Nevin, Alex Boat, Tyler Souva, Jason Link; (standing, (l-r) Kenny Prodan, Tommy Murphy, Brady Dombrowski, Dillon Classen, Samartino, Anthony Stephens, Danny Trittler. Absent from photo: Jackson Donahue.

Lower photo: Give these two a shovel! … to "bury" the Shadow Mountain Matadors, who planted a sledgehammer near midfield before their pregame warmups. Linebackers Senior Cody January (l.), praised by Assistant Coach Chris Frederiksen as the game's "unsung hero", and Junior Connor Dubin, big pass rushes, made sure that it was the Matadors who got "hammered"!
Photos by Pete Mohr

This Friday, at Saguaro
Location: 82nd Street, north off McDonald (Scottsdale)
Nickname: Sabercats
Colors: Black & Gold
Head Coach: John Sanders
How to get there: Route of choice to Loop 101 South; exit at McDonald; west on McDonald to 82nd Street; right on 82nd; continue past Saguaro to parking area on your left.
Last season: At CSHS; Sabercats, 49 - Falcons 7. After Falcs led, 7-0, at the end of the 1st quarter, 'Cats scored 35 unanswered points in the 2nd period and tacked on 14 more in the 2nd half. For the Falcons, a second wake-up call to 4A-1 football.
This season: Sabercats are prowling for their third consecutive 4A-I State Championship. In their first five games, the 'Cats have run up a brutal 244 points to their opponents' 32; but in their two most recent games, Shadow Mountain (at home) played 'em tough; and last Friday, at Paradise Valley, "Sag" survived, 23-19. Falcons hope to catch the 'Cats looking toward their Oct. 17 showdown (at Saguaro) against Chaparral; but this Friday, it's their Homecoming!
What Falcons must do to win: Coach DeGrenier, after congratulating his Falcons on their Homecoming victory: "Saguaro can be beaten! I don't want you stepping on the field expecting to win: You've got to know that you're going to win!" To Sonoran News, after Monday's practice, "We've got to make big plays – on both sides of the ball."
"Crow" predicts: From a 1950-remembered rodeo in Alamosa, Colo., "Rather than take your time, this cowboy takes no time!"
~ Pete Mohr
Cave Creek residents receive Freedom Alliance Scholarship
Mathew and Danielle Gonzales, residents of Cave Creek, Arizona, are recipients of the Freedom Alliance Scholarship for children of U.S. service members who have been killed or permanently disabled in an operational mission or training accident.
MORE ...