Last Friday's heartbreak
By Pete Mohr | October 1, 2008
From Sonoran News, Sept. 24-30: "'Dino' reluctantly sez: Trojans, 35 - Falcons, 20. How I would love to be wrong!" Say "Goodbye!" to "Dino," Falcon fans. Thanks to Defensive Coordinator Matt Bradshaw, I shall be known forever hereafter as "Crow" (as in "eating crow"). Ugh! How 'bout a little chipotle sauce, Coach Matt? Falcons, 16 - Trojans, 21.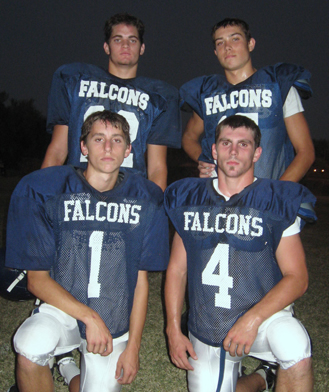 Unbeaten and #3-ranked Paradise Valley came up the hill to Falcon Stadium last Friday night, and the HomeBirds gave the heavily-favored Trojans a battle – and then some! On the game's third snap, P.V.'s junior running back Jake Brown (not the heralded Tyree Parker) dashed 64 yards down the east sideline for six at 1:17. At 3:12 of the 2nd, Parker took a swing pass from junior QB Kevin Spain and sprinted 22 yards for the second Trojan TD. P.V., 14 - Falcons, 0. They would not score again until 5:51 of the 4th (Brown's 60-yard scamper with a desperation shovel pass from Spain), after Bryce Redmond's 30-yard field goal late in the 2nd and Anthony Stephen's 8-yard sweep early in the 3rd pulled the Falcs to within four. The Trojans were suckin' for wind, as the 'Bird sideline roared their traditional "Four!"

Even after Brown's momentum-changing 2nd TD, the Falcons still came back to score in only two plays, sandwiched around a 15-yard roughing the passer penalty. A 35-yard strike from QB Dillon Classen to an in-full-stride Tommy Murphy made it 16-21, with 3:07 showing on the Van Chevrolet scoreboard clock. Classen's pass for two went incomplete; and Redmond's onside kickoff, a high-bouncing beauty, was "saved" by Trojan Ebenezer Makinde. Then Mr. Brown sealed the deal with a 42-yard breakaway to the Falcon 17. The thriller was over.

Postgame, Sonoran News to Head Coach Chad DeGrenier: "Coach, did your team grow up tonight?" "I don't know," replied the disappointed (and frustrated) "Coach D." "I'll have that answer for you next Friday after Shadow Mountain."

Falcons, "Crow" is proud of your gallant effort. Now "Gore the Matadors!"

Photo caption: FOUR FOR THE "O": (kneeling, l-r) Bryce Redmond (FG, one P.A.T.), Jackson Donahue (10 carries for 158 yards); (standing, l-r) Anthony Stephens and Tommy Murphy, each with a TD, led the Falcon comeback against P.V. at Falcon Stadium, Friday, Sept. 26. | Photo by Pete Mohr

This Friday, Shadow Mountain
Location: Shea Blvd (Phoenix)
Nickname: Matadors
Colors: Navy Blue & Gold
Head Coach: Josh Sekoch
Last Season: At Shadow Mountain. Matadors, 21 – Falcons, 18. Falcs blew 1st quarter chances. Last minute drive to tie or win was killed by an INT at the Matador 25.
This Season: Matadors are 2-2, but played tough against perennial powers Millennium (away) and Saguaro (home). Running back Dale Giancarlo rushed for an impressive 175 yards against Saguaro.
What Falcons must do to win: Coach DeGrenier: "Stop their 'Mike Brown' (Giancarlo); quit making mental mistakes; and score in the red zone. Against P.V., we left 11 points on the field. Can't repeat that against Shadow."
"Crow" predicts: Falcons will fight to a 24-17 Homecoming win. "Caw, Caw, Caw!"
~ Pete Mohr
'Way-ta-go, Tanner!
By Pete Mohr | October 1, 2008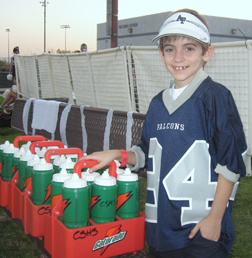 The Falcons 24-14 win over Higley in their Sept. 5 home opener delighted the West Stands; but the more important human "victory" had been won days before the kickoff. Tanner Williams (12, on Oct. 1), who last season required supplemental oxygen to attend as many home games as his rare vascular abnormality would allow, was (at the invitation of Head Coach Chad DeGrenier) completely on his own as a member of the Falcon water crew – and he will be at every home game. "Do you bee-leeve in miracles?!" exclaimed TV announcer Al Michaels at the 1980 Winter Olympics as USA Hockey clinched the gold medal. Yes, Al, I do; and I'm humbly thankful for the "life" miracles that really count. Congratulations, "T-Man," on your "never quit" courage! And the same to your wonderful family: parents Jay and Kim, older brother Cody and "middle" sister Saige, who never stopped believing in your healing. Happy Birthday!
Welcome, Chris Johnsons!
"Let's Build Something Together!" encourages Lowe's slogan; and that's what Chris and Christina Johnson (center, with their five children) have done! Transferring from Bloomington, Ind., Chris, who tossed the pregame coin at CSHS vs. P.V. last Friday, is the new manager at Lowe's (Carefree): (front, l-r) Tanner (7), Trevin (5); (middle, l-r) Trenton (4), Mom, Triston (8); and (back) Trae (14), Dad. Welcome to the Desert Foothills, Johnsons!