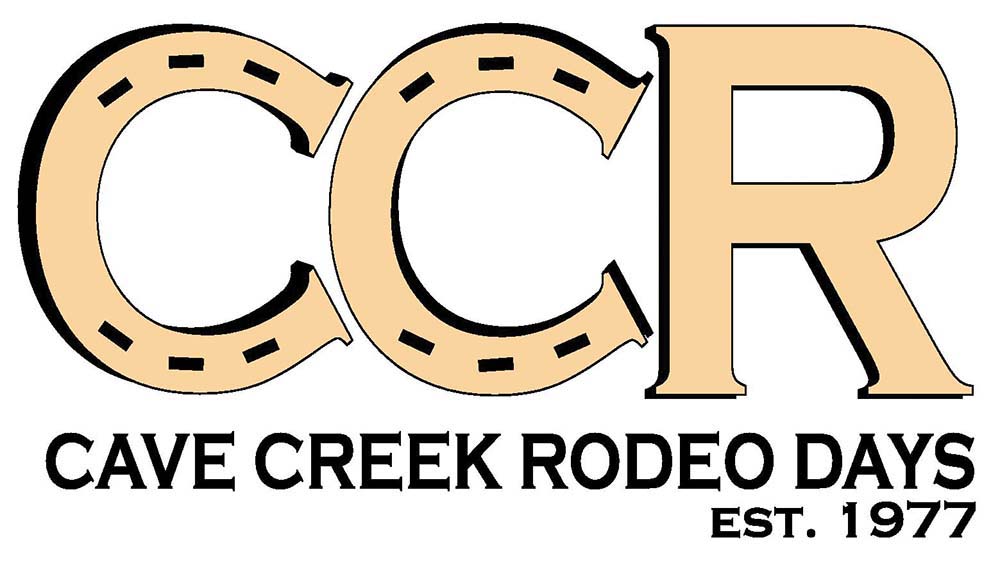 PRCA event features top-ranking male and female rodeo contestants
Stock contractor Cervi Championship Rodeo's world champion bucking horses and bulls return to town for the annual event.
Mark your calendar to attend one of the Valley's biggest events, Cave Creek Rodeo Days, set for Friday, Saturday and Sunday, May 28, 29 and 30 in Cave Creek!
Now in its 44th year with Sanderson Ford as the title sponsor, the event will take place at Cave Creek Memorial Arena with three thrilling PRCA rodeo performances featuring top-ranking Professional Rodeo Cowboy Association (PRCA) and Women's Professional Rodeo Association (WPRA) contestants.
"Rodeo is steeped in the tradition of the Old West. Each event is in some way connected to the skills and abilities required in real working ranches and open range cattle operations that are a part of our heritage," said Beth Cornell, president of Cave Creek Rodeo Days. "For those new to rodeo, our announcer will share more details about how each event is scored for a better understanding of the competition, so it will be easy to follow along."
The 2020 event was shut down to fans due to the world pandemic. Rodeo attracts more than 11,000 people to the Cave Creek Memorial Arena during the three-day weekend. Even with the pandemic last year's payout was $69,209 to competitors helping to maintain the attraction of national talent this year.
Bringing the Community Together
This year's event kicks off on Tuesday May 25, 2021 starting at 7 a.m. with the Cave Creek Rodeo Days Golf Tournament will take place at Rancho Manana in Cave Creek. Tee off for the four-man scramble tournament is at 7:00 a.m. and will be followed by a banquet Luncheon at Harrold's Corral. Rodeo weekend, the town will be packed as locals and visitors attending the event. Gates open at 5 p.m. Friday, Saturday, and Sunday with PRCA performances starting at 7:30 p.m.
"It's high-energy, captivating, non-stop fun," Cornell said. "Be sure to check our website for details. Purchase your tickets on-line through May 23, 2021. Concerned about the mail put them at will call and pick them up at the gate.
As part of each performance aligned with charitable causes state and local charities benefit from the production of this event with $1.00 from each ticket sold going that that day's cause. Friday night's performance is Wranglers® "Tough Enough to Wear Pink" cause that began in 2004 in support of the fight against breast cancer. Saturday night is local charities night. Cave Creek Rodeo Days selects a deserving local charity that has applied with Cave Creek Rodeo Days for a donation and Sunday is Wrangler National Patriot Day program, founded in 2009, helps raise funds to support American military veterans and their families.
Rodeo tickets purchased in advance cost $30 For General Admission with all persons 5 years and older needing a ticket for entry. For those that want the ultimate experience enjoyed by our sponsors in the Stockman's Club. Limited Tickets are available for $150 per person which includes a full dinner drinks (hosted bar) and exclusive seating on the arena for an up-close rodeo experience. For a little more exclusivity, purchase a seat on Chute 6 or in the Sky Box. These tickets enjoy all that the Stockman's Club offers with the ultimate seats shared by a maximum of 20 other persons. BUY YOUR VIP EARLY as these clubs ALWAY SELLS OUT!
To purchase tickets, go to Cavecreekrodeo.com and click the ticket button.
Cave Creek Memorial Arena is located at 37201 N. 28th Street in Cave Creek near the cross streets of 24th Street and Carefree Highway. Rodeo parking has been expanded by 2 acres with passenger shuttles running in the parking lots.
For up-to-date information, please visit www.cavecreekrodeo.com, call (480) 304-5634 or email info@cavecreekrodeo.com.