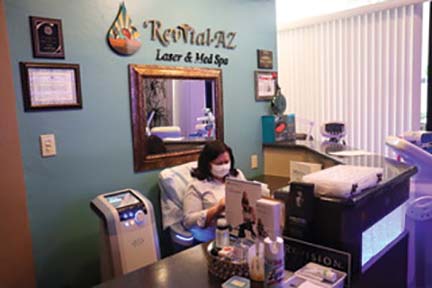 Marielle D. Marne
CAREFREE – There's a triple dose of terrific new treatments from Revital-AZ Medical Spa and Laser Center. "It's pretty exciting," owner Rosie Andaverde, R.N. and her medical director, Dr. Mark Biliack, agreed as to the innovative equipment.

First is the BTL EMSELLA™ chair for urinary incontinence. The treatment (done fully clothed) is roughly 30 minutes and clients may note improvement after a single session. It's effective for men and women and the feedback has been amazing! As folks age, gravity takes its toll, given there is nothing to support one's pelvic floor; however, there's no need to suffer with embarrassing leaks, and another benefit to EMSELLA is improved sexual function.

Second is the Magma laser used to target rosacea, to minimize facial/leg veins and even eliminate cherry angiomas.
It's effective for all skin types and touted as noninvasive with no downtime! Present your best beach self this summer with Magma.
Thirdly, schedule an appointment for a HydraFacial.

"It's not one of those foo-foo facials!" It's designed to deep-clean, exfoliate and hydrate the skin.
Clients have been pleased with how comfortable each procedure is, but Andaverde and Biliack know there may be some sensitive souls interested, so they offer Pro-Nox (nitrous oxide) and/or a chiller for the most pleasant spa experience.
EMSELLA, Magma and HydraFacial are all new for 2021, but Revital-AZ continues to offer CoolSculpting, Botox/fillers, hair restoration, tattoo removal, IV Vitamin Nutrient therapy and many other confidence-boosting services.
Call Revital-AZ at (480) 629-5776 to review your options. Current patients find Andaverde and Biliack to be professional, attentive, friendly, caring and calming.

Revital-AZ Medical Spa and Laser Center is located at 7401 Easy St. in the copper-top building. Visit revitalaz.com or see Facebook for details on services and products.