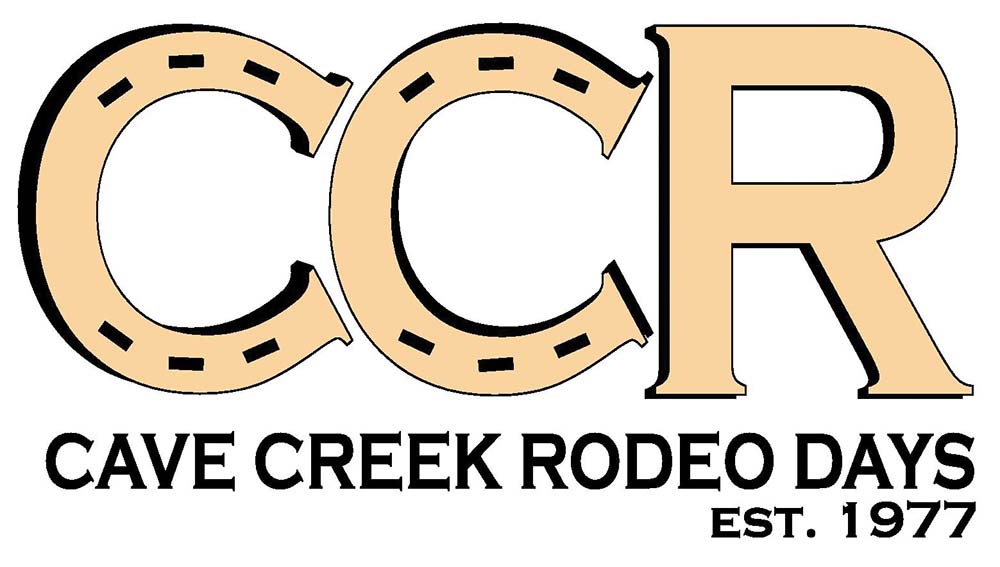 "When you look at the Sonoran Desert town of Cave Creek Arizona, you see a land of beautiful sunsets, strong cactus and a tenacious community. This interesting little town, nestled just north of Phoenix was founded in 1870 and sits at an elevation of 2183 feet. It was founded by soldiers from Fort McDowell who arrived on horseback and rested at a shaded grassy spring just west of the present town center. Cave Creek residents are proud of their community, it's western heritage and the joy it brings year round. One of the premier events each year this quaint town puts on is its Cave Creek Rodeo Days.
Rodeo has evolved as a natural desire of local ranches to see who had the best hands. After months of strenuous labor moving cattle throughout the country, cowboys would get together and compete. As a form of amusement, cowboys would gather and compare their roping and riding skills. This friendly competition and end of the trail celebration has grown into the rodeo events we know and love today.

Cave Creek Rodeo Days is an important event in order to maintain the historical sense of being a western town. No matter what "horse" you ride, Creekers like to be free and roam the desert the town was founded on. This unique town is what the definition of Rodeo is: an exhibition of belief and heritage to the western code and lifestyle.

The Cave Creek Rodeo began in 1977. The local Rodeo association wanted to energize the community, assist in raising funds to create the Cave Creek Memorial Arena, provide donations to local charitable needs and bring major economic benefits through the professional sport of Rodeo.That methodology continues today. Cave Creek Rodeo has grown through the years attracting interest from the nation's leading Professional Rodeo Cowboy Association (PRCA) and the Women's Professional Rodeo Association (WPRA).
Traditionally the Cave Creek Rodeo Days consists of a Rodeo Parade, Mutton Bustin', the Kick off Rodeo Dance, a Golf Tournament and of course the Rodeo ground events capped off with the traditional Rodeo Dance on Saturday evening immediately following the Rodeo Performances. The organizing group is all volunteer; without them there would be no Rodeo. These volunteers are essentially the "True Grit" of this little country town.

During the recent pandemic, there have been a lot of ups and downs, yet one thing that has been consistent is the drive to keep the westen heritage alive and kicking in an effort to maintain some level of normality and tradition. Cave Creek Rodeo Days in 2020 safely and responsibly partnered with the Cowboy Channel along with PRCA in order to "Kick Open the Chutes" and became the first PRCA event since the pandemic shut down all sporting events. Cave Creek Rodeo Days was televised nationally without any attendants and became an integral part of continuing the tradition of Rodeo. Through the integrity and perseverance of our Rodeo, volunteers and board members have gone above and beyond. As a result of their efforts the Cave Creek Rodeo Days was nominated for PRCA Mid Size Rodeo of the Year along with receiving The WPRA Outstanding Rodeo Committee Partner for 2020.

This year the Cave Creek Rodeo Days Events will kick off their 44th year on May 25th, 2021 Here's the schedule for the 2021 Rodeo event:
May 25, 2021 – Cave Creek Rodeo Days Golf Tournament following with Silent Auction at Harold's Corral.
May 27, 2021 – Women's Slack 7pm THE WOMEN'S BREAKAWAY MUST BE CANCELLED due to stock issues.
May 28, 2021 – Performance 1 7:30 PM
May 29, 2021 – Steer Roping and Men's Slack 8:00 am
May 29, 2021 – Performance 2 7:30 PM
May 30, 2021 – Performance 3 7:30 PM
Sorry-No sponsored dances, Parade or Mutton bustin' for 2021.

The fun begins at the Rodeo Grounds with events sponsored by Sanderson Ford. The Rodeo Grounds are located at the Cave Creek Memorial Arena on 24th Street, north of Carefree Highway. The lighted outdoor arena is a crowd-pleasing setting that spotlights all three full PRCA rodeo performances during the weekend long event which consists of bull riding, saddle bronc and bareback riding, steer wrestling, team roping, tie down roping and barrel racing and the popular "Breakaway" roping competition.

Cave Creek Rodeo Days is excited to partner once again with Cervi Championship Rodeo. Cervi is the stock contractor for our historical event. Cervi is nominated for Stock Contractor of the year with PRCA. As a team, the Cervi family oversees and participates in every aspect of rodeo production; from preserving sought-after bloodlines, to directing the audience experience on the arena floor.
The West is filled with all types of characters, from the Clowns to Cowboys, all the way down to every unique individual who attends. There is a sense of tradition here in Cave Creek. Where they come from, what they stand for and who they are. Cave Creek Rodeo Days wants to share that with you. It is time for everyone to participate and be a part of something that makes us all proud to be Americans.

Tickets for Cave Creek Rodeo Days will go on sale at the gate, two hours before each performance.
With limited tickets available, it is important to arrive early so you don't miss out on the amazing rodeo events, featuring the best wranglers and riders in the country.

Dare to be Country and keep our western history alive and well!

For more information please visit:
WWW.CAVECREEKRODEODAYS.COM
We look forward to seeing you there!
HEEEEE HAWWWW"