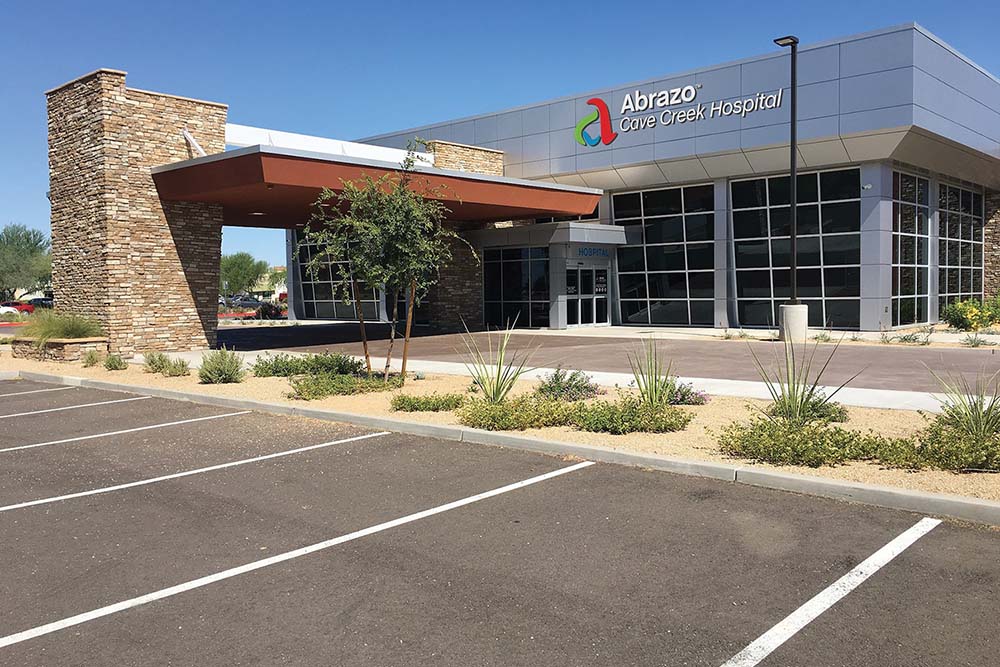 Recruiting underway for
hospital offering emergency, surgical care for North Valley
CAVE CREEK – Contractors are wrapping up construction of the new Abrazo Cave Creek Hospital, an eight inpatient bed facility that will offer emergency and surgical services when it opens in mid-2021 near the intersection of Carefree Highway and Cave Creek Road.
Located at 5227 E. Carefree Highway, Abrazo Cave Creek Hospital will include a 13-bed emergency department, an operating room and eight inpatient rooms, along with x-ray, ultrasound and CT scanner and other services to meet patient needs

"Patients prefer to receive care closer to home, and Abrazo Cave Creek Hospital will be the community's hospital for emergency care, low-acuity surgical services and related care," said Sarah Bird, RN, BSN, administrative director. The hospital will be capable of caring for patients of all ages and staff will work closely with first responders and EMS to serve Cave Creek and North Valley communities.
"We are excited to expand Abrazo's services in the North Valley by creating more access to efficient, convenient medical services of a fully licensed hospital. That means Abrazo Cave Creek Hospital will have an emergency room that's open 24/7 year-round, with on-site imaging and surgical facilities and inpatient rooms for overnight stay," said Bird.

The surgical suite will be equipped similar to those of Abrazo's larger hospitals, said Bird. Patients coming to the ER with appendicitis or gall bladder symptoms are examples of surgical cases that can be performed at Abrazo Cave Creek Hospital.
"Patients with abdominal or chest pain, sprains and broken bones, lacerations, pneumonia and flu are typical of the types of conditions we expect to see in the emergency department," noted Dr. Brian Hess, medical director of Emergency Services for Abrazo Health. "This hospital will help minimize the need for transfers to larger medical facilities for patients with lower acuity conditions." The Cave Creek hospital will be Abrazo Health's third "neighborhood hospital," similar to others in Surprise (opened October 2020) and Mesa (opened October 2019). Abrazo Health operates hospitals and physician practices throughout the Valley including Abrazo Scottsdale Campus, Abrazo Arizona Heart Hospital, Abrazo Arrowhead Campus, Abrazo Central Campus and Abrazo West Campus.

Hess added that despite the coronavirus pandemic there is still a need for routine and emergency care. "When care is delayed, there is a greater risk for secondary issues, complications or lengthier recovery times. Hospitals and ERs are safe places for care. Minutes do matter in an emergency," said Hess.

"We're working quickly to complete construction on the hospital so Abrazo can move in and complete the licensing and inspection process to meet their mid-2021 opening timeline," said Scott Salyer, regional manager for Adolfson & Peterson Construction. "Once complete, this will mark our third project with Abrazo in the Phoenix area, and we're pleased to contribute to yet another hospital that will provide the community with access to convenient emergent and surgical care."

Abrazo Cave Creek Hospital is expected to create approximately 50 jobs. Open positions are posted at AbrazoHealth.com/careers. Abrazo Cave Creek Hospital is recruiting registered nurses with emergency department and telemetry experience, respiratory, occupational and physical therapists, radiology and laboratory professionals, and environmental services (housekeeping).
Abrazo Cave Creek Hospital at a glance:
Planned opening mid-2021
13-bed ER
8 inpatient rooms
1 operating room; 3-bed pre-op/post-anesthesia care unit
Imaging suite with x-ray, ultrasound and CT scan
Separate ER and hospital reception/waiting areas