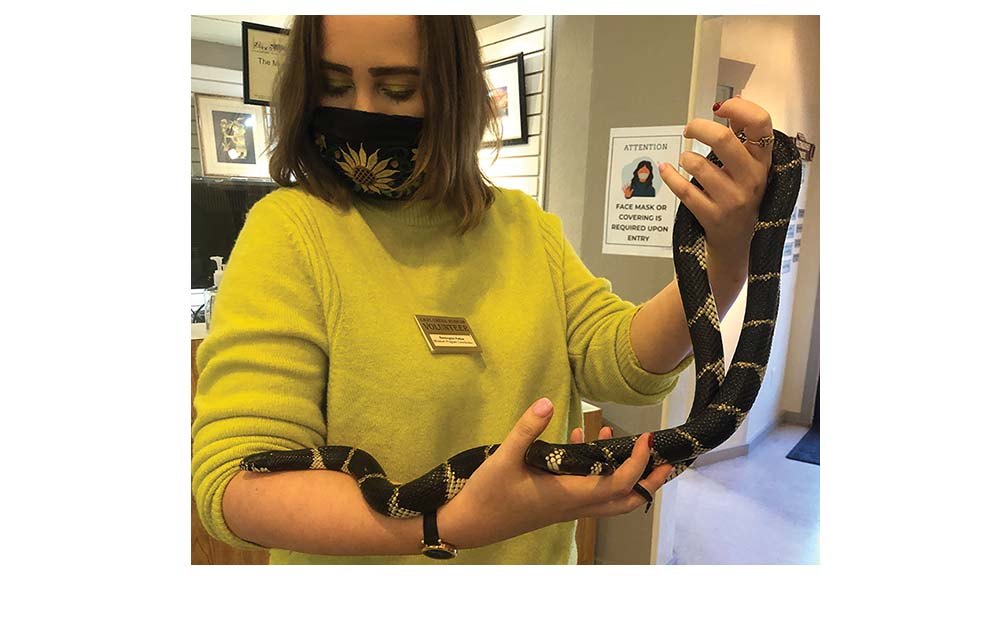 Gila monsters, rattlesnakes, chuckwallas … oh, my! Cave Creek Museum kicked off the new year with a Golden Reef Stamp Mill Demonstration and Kiwanis Family Sundays "Desert Safety in the Sonoran Desert" featuring the Phoenix Herpetological Society. One of the friendly creatures that made a guest appearance was a handsome Kingsnake that clearly took a fancy to Cave Creek Museum Program Coordinator Remington Pettus.

On February 14, from 2:00pm to 4:00pm, Kiwanis Family Sundays will offer "Museums in the Literary World." "A key component of Museum culture is literature," explained Pettus. "A few local authors, including Barbara Renner, first approached Cave Creek Museum last year in regards to reading their books. We teamed up to provide content that features local topics that are relatable to children of the Desert Foothills Area. Barbara Renner will read her book series, Quincy the Quail, to children in person and via live streaming recorded by yours truly! Educational children's books are the key to make learning fun and the goal is to promote literacy."

All Kiwanis Family Sundays are 2:00pm to 4:00pm, and offered free of charge. Grownups are always welcome to join us for the educational fun! The Golden Reef Stamp Mill runs are also free and open to the public. Stamp Mill Demonstrations take place at 1:30pm on the second Saturday of each month, October through May.

Kiwanis Family Sundays take place every second Sunday of the month from 2:00pm to 4:00pm. The Museum is closed on Mondays and Tuesdays.
firm hours or check for event cancellations due to COVID-19 restrictions and CDC-compliant guidelines.