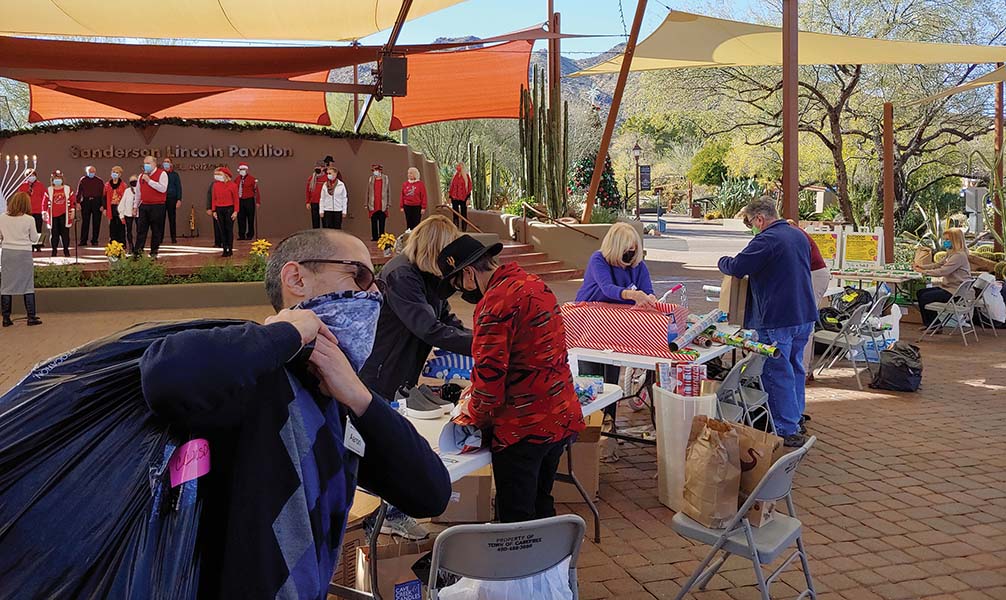 Kiwanis hosted a unique "Regular Meeting" outdoors at the Carefree / Sanderson Pavilion as two special events were going on at the same time. We had Christmas music provided by the "Upscale Singers" and a "wrapping party" of gifts for our "Adopt a Family Program" during this Christmas season.

Before the program started, a very moving presentation was made by Greg Eckerman, a Grief Specialist from "Eric's House, Inc," who shared with us the possible depression of parents, relatives, and friends who have lost children to suicide, and the need to recognize and support these people during the Holiday Season which is a very difficult time for them.

The gift-wrapping session was organized and led by Alexis Sterling Popovich and supported by Wrapper leader: Jackie Perry-Brown, Stockings leader: Colleen Walski, Supplies leader: Ava Frick, and Team Member lead: Jana Miller. They were directing a dozen or so Kiwanis members and "other recruits" who were wrapping over 100 presents on Wednesday in addition to hundreds of presents wrapped earlier in the week. Gift cards were also distributed to over 200 families recommended by CCUSD, Carefree Christian Academy, Annunciation Academy, the YMCA, and Foothills Caring Corp. The funding for the shopping was provided by the Kiwanis of Carefree.

The joy of this wrapping session was made even more pleasant with the wonderful Christmas music provided by the "Upscale Singers" who sang to the wrappers and Kiwanis members. An emotional moment was provided by one of the singers who shared an insight into their group's plight this past year. He said that due to the Covid 19 issue, they were unable to put on any shows and thus earned no funds for their own children's scholarship program this past year.
To find out more about Kiwanis Club of Carefree visit kiwaniscarefree.org