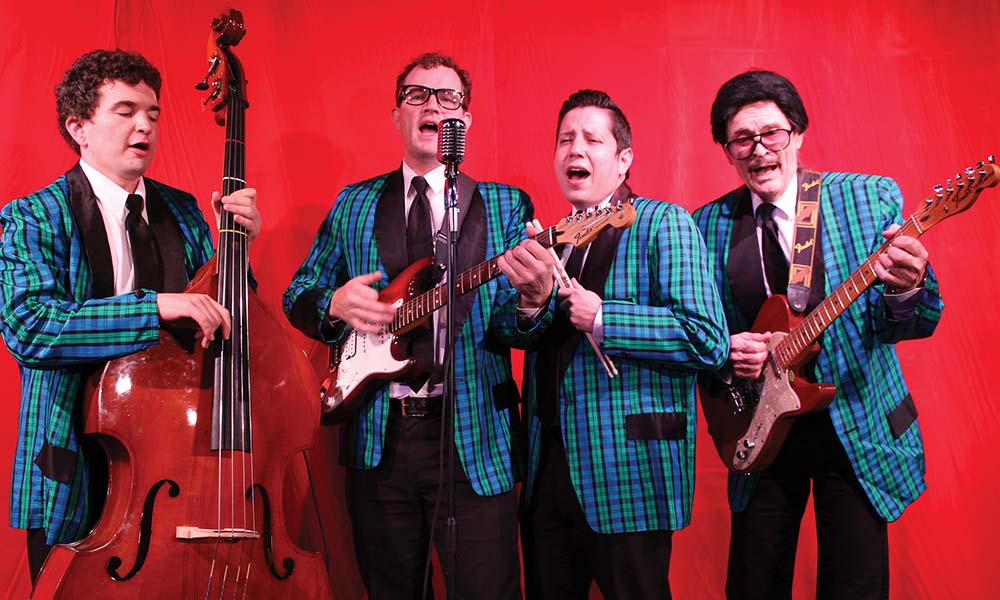 Copperstate Productions is proud to announce the return of the musical Buddy – The Buddy Holly Story. Presented in 2017, Buddy shattered Fountain Hills Theater box office records and now returns to the outdoor stage as a part of our continuing socially distanced theater productions.

Buddy tells the story in words and music of the last few years of Buddy Holly's life. We see how he and his childhood high-school friends, the Crickets, turn country music upside down and create a unique style of sound which some called 'the devil's music'. We see Buddy's frustrations at Decca Records, his skill as a songwriter and composer when recording and experimenting with Norman Petty, the excitement he and America felt when "That'll Be The Day" went to #1, and his naïve determination to be the first white act to play the Apollo. Later we meet Maria Elena, his future wife, and witness his whirlwind romance. Then we are taken on his ill-fated 'Winter Dance Party' Tour of 1959. Finally, we are the audience at the Surf Ballroom, Clear Lake, Iowa, where Buddy's final performance with Ritchie Valens ("La Bamba") and 'Big Bopper' J.P. Richardson (Chantilly Lace") is recreated, and what in theatre must be one of the most exciting musical concerts of all-time! Features such timeless hits as "Peggy Sue", "Not Fade Away", "True Loves Way:, "Everyday" and "Raining in my Heart".

Buddy stars Tom Mangum as Buddy Holly and features Julian Mendoza from Fox's 'I Can See Your Voice' (The Knight) as Ritchie Valens. Buddy is produced by Copperstate Productions, directed by Peter J. Hill, musically directed by Jay Melberg and choreographed by Noel Irick.

The Fountain Hills Outdoor Theater is comfortable, convenient and safe. The theater features 15 heated 'stations', seating up to 6 patrons per station. Each station is reserved for a single party and no party will be seated with any other patrons. Each station is 8 feet from any other station and is provided with a large patio space heater for comfort on chilly nights. Masks will be required for all attendees and staff. Patrons may also request one of 8 stage viewable parking spots which allow them to remain in their cars or sit outside their cars and 'tailgate' All patrons are encouraged to purchase tickets in advance for a "contact-free" experience while you're at the show. Seating is limited. FHT's outdoor stage is provided by and sponsored by Kern Entertainment.

Buddy will play Jan 22 – Feb. 7, 2021. Performances are Fridays and Saturdays at 7:30PM and Sundays at 2PM.   Individual tickets are $35.00 for Adults and $18.00 for children 17 and under. Group discounts are available.  All performances are at Fountain Hills Outdoor Theater 11445 N. Saguaro Blvd. (The Corner of Saguaro and Rand). Tickets are available through the Theater Box Office at (480) 837-9661 x3 or at https://www.fhtaz.org.  Box Office Hours are 12:00PM-5:00 PM Tuesday through Saturdays. For additional information not contained in this press release, please call Fountain Hills Theater (480) 837-9661.