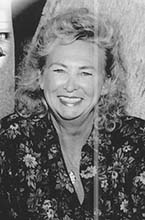 It is with great sadness that we share the news of the passing of our friend, Loa Boxberger.
She passed peacefully at the Heritage at Carefree. Our heartfelt thanks go out to the staff of the Heritage.
Loa was preceded in death by her parents, Walt and Margret Wilson and her cherished husband, Mark J. Boxberger.
As a professional bowler, Loa was an extraordinary woman whose accomplishments include the following titles, awards and affiliations:
USBC Queens Championship in 1978.
Two USBC Women's Team Championships
Two Pearl Cup of Japan Championships
Brunswick Red Crown Classic (This was the first nationally broadcast final in PWBA history – 1974)
WPBA Hall of Fame – 1997 (Pioneer)
USBC Hall of Fame – 1984
Named Commissioner of the Ladies Pro Bowler Tour in 1985.
Named to the Board of Director's – Brunswick
Loa enjoyed a long and storied career. Her association with Brunswick included traveling as an ambassador for them with her good friend, Jesse Owens. She knew, and was friends with, many of the day's most famous athletes, actors, business leaders and politicians and could entertain anyone with the stories of her travels and the friends she made along the way.
Loa maintained homes in her beloved hometown of Russell, KS and her adopted home of Carefree, AZ.
Loa was an accomplished and successful woman in many fields of sports and business. She was a beautiful and astute woman of unquestionable substance and character, all accentuated by her easy smile and wonderful sense of humor.
She will be fondly missed by all who knew her, especially, her longtime friend and companion, Don Everett of Carefree, AZ.
Due to the current situation, no services are planned at this time.