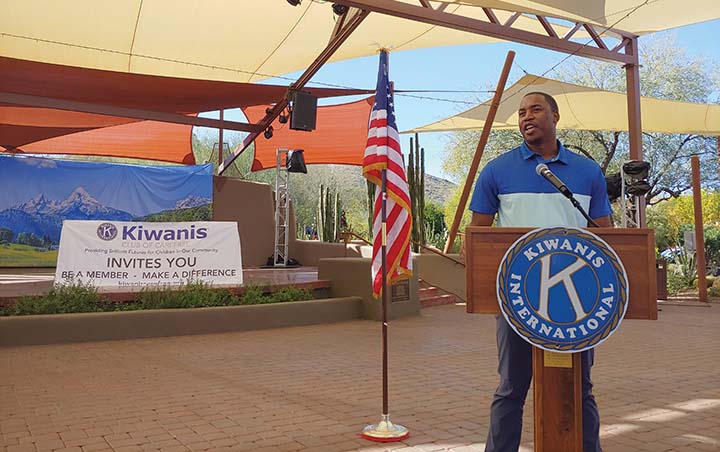 The Kiwanis Club of Carefree hosted another "Misty Event" at the Sanderson Ford Pavilion in Carefree, chaired by President Kimberly Marie Jack.

The program was similar to the old regular meetings with Kimberly calling on Ted Dimon to lead us (along with his personal orchestra) with a patriotic song and a story. His story choice was a wonderful history of Arlington National Cemetery which was found by all members to be very informative with facts most of us had not heard before.

This was followed by a presentation to the Foothills Library of a major donation of $50,000 as the second part of a commitment Kiwanis had made to assist with the renovations to their building. These funds supported "Club 1117" which is known as the teen room in the library. Their new Library Executive Director, Ms. Anne Johnson, accepted the donation and provided us with a detailed update on programs they are currently offering with the COVID-19 restrictions and some of their programs designed to attract young people to the library once it reopens.

The main speaker was introduced, Mr. Donnie Veal, who provided a very novel insight into his career as an aspiring professional baseball player, now retired and a major league baseball scout.

The significant theme he offered was how his parents taught him and his brother to work very hard at attaining their scholastic goals before being allowed to play in any sports. And then overcoming major hurdles in his personal life. His continued theme was how these life lessons served him well during his rise through the minor leagues into professional baseball.

He spoke in detail of the complications his fellow baseball rising star players experienced, once they reached the professional ranks, in dealing with financial issues due to their new fame and earnings. It was his early training from the lessons his parents had taught him about how to deal with the "new found wealth" that brought him through that adjustment successfully.

And to this day, when he is recruiting, he looks for young baseball talent who have had to encounter and overcome significant roadblocks in their progress up the baseball chain to the professional ranks.