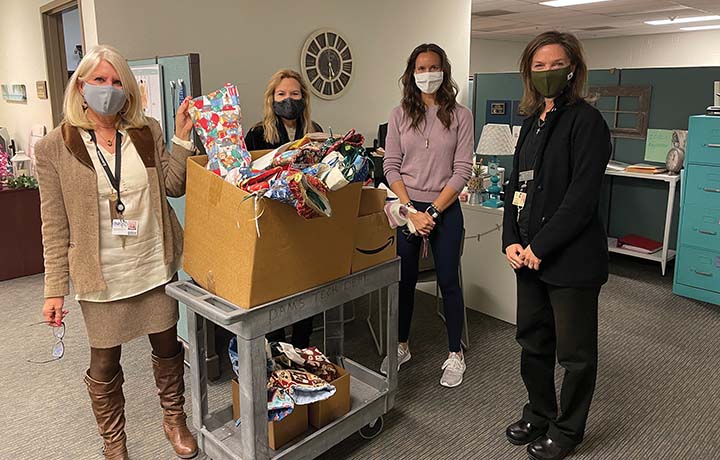 The 24th Annual Hope Box Gift Project in the Cave Creek Unified School District has been a great success again this year. Teachers, staff, students, families and community members came together to give 40 families a great holiday. We received hundreds of gifts and gift cards beautifully wrapped and ready to go under the trees of these wonderful district families that were nominated for the program.

The program was started by KLou O'Dell, former District Nurse twenty four years ago and has been a great tradition in our district and community. According to KLou, "I started thinking about how we would drive down to PV mall to get Christmas angels and that we must have needy families in our own community.  So I asked my two offices (at the time)  if instead of exchanging gifts, would they like to be a part of a community giving project instead.  The staff was so enthusiastic that I decided to open it up to both of my campuses to participate. 

It just grew and grew and became a tradition for lots of classrooms and school clubs.  It gave me such joy.  We had families that some years would tell me they were doing well now and wanted to help give back. It was, and I hope still is, such a gift to be able to support your community unconditionally. This project brought all of us so many cherished stories, smiles and happy tears over the years."
The program has been organized over the years by many district departments and this year was headed by Education and Community Services. Carrie Rath, Preschool Program Assistant, worked tirelessly to organize and streamline the program with great success.
A huge thank you goes out to Kiwanis for adopting 8 families and giving out $100 gift cards to all 40 families.  
This is definitely a gift that keeps on giving! Additionally The Christ Church of the Valley (CCV) North Phoenix Neighborhood Groups donated 2 large food boxes to each family so not only will they have a great evening opening presents, they will be able to have a delicious meal as well.

Klou O'Dell shared, "I am so thankful that the Giving Box Spirit lives on!"
Submitted by Heather Turner, Kids Club Coordinator