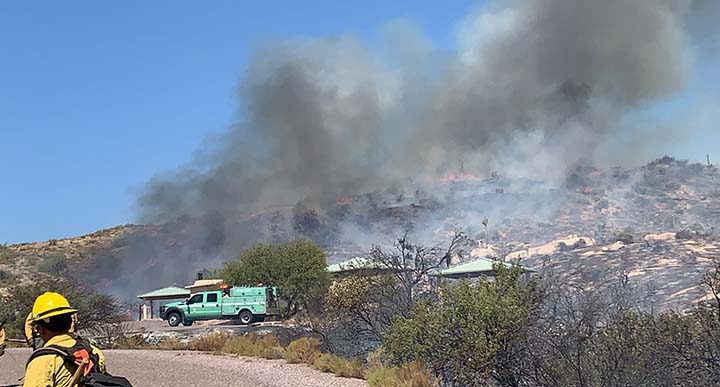 By Emma Ascott
The owner of the Buffalo Chip Saloon, Larry Wendt, has been providing 400 meals a day to firefighters battling the Sears Fire near Seven Springs, which has consumed over 15,000 acres.
With the Sears Fire burning miles from his establishment, Larry Wendt is making sure those who are battling the blaze are being taken care of.

"The men and women out there fighting in the hot desert are risking their lives, and we appreciate them. We have to get a lot of meals out, and we're glad to do it," Wendt said.

There were 12 engines, four hand crews, one air attack plane, two single engine air tankers, and three helicopters assigned to the Sears Fire, which started about 10 days ago and is now at about 60% containment, burning over 15,000 acres.
Cave Creek has been plagued by several brush fires and human-caused fires in the past few years, but this year has been especially devastating.

"Unfortunately, too much of it is intentional. The Buffalo Chip was burned down by an arsonist, Black Mountain Feed Store was burned down by an arsonist. It's kind of crazy," Wendt said.
The original Buffalo Chip Saloon, built in 1951, burned down in 2015 at the hands of an arsonist. It was rebuilt in 2017 after a major fundraising. The Black Mountain Feed Store burned down in the early hours of the morning on June 1 of this year, also rumored to be at the hands of an arsonist, according to the report from AZ Central. It has yet to rebuild but there has been an outpouring of community support.

Besides arson, brush fires are the main culprit of devastation in Cave Creek.
"The town is doing a lot to educate people and encourage them to clear the brush on their properties, and that will obviously help reduce the spread of fire," Timothy Borg, Cave Creek Fire Captain and paramedic said.
Cave Creek Mayor Ernie Bunch explained that the town is always ready to act when tragedy hits.

"We've got fire protocol binders sitting in town hall so when something happens, we're not running around like a bunch of chickens with our heads cut off – we've actually got protocol to follow. This includes declaring emergency and opening up for outside help," Bunch said.
The community in this small western town consistently pulls together during trying times, the best example being on May 30 when the Ocotillo Fire ravaged the Spur Cross area.

Created by Sunny Parker to keep the community updated on fires in the area, the Facebook page "Arizona Foothills 911" organized volunteers and over 100 horse trailers to go into Spur Cross and relocate horses and livestock to safety on that day.
An evacuation order was issued for the affected area, and the Tumbleweed Motel in Cave Creek opened its doors to displaced victims of the Ocotillo Fire; Harold's Cave Creek Corral delivered food.

"I was first elected to the Cave Creek Town Council in 2005 when the Cave Creek Complex Fire happened. I think it was the third largest wildfire in the state of Arizona. We dodged a bullet then because it never came into town. Phoenix rose from the ashes and that's what Cave Creek will continue to do," Bunch said.