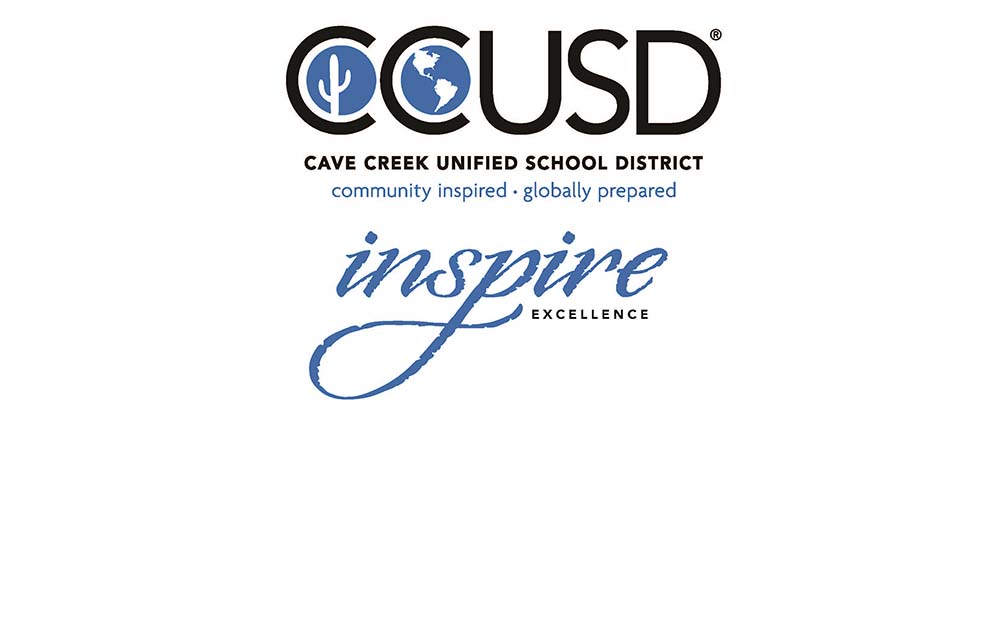 By Maja Peirce
On Nov. 3, Cave Creek residents will be voting for three new Cave Creek Unified School District (CCUSD) school board members.
President Kathryn Hill, Vice President James Rich, and member Janet Busbee's terms as CCUSD governing board members will terminate. While President Hill has chosen to not return, Vice President Rich and member Busbee have decided to run for the governing board again this year. Joining them are Brianna Walker, Jeff Fortney, Teri Thatcher, and Trinity Wilson.

Brianna Walker
Walker is a mother of four students within CCUSD. Three of her children are currently at Black Mountain Elementary School and one is at Sonoran Trails Middle School. While Walker has lived in Cave Creek since 2011 she had been coming to the area for church and to bring her children to preschool for years prior. She has a Global Business degree with a marketing concentration from Arizona State University and currently works in the information technology industry.
There is a maximum of taxpayer money that CCUSD gets to keep based on property taxes within the area and once the district reaches that, the rest gets sent to other districts in need. Walker stated that the controversy in the district about the transparency in the budget and confusion about where the budget is going is due to a major disconnect. She hopes that by being a part of the school board, she can bring more education about school funding and budgets.
"I don't think the community realizes how much funding we lose out on for where we live. As far as socioeconomic levels up here, and housing prices, I think there is always a concern for how we could not be affording all these things and where the budget is going. I think that's a big disconnect because there's a lot we just simply do not get to keep. I think if the community was more aware of that, they would probably be more vocal and loud about it to our legislators," said Walker.
The top three priorities for candidate Walker are student retainment, teacher retainment, and special education.
"Being where we live, the majority of families within our district have the privilege of going to a local charter school or private school and this directly affects the budget. Our budget is set up based on how many kids we have within the district so in order to retain that and keep our budget growing, we need to keep attracting people to stay within the district," said Walker.
She hopes to do the same with teachers and be a voice for all members of the community.
Due to Walker having a child in special education within the district, ensuring special education needs are met is something she is particularly passionate about.

James Rich
Rich became involved in the district as a classroom volunteer seven years ago when his son was in first grade.
"That's when I started to get involved in stuff. I was taught that if you think somebody should do something about this, then, you should be the person doing it," said Rich.
After that he got involved in the Parent Teacher Organization (PTO), the superintendent's community council, became a trustee for Cave Creek Unified Education Foundation (CCUEF), a bond council for CCUSD, and eventually in 2017 was elected to the school board.
According to their website, the goal of CCUEF is to "seek, accept, and invest both directed and undirected funds to support and enhance the mission of the Cave Creek Unified School District."
The bond committee Rich participated in, worked to get local voters to vote to issue a bond, which was then purchased by investors and used to fund projects around the district. Rich indicated the reason he joined was because there were many repairs that needed funding in order to be fixed within the district.
In the CCUSD Governing Board Candidate Forum held on September 24, Rich said the top three priorities are the curriculum, the search for a new superintendent, and the COVID-19 issue. Rich looks to parents and students to help with noticing and documenting complaints they have about the curriculum so he can mold it to fit CCUSD. He feels the current board needs to stick to the intended timeline to hire a new superintendent, and is hoping with proper protocols and updates from the state, the school district will be mask free by the end of this school year.

Janet Busbee
Member Busbee became involved in the district 17 years ago. She has been the PTO president at both Horseshoe Trails Elementary School and Sonoran Trails Middle School in the past, volunteered in classrooms, and was a writing coach for a teacher at Horseshoe Trails for several years.
"I've spent a lot of time, in many different capacities, helping out at schools and supporting students that I've got a very broad based view of life in school, life of a student, and life of a teacher," said Busbee.
Busbee was unable to make the CCUSD Governing Board Candidate Forum but asked for her answers to their questions to be read out loud. According to her responses, Busbee's top three priorities are education, innovation, and collaboration. An inclusive learning environment where students from all backgrounds feel welcomed and valued is important to Busbee. Regarding innovation, Busbee said disruptive innovation, thinking outside of the box, and trying things that haven't been done based on research and best practice is also a priority in order to meet the needs of students and educators.
"Education as a whole, in light of this Coronavirus, has totally changed and the delivery of education has been redefined. Never in a million years was Cave Creek going to have distanced learning in the realm that we had it going on at the beginning of the school year. Hats off to all the administration and teachers who pulled that together but it also identified something that I find to be really important. Not every kid learns the same way. Some kids thrived on it, and other kids didn't, but it created an opportunity to develop some new delivery methods for how we teach kids and how we use a lot of the technology that we have to better reach our kids to expand their ability to learn," said Busbee.
Finally, Busbee's priority for collaboration was elaborated at the forum to demonstrate that while her job is to voice her opinion, it is also her job to uplift every district stakeholder's voice as well.

Jeff Fortney
Fortney has taught special education since 2004 and started at Desert Willow Elementary School and Sonoran Trails Middle School. His son graduated from Cactus Shadow High School in 2003 and soon, his grandson will be a student at Desert Willow Elementary School. Fortney has not worked for CCUSD since 2012 and now works at the Tolleson Elementary School District.
According to the forum, Fortney's top three priorities are building a stronger relationship between the community and the district, ensuring the community knows the importance of bonds and overrides, and making sure that teachers feel respected, heard, and represented.
"You need educator perspectives on the school board because sometimes decisions can be made that, if you were in the classroom, you were doing the day to day job, you would know that it is not going to work. We have that right now. Beth Hatcher is an educator and she has helped other people achieve that perspective," said Fortney.
After getting elected to the CCUSD governing board in 2019, Hatcher is currently serving her term on the governing board until 2022. She worked in CCUSD from 1998 to 2018 as a reading aide and a certified third grade and fourth grade teacher at Desert Willow Elementary School according to the CCUSD website.
Fortney was a member of the grassroots group known as Save Our Schools Arizona in the past. Through Save Our Schools Arizona, Fortney tried to find ways to get taxpayer money back in schools after Arizona legislation and Governor Ducey passed a law allowing parents to send their kids to private schools or homeschool them instead of sending them to public school. Public school tax money is dependent on the number of students they have.
"Here in Cave Creek, they have had a terrible issue of not passing bonds. A lot of people don't vote and then a lot of people don't have kids in the district so they say no. That's a shame because I don't have kids in the district either, but it's important. This is not just about your kid. Someone helped pay for your kids while they were going, now, it's time to pay that back. It's part of our community, future, and good work force. The schools need the funding that they are not going to get any other way," said Fortney.

Teri Thatcher
Thatcher is a 20 year Cave Creek resident with children in CCUSD for 18 consecutive years. Her youngest child started seventh grade this school year. She has experience in sales and marketing of government and coporate relocation such as Babcock and Wilcox, an entity that works with the Department of Energy and military. She has worked on a lot of presentations as well as negotiation of funding for them. Some government agencies she has worked with include the FBI, the Department of Health, the Department of Defense, Department of Energy, The Department of Justice, and Social Community.
"My experience dealing with several different types of entities and the knowledge as well as growth that you receive out of all these different markets and divisions of corporations is very useful. This is a nonpartisan position and it does not pay so we want to make sure that we are holding the integrity of our community and our stakeholders at their best and having participatory people on the school board," said Thatcher.
Thatcher's parents ran a credit bureau and collections agency and grew up within the Cave Creek area. Thatcher stated during the forum that growing up around a small business in the area gave her a strong sense of community that she feels is important within CCUSD.
Thatcher's top three priorities for the district are transparency, a clear vision of quantitative goals, and focusing the best on all students.
"We have many stakeholders that we must bring back to our community that have a voice. No one should ever be left behind, not a child, an adult, a student, a teacher, a staff member, or an administrator. We walk beside one another. We speak of our area with the utmost highest regard," said Thatcher.

Trinity Wilson
Wilson is a parent within the district with one five year old and one eight year old. She is new to the community and was attracted to CCUSD and what it had to offer her children.
"As a board member I will nurture the line of communication between the district and community. CCUSD should be obligated to full transparency with families and residents. Feedback from locals has been a range of mixed emotions. I would like to win the trust and respect of the community we serve," said Wilson.
Wilson's top three priorities are an internal audit of funds, recruiting and retaining exceptional teachers, and retaining students.
"As we advance towards a new superintendent I think it is crucial we start fresh and have complete transparency of funds. Having an audit rendered will allow the district to revisit funding allocations and we would have a clearer understanding of all financial transactions," said Wilson at the forum.
What is to come
CCUSD is facing an array of obstacles such as funding, COVID-19, hiring and working with a new superintendent, and retaining both students and teachers. This school board election has the potential to set the course for what the future holds for Cave Creek's students. With a variety of perspectives and passions, there is no shortage of candidates to choose from when voting November 3.