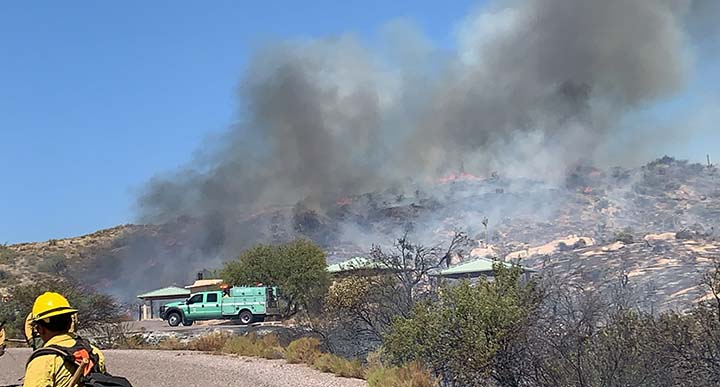 Last night, firefighters focused their suppression efforts on the eastern perimeter of the Sears Fire where the fire is most active. Currently, the fire is 12,474 acres with 0 percent containment.
Overnight, firefighters burned out 15 acres on the south side of Humboldt Mountain while on the eastern perimeter, a small spot fire occurred across Horseshoe Road near the Verde River, but firefighters were able to contain it.
Weather conditions will be challenging today with northeast winds 5-12 mph and gusts of 15-20 mph that could push the fire west towards Seven Springs Road (NFSR 24). Firefighters will be conducting burnouts between Seven Springs Road and the Red Rover Mine to prevent the spread of the fire.
Mop up operations are being conducted on the southern perimeter of the fire and firefighters continue burnouts as needed to secure the eastern perimeter of the fire around Horseshoe Road. The public should expect increased smoke today. KV powerlines in the area remain impacted by smoke and lower Camp Creek powerlines have been de-energized.
Preliminary assessments found 3 residences, 5 outbuildings/sheds and several vehicles were destroyed by the fire. As portions of the fire cooled, firefighters were able to access the Mine near Honeymoon Seep which is northeast of Sears Kay Ranch along NFSR 1058 and discovered an additional residence and four outbuildings that were burned during initial attack on Friday. A total of 4 residences and 10 outbuildings have been lost as a result of the fire so far.
Firefighters responded at approximately 2:45 p.m. Friday to the Sears Fire located near Forest Service Road 24 and the Sears Kay Ranch. The fire is burning in grass and brush. The cause of the fire is under investigation.
Currently, there are 12 engines, 4 hand crews, 1 Air Attack plane, 2 Single Engine Air Tankers, 2 Type 1 Helicopters, and 1 Type 3 Helicopter assigned to the incident. Air tankers are available based on priority. Additional resources have been ordered and are responding.
An area closure order was implemented Saturday which includes Bartlett Dam Road, Seven Springs Road (NFSR 24), Horseshoe Lake, Bartlett Lake and Seven Springs recreation sites. The closure order shall remain in effect until further notice and the signed closure order, closure area map and available photos can be viewed and downloaded at https://inciweb.nwcg.gov/incident/7218/. Any changes or lifting of the closure order will be posted on Inciweb and to the Tonto National Forest official Facebook page.
A temporary flight restriction (TFR) has been implemented through Oct. 27. For details about this TFR visit the Federal Aviation Administration website at https://tfr.faa.gov/tfr2/list.jsp. Flying a drone near a wildfire is breaking the law and potentially endangers firefighters and interferes with wildland fire aerial suppression operations. Interfering with firefighting operations can result in a significant fine and/or a mandatory court appearance.
Please avoid the area to allow suppression resources to travel safely to and throughout the incident. Updates will be provided as official information becomes available.
Area residents who maybe concerned, should contact their local county sheriff's office to sign up for alerts and emergency evacuation notifications.
Stage 1 fire restrictions are currently in effect across the Tonto National Forest. Visit our website for additional information at: https://www.fs.usda.gov/alerts/tonto/alerts-notices.