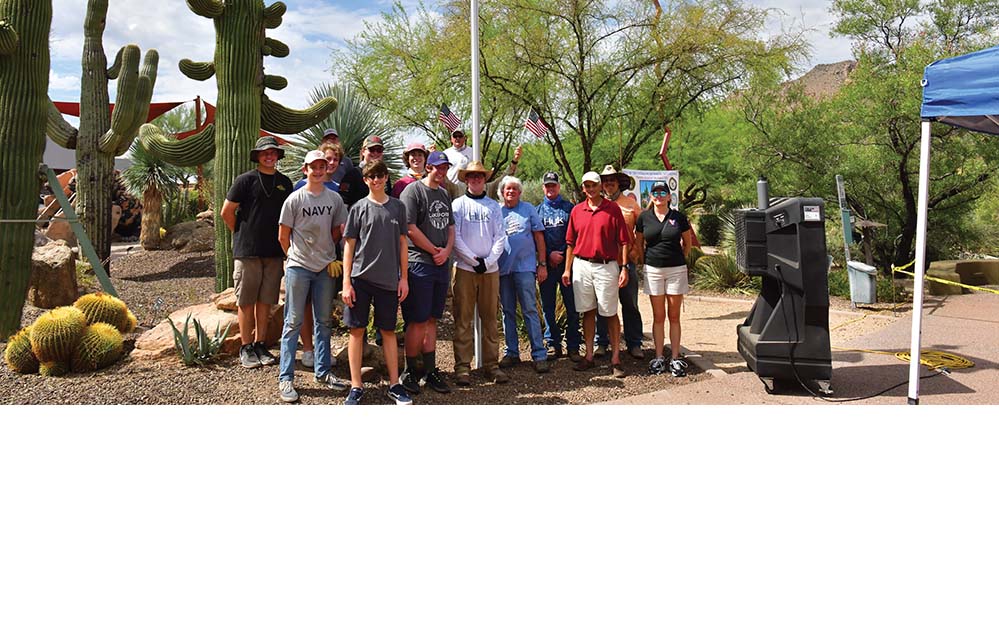 Last fall, Carefree resident and US Army veteran, Mike Ferrell, approached John Crane, Vice Mayor of Carefree, with an interest in organizing a group of local veterans to install a memorial to honor those who served in every branch of the United States Military.
"This is a very veteran friendly community. We really value what the vets have done for us so the memorial is a logical extension to honor vets. Instead of just thinking of the vets on Memorial Day and Veterans Day, it's a way of honoring them every day" said Crane.
In addition to himself, the group Mike Ferrell brought together consists of Pratt Ashworth, U.S. Air Force veteran, Dick Hartig, U.S. Coast Guard veteran, Bob Jenkins, U.S. Marine Corps veteran, and Mike Wold, U.S. Navy veteran. The town of Carefree allocated space west of the stage at Sanderson Lincoln Pavilion. The memorial includes a 20 ft. flagpole donated by FlagpoleToday.com. The flagpole was installed on Sunday, July 19 by Devin Smith, local boy scout. Smith took on the task as part of his Eagle Scout project.

Further into the memorial, there will be a rustic beam stone with a plaque dedicating the memorial to those who served the country. Two additional stones will each have three bronze medallions honoring the branches of the service including the Space Agency which was added as an official branch in December, 2019. There will also be three benches. Additionally, the memorial will be wheelchair accessible, and will be lighted at night.

"It should be a nice place where people can walk into the memorial, sit down, and spend some time thinking about friends, family, mothers, fathers who served our country," said Ferrell.

The group estimated raising $50,000. So far they have collected $12,822, plus donations of labor and materials totaling $1,545. Due to the pandemic, they felt it was inappropriate to approach businesses and individuals to raise additional funds. If one does wish to contribute a donation link can be found at attveterans.org/carefree. Questions or concerns can be emailed to veteransmemorialincarefree@gmail.com.