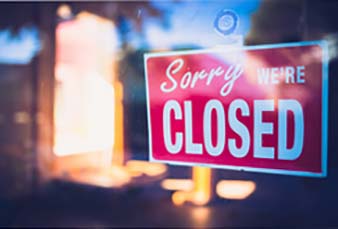 By Maja Pierce
The Arizona Department of Liquor requested Harold's Cave Creek Corral voluntarily close its dining room on Friday, July 10 or face a summary suspension.

"It was very disappointing, not only for Harold's as a business, but we realized that we would have to furlough over 70 employees. We definitely feel the Arizona Department of Liquor used a subject and unjust interpretation of the governor's executive order," said Danny Piacquadio, owner of Harold's Cave Creek Corral.

Harold's applied for the first wave of Small Business Administration relief funds, but according to Piacquadio it is not enough to compensate employees during the closure this time. Some employees have filed for unemployment benefits, but those benefits decreased significantly when the CARES Act funding expired on July 25th.

Background
Harold's has held a series 6 liquor license for the last 35 years of business. This license allows a business to sell beer, wine, and liquor to their customers for consumption without any requirement of selling food. It also allows take out and delivery of beer and wine.
"My dad bought the place in 1987 and the series 6 license came with the business. At that time they probably needed a series 6 license because the majority of their sales were alcohol. When we purchased it, we put in a 3,000 sq. ft. kitchen. Ever since, about 58-60% of our sales have been food," said Piacquadio.

A series 12 liquor license, otherwise known as the restaurant license, allows a business to sell beer, wine and liquor as long as 40% of their sales is food. Despite selling a majority of food, Piacquadio and his father never bought a series 12 liquor license because they found it unnecessary. Their series 6 license allowed them to sell alcohol and as much food as they wanted. That is, until COVID-19 hit. A series 12 liquor license would have given Harold's the ability to label themselves as a restaurant instead of a bar and therefore would not have been classified as one of the bars in the executive order that were asked to close dine-in services.
May 15
When the governor's first executive order expired on May 15, Harolds implemented safety measures including employee temperature checks, a sanitation station, sanitizing tables, sanitizing frequently touched areas, paper menus, social distancing, six feet apart between tables, and face masks worn by staff.
June 29
On Monday, June 29, Ducey issued a new executive order beginning at 8:00 p.m. that day. Bars who held a series 6 or 7 liquor license from the Arizona Department of Liquor Licenses and Control and those whose primary business is the sale of alcoholic beverages had to pause all services to the public except pick up, delivery, and drive thru services. Ducey reviewed this executive order again on Monday July 27 and extended it until further notice. He will be reviewing it every two weeks.
On Tuesday June 30, Harold's canceled live music, put tables on their dance floor, put an out of order sign on their pool tables and dart board, and started closing at 11 p.m. instead of 2 a.m. Piacquadio states Harold's did this in order to comply with the executive order as best they could and eliminate large group congregations such as the dance floor.
July 4
Saturday, July 4, after receiving a complaint about Harold's still being open for dine in, the Arizona Department of Liquor visited Harold's 30 minutes before closing and conducted a full inspection. There were 15 people seated at the bar and some of the customers at the bar had ordered and were eating food. A cook was preparing additional menu items in the kitchen.
According to Piacquadio, on Saturday, July 4 the Arizona Department of Liquor requested Harold's sales records for that evening, week, month, and three months prior.
July 5
Harold's provided their sales records the following day. Piacquadio said the majority of their sales on all these reports was food.
July 7
According to Piacquadio, on Tuesday, July 7 the Arizona Department of Liquor called and asked him to voluntarily close Harold's down. Starting Wednesday, July 8, Harold's changed their hours of operation to closing at 9 p.m. with last call at 8:30 p.m. They took away bar stools and mandated that there be no sitting or standing at the bar. Alcohol would only be served to guests seated at a table or high-top with an order of food.
July 10
The Arizona Department of Liquor visited Harold's on July 10 with a request to voluntarily close down its dining room or face a summary suspension of 60 days. In order to avoid not being able to reopen when the State's Executive Order expires, they closed their dining room to the public according to Piacquadio.

The Arizona Department of Liquor reasoning
The Arizona Department of Liquor uses R19-1-206, a rule that states criteria for issuing a restaurant license set forth by the Arizona Department of Liquor to determine if a business meets the requirements stated in the executive order for dine-in services. Harold's does meet some requirements such as the number of cooks, preparation staff, wait staff, sufficient equipment, a menu likely to achieve over 40% food sales, and dinnerware. However, they did not meet other requirements such as no live music, no dance floor, and no bar games prior to June 29 when Doug Ducey issued the executive order. The Arizona Department of Liquor is not providing for a series 6 or 7 liquor license to adjust their operational identity to come into compliance with these standards for dine-in services. They must have been meeting the requirements prior to the executive order made on June 29.

"It is not enough to have a full menu and provide food service. Further, the order does not contemplate or provide for affected licensees to adjust operations to try and come into compliance. Indications present online and visible at the licensed location were the determinants in identifying this entity as being required to pause operations. Additionally, on June 30, 2020, the Department issued guidance to its series 6 and 7 licensees regarding the second Executive Order. In that guidance, the Department made clear that bars and establishments in these categories could not alter from their core operations identity in order to try and exploit a gap as a means to continue operating," said Jeffery Trillo, Assistant Director of the Licensing and Administration Division at Arizona Department of Liquor Licenses and Control. There is no appeals process for voluntary closures.

Efforts to change
Piacquadio spoke to Senator Heather Carter, Senator Karen Fan, Congressman David Schweikert, and Mayor Ernie Bunch about how the Arizona Liquor Department is interpreting the executive order. He said the Governor's office and some of their policy advisors reached out to him. They spoke with him about his concerns and how the policy is being interpreted. He is now part of a group chat where he, other business owners, and policy advisors discuss ideas and changes that can be made going forward.
"We're hoping the Governor will make changes to his executive order by August 6 so we can be back to in house dining on August 9," said Piacquadio.