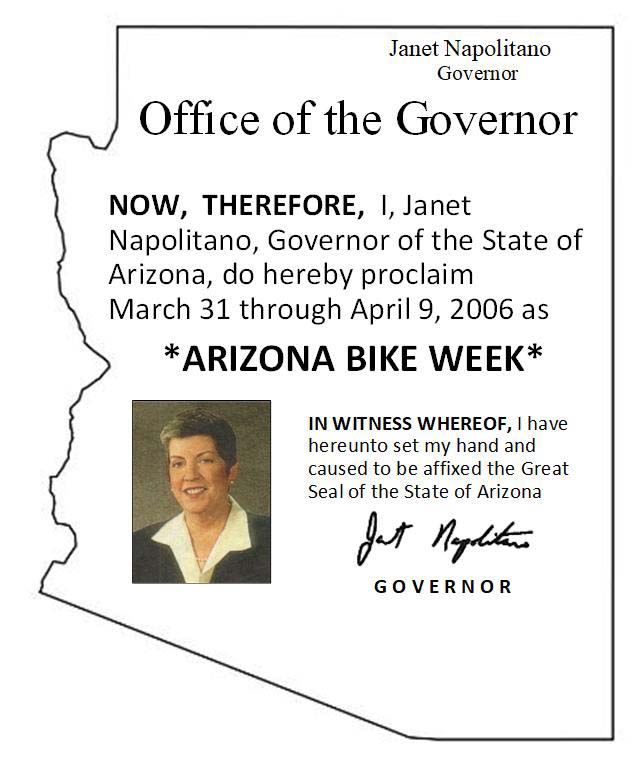 The Mayor and Council are twisting words when they state that Bike Week "started and continues with a gubernatorial proclamation" as published in "Mayor Bunch Writes" column in the non-Cave Creek "City Sun Times." The aforementioned proclamation was only effective beginning on March 31, 2006 and expiring on April 9, 2006 – Not for straight 14 years! Also, you can go online and easily apply and get a proclamation for just about anything. – How about Cave Creek Rope-A-Dope Week?
There are only two groups (obviously in cahoots) that want two-lanes (1 ½ miles) of Cave Creek Road closed for a week. The greedy biker bars and the obedient Cave Creek Town Council (7-0). The majority of Cave Creek residents do not support the biker bar's Town sanctioned road closures.
Bike Week began years before Nappy's rubber-stamped 2006 proclamation. Here are a few Bike Week comments from the March 4, 2002, Cave Creek Council meeting:
· Simon responded to Councilman Mozilo that the first weekend would have limited motorcycles in Cave Creek. The second week they estimate 750-1000 motorcycles per day might go through Cave Creek.
· Simon responded to Councilman Mozilo that he did not foresee the volume of motorcycles to be any different than a typical weekend in Cave Creek due to a variety of other biking events going on around the Valley.
· Simon responded to Councilman Lopez on his reasoning that this is not an event that requires a Special Event Permit.
· Mayor Francia stated that Carefree Mayor Morgan submitted a letter for the record requesting Council to deny issuing a permit. (NOTE: At least Carefree is consistent)
· Don Sorchych, (Sonoran News Publisher) asked about Councilman Whitmore's possible conflict of interest.
· Janet Mohr, commented on the marketing ploy that is getting bikers angry. No one is against bikers. This is a 9-10 day event as a drinking party. We cannot keep out the irresponsible people. Will the events be going on during school hours? What about fire issues?
· Bud Owings, stated that Cave Creek is a Town restricted by its roadway, with one road through Town. Cave Creek does not have the capacity for large amounts of traffic. No one has the right to affect the health and safety of any Town.
· Patty Wyndes, stated that many people live here that want to live in quiet. Many mufflers are not in compliance with the law. She and her husband are against the motorcycle rally due to excessive noise and traffic. This event would benefit the promoters not the Town. She read a statement for the record from her husband. She stated that she envisioned a traffic and safety problem.
· Dean Brewer, (Former Councilman) spoke in opposition to a motorcycle rally. He's an avid motorcycle rider.
John Hoeppner
Cave Creek