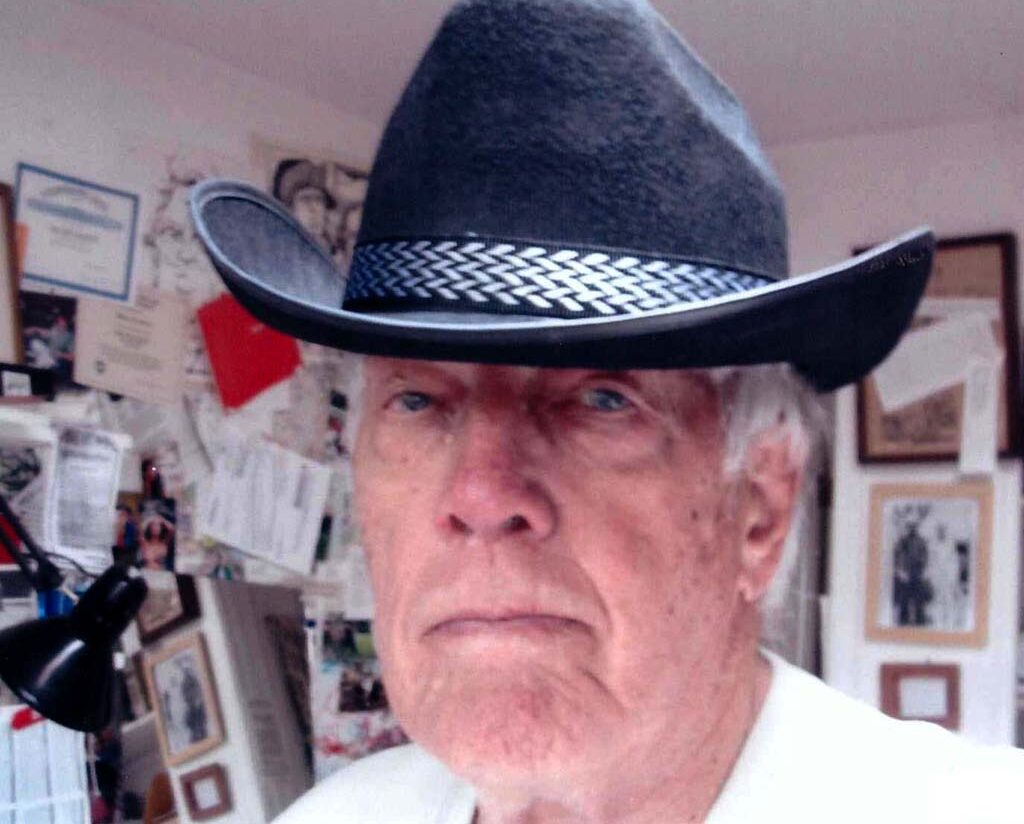 1920 – 2020
William "Bil" Canfield died January 30th. He was 99.
Bil was born in East Orange, New Jersey on October 8th, 1920. He was born to be an artist. In his senior year, he won a scholarship to the Amercan School of Design in New York, which he attended for two years.
His first job at the NY Racing Form was cut short by the bombing of Pearl Harbor. He enlisted in the Navy and served 4 years on the battleship USS Massachusetts as a Boatswain's Mate First Class, mostly in the Pacific.
After the war, he returned to New Jersey, married his high school sweetheart and began working at the Newark News – progressing from head of the art department to Sports Cartoonist and eventually, Editorial Cartoonist. When the News folded, he became Editorial Cartoonist for the Star Ledger, where he worked until his retirement in 1995.
He and his wife Dorothy then began a new life in Cave Creek, AZ., where he cartooned for the Sonoran News for 20 years. He was also a member of the Arizona Artists Guild, painted portraits of people and their pets and sketched for Pioneer Living History Museum. He left his artwork with whoever he dealt with throughout the town.
A celebration of life will be held at Good Shepherd of the Hills Episcopal Church, 6502 E. Cave Creek Road on Feb. 29, at 3pm. Join us to share your memories of a unique character whose sense of humor and smile remained to the end.
Farewell to a legend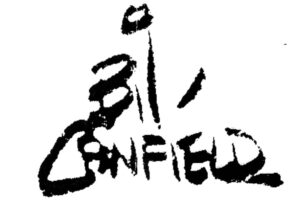 As professional wordsmiths, newspaper folks are uniquely qualified to capture the essence of the retiring legends of their ranks.
Bil Canfield, however, defies description. Indeed, readers familiar with his visual wit have seen only the tip of the iceberg. For, in person, Bil is an inveterate joker who can effortlessly pull one's leg or convincingly spin a tall tale without so much as a blink or a twitch to give him away.
Example. The other day a reader phoned to say he'd heard Bil was retiring. This was Canfield's half of the conversation:
"Actually I'm not retiring, just changing careers – going to medical school … Yeah, I always promised myself that one day I'd take up something that people respected. See, most people think cartooning isn't really work, so I decided … What kind of medicine? Brain surgery … No, of course I'm not kidding. All my life, whenever I tell people what I do, their reaction is "well, it isn't exactly brain surgery, is it?" So I figured brain surgery is the career that gets the most respect – I'm right about this, aren't I? I'd sure hate to spend all that time in medical school and then have people say, "well, it isn't exactly cartooning, is it?"
You get the idea. So, since Bill is not only nuts, but indescribably nuts, we elected to use this space to display a tiny sampling of his work, beginning with one of his earliest newspaper-published sports cartoons.
Bil was 20 when that one ran in the Newark Evening News, studying at the Art Students League and the American School of Design in New York City, and frequently submitting his work to both the Evening News and the Star Ledger.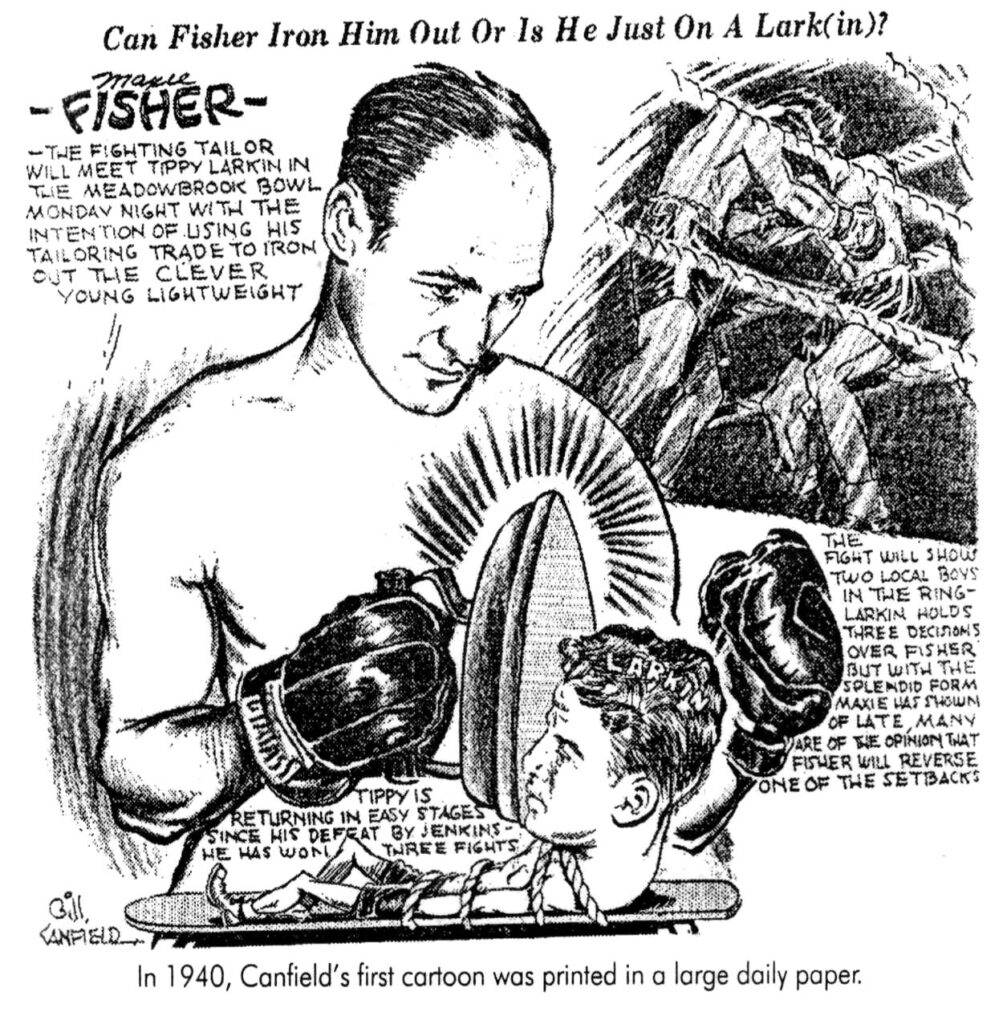 "After two years of art school, I decided I knew everything," Bil recalls, "so I walked down to the Racing Form and got a job as a cartoonist."
His fledgling career came to an abrupt halt eight months later, when Pearl Harbor was bombed. Bil immediately joined the navy and, two months later, found himself aboard the battleship Massachusetts.
After an event-filled four years (from the invasion of Casablanca to the bombing of Japan), he returned home and went to work in the art department of the Newark News. Bil quickly worked his way up to art manager, and by 1955 was the paper's sports cartoonist. Four years later, he was turning out daily cartoons for both the sports and editorial pages – which he did until the News folded.
"Fortunately, I was unemployed for only about two hours," he remembers, "because the Star-Ledger hired me the same day the News closed,"
And so in 1972, Bil joined the staff of the newspaper that had printed his first cartoons when he was still a student at East Orange High School.
"There was never a shortage of subject matter, especially in THIS state," he ways, explaining: "After God created cartoonists, he realized they needed a subject, so he created New Jersey."
Getting paid to draw cartoons, Bil confides, was "like getting a paycheck for not working. Because it was never work; it was getting up each day and saying 'this is fun'."
It was fun for us, too, Bil. For more than 50 years – whether they made us laugh, cry or get mad – your cartoons never failed to move us. Our sincere wishes for a long and happy retirement.
Or should that be long and respected career in brain surgery? Even after all the years, we're still never sure when you're pulling our leg.