Carefree's exciting architecture and sweeping vistas draw artists, designers, architects, visitors and residents who appreciate the creative integration of sculptural earth, rock, and striking desert terrain. Experience the innovation and drama of the Desert Foothills' distinguished architectural designer and builder Gerry Jones by touring six of his signature homes on the Cave Creek Museum's Gerry Jones Home Tour.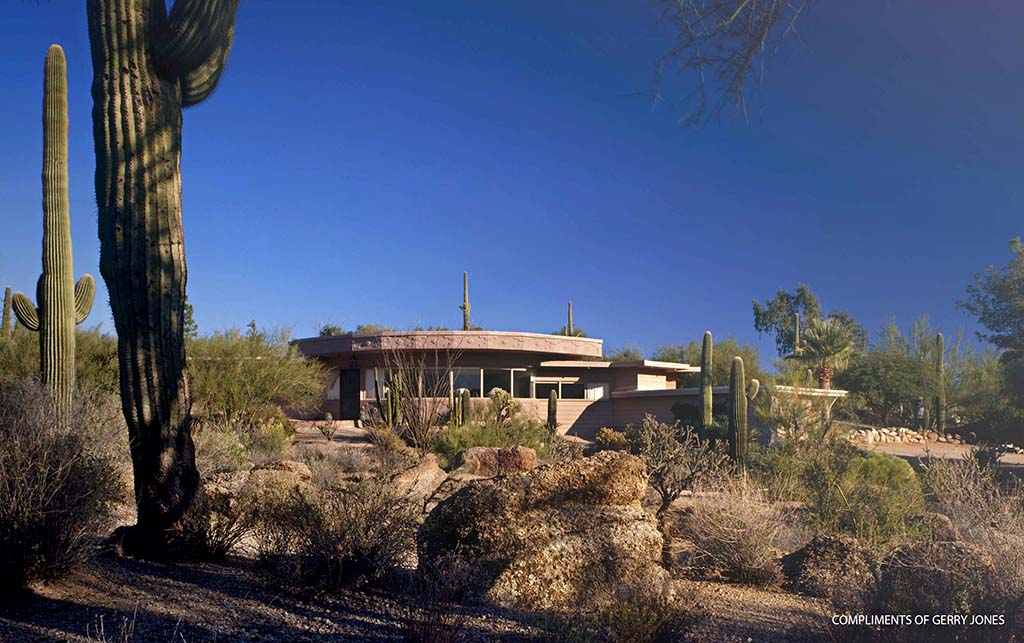 After serving in the Marines in World War II and Korea, Mr. Jones remained in China to study history and philosophy, and observed that ancient Buddhist monasteries were tucked directly into the mountains. When he began his career in design, he resolved to employ the terrain to its best advantage without destroying the natural mountain contours, just as the Buddhists had done centuries before.
A seasoned rock climber, Mr. Jones knew the land well. He laid out roads and lots by leading bulldozers across the land as he wove around native cacti, rocks, outcroppings, and trees. He utilized existing rocks and boulders structurally as supports for the foundations of his buildings and interior features of the spaces he created, bringing bedrock into dwelling spaces and placing homeowners into the living desert.
Tickets for the The Gerry Jones Home Tour on Sunday, March 8, 2020, are $75 each and are only available in advance through the Cave Creek Museum. Participants will visit the homes via chauffeured buses in three shifts throughout the day, 9am-noon; noon to 3pm; and 3pm to 6pm. Please note that the residences are multi-level and are not ADA accessible. For tickets and additional information, please visit cavecreekmuseum.org or call the Cave Creek Museum at 480-488-2764. This season-long celebration of Gerry Jones is supported by a grant from the Kemper and Ethel Marley Foundation. The Cave Creek Museum is located at 6140 E. Skyline Drive, Cave Creek AZ 85331.