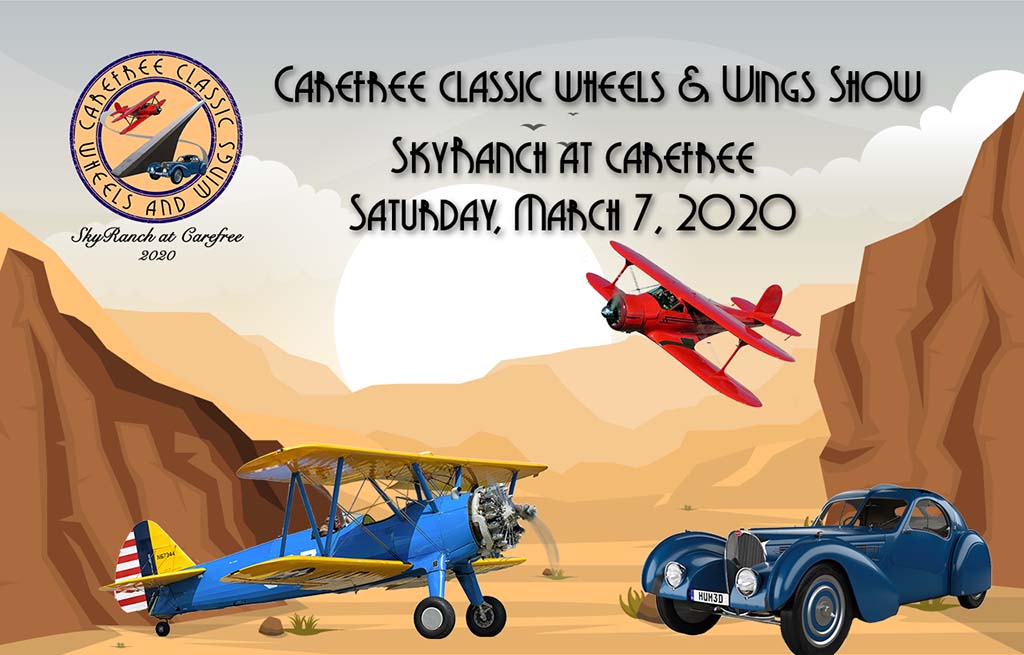 The organizers of the Carefree Classic Wheels and Wings Show are proud to announce that SkyRanch Airport in Carefree will host the 2020 "Wheels and Wings Show", a celebration of classic and vintage automobiles and airplanes on March 7, 2020. Exhibited cars will be from 1980 and earlier. They will include the pre-war golden era, post-war sports cars, American "chrome and fins", muscle cars from the 60s and 70s, and other exotica. Vintage airplanes will come from throughout the Valley. This will not be a "fly-in" but a static display. However, the renowned Embry-Riddle Aeronautical University's UAV/drone team will be on the runway to show the amazing aerobatic skills of their futuristic flying machines.
Admission is free to the public. Food trucks will be available for the public, as well as porta-potties. Live music is planned as well. Public parking will be along Cave Creek Road, which will be coned-off for the event. The show opens at 8 AM and ends at noon.
Those wishing to exhibit a Classic or Vintage Car in the Show must register online at: Carefree-Wheels-Wings.com. Space is limited so register early!
This will be the first large car show in Carefree in eight years, and anticipation is running high. Join in this celebration of "moving art, the automobile"!