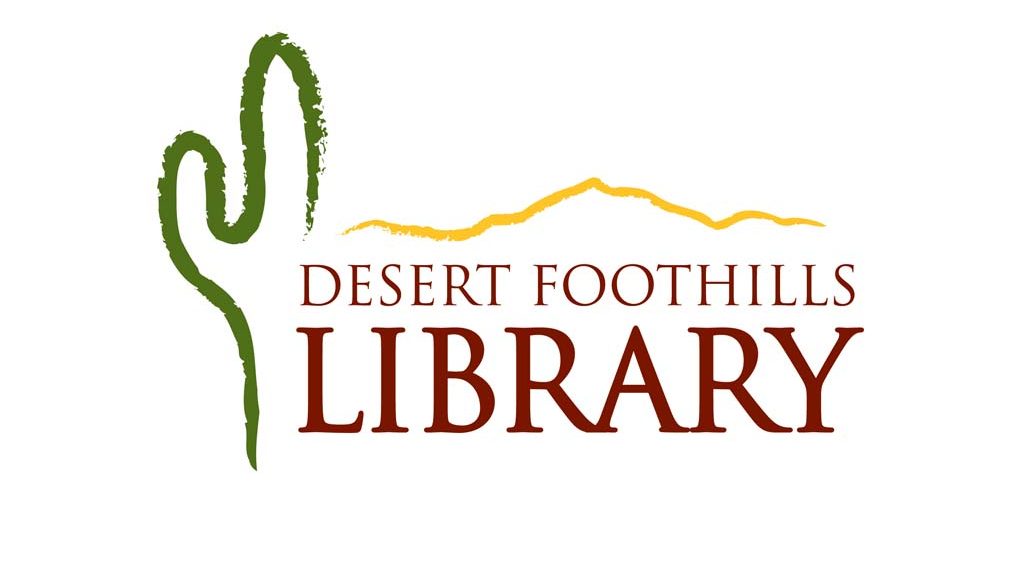 SAVE THE DATE

Desert Foothills Library 11th Annual Gala
Saturday, February 8, 2019 6:00 p.m.
Celebrating 66 years as a 501(c)3 non-profit, built on the foundation of member support through donations, memberships, and volunteerism. Join us at 6:00 p.m. for a silent auction, wine pull, & hosted cocktails. Gourmet Dinner at 7:00 p.m. with live entertainment, featuring renowned trio We3. 
Tickets: $200.00 All proceeds benefit the Library. 480-488-2286
Please RSVP by February 3, 2020
ART EXHIBITS
Hidden in the Hills Showcase presented by Desert Foothills Gallery, October 3 – January 23
Contemporary Watercolor Association presented by Desert Foothills Gallery, January 24 – March 19
LIBRARY FEATURE EVENTS
Crime Fiction: Must 'Bad' Characters get their Due? with Author Jeff Marshall
Tuesday, January 7, 10:30-12:00 pm
Modern crime novels, many involving serial killers, are often full of sudden and bloody deaths, and the killers generally get their just desserts in the end. In his novel, Undetected, a woman dispatches her husbands but escapes detection. Are readers dismayed when a character seems to get away with murder?
Jeffrey Marshall, a writer and retired journalists from Scottsdale, is the author of four books, including the novels Undetected and Little Miss Sure Shot. Much of Marshall's 35-year journalism career focused on banking and finance, and he was Chief Editor of two national business magazines. He has degrees from Princeton and Northwestern.
RSVP online at dfla.org or call 480-488-2286.
Cost: FREE
Yellowstone in Winter
Wednesday, January 15, 10:00-11:00 am
Winter in Yellowstone means fewer crowds, frigid temperatures, and steaming geyser basins. Skis, snowshoes, snowcoaches, and snowmobiles become the primary modes of transportation as roads close, rivers and lakes freeze, and snowstorms transform the park into a winter wonderland. Restricted vehicle access and limited services makes winter visits challenging. Every year in early November, most park roads close to regular traffic as we prepare for the winter season. The only exception is the road between Mammoth Hot Springs and the northeast entrance, which is open to regular traffic all year. Once enough snow accumulates (usually by mid-December), roads open to "oversnow" travel only. This means the only way to visit Old Faithful, the Grand Canyon of the Yellowstone, and other popular destinations during winter is by guided snowmobile or snowcoach, or through our non-commercially guided snowmobile access program. Over snow travel ends in mid-March, when our plowing crews begin clearing a winter's worth of snow. Roads start re-opening to normal cars in mid-April.
David and Diane Reesor. David became interested in photography when his parents gave him a Brownie Hawkeye camera for his 8th birthday… his obliging parents allowed him to make a dark room in the family bathroom. David has gone beyond the Hawkeye camera and with his digital knowledge is able to put together a 'show' that is very creative as well as instructive. You will definitely not be bored! Diane came to the world of Photography after she met David. Her interests include the people, flora, architecture details and abstract aspects.
A 24×36 color photo suitable for framing will be raffled off to one lucky patron!
RSVP online or call: 480-488-2286
Cost: FREE
Introduction to Essential Oils
Thursday, January 16, 3:30-4:30 pm
Ever wondered about essential oils? Ever wondered if it is just about fragrance or is there really more to it? Come find out! Ellen Powers is teaching a fun and interactive introductive workshop on Essential Oils. Learn the benefits and applications of of Essential Oils to support a healthy lifestyle, stress reduction and emotional balance.
Ellen Powers is a Certified Aroma Therapist, a Reiki Master and an Ordained Minister. She has many years of experience using and teaching about the safe and effective use of Essential Oils.
RSVP online at dfla.org or call 488-2286.
Cost: FREE
Handmade Crafty Cards
Friday, January 17, 11:00-12:30 pm
Come make three handmade crafty cards using the latest and greatest supplies and learning new techniques from Stampin' Up. Don't worry if you feel you are not crafty; we will have it all organized for you. Come relax and craft with friends. Please bring your own double sided tape or you may purchase some for $3 a roll. We hope to see you!
Tickets available at dfla.org or call 480-488-2286.
Cost: $25
Healing Winter Soups with Integrative Healing & Wellness
Friday, January 17, 12:00-3:00 pm
A nice bowl of soup is like a warm blanket for your belly! In this class, Dr. Fabio (medical director of the Center for Integrative Healing & Wellness at Civana) provides an exploration on how to make delicious, plant-forward soups for your winter season. Once the soups are prepared and ready, we will try them together! There will be plenty of time for Q&A. Includes cooking demonstration, tasting experience, recipe packet, and education by medical nutritional experts Dr. Fabio Almeida MD and CindyAlmeida CNC.
Tickets available at dfla.org or call 480-488-2286.
Cost: $50.00 – Includes cooking demonstration, tasting experience, recipe packet, and education by medical nutrition experts Dr. Fabio Almeida MD and Cindy Almeida CNC
Wills & Trusts 101 presented by Pavlik Law Firm, PLC
Saturday, January 18, 10:30-11:30 am
Nicole Pavlik or Nicole Pavlik Law Firm, PLC will host a FREE Estate Planning Workshop, providing a small group setting for women and men to learn the essentials of Wills, Trusts, and Probate.
Attendees will learn:
Last Will and Testament – what they do and don't do
Probate – what it is and how to avoid it
Trusts – what they are and how they are different form a Last Will and Testament
Executor/Successor Trustee – who can be one and how to pick the "right" one
Beneficiary designations – why these need to be updated
Attendees will have the opportunity to actively learn, plan, and ask questions in a supportive and engaging environment.
RSVP at dfla.org or call 480-488-2286
Cost: FREE
The Dangers of Compulsive Eating
Tuesday, January 21, 10:00-11:30 am
This presentation will cover the dangers of compulsive eating in order to help direct sufferers or those who know of someone suffering. The presenter has found a solution that works effectively with long-lasting results.
Joy Jesty suffered from chronic compulsive eating for nearly two decades and found herself using dangerous methods to control her food consumption. With the assistance of a program of action she has been restored to continuous sanity around her eating. She has abstained from eating disorder behaviors since 2017.
RSVP online at dfla.org or call 480-488-2286.
Cost: FREE
Taos Society of Artists presented by Phoenix Art Musuem
Thursday, January 23, 1:00-2:30 pm
Taos, New Mexico continues as an art colony with a legacy spanning three centuries, and origins tracing back to 1898. The picturesque mountain setting, historic Taos Pueblo, and tri-cultural community all created rich subject matter for the artists.
Organization of Taos Society of Artists in 1915 provided touring and marketing opportunities for the artists living and working in the remote Northern New Mexico community, and helped make Taos an internationally known art center.
Phoenix Art Museum has a strong collection of Taos art, and we'll look at some of these images along with works from other collections.
Marcia Ruddock will be presenting. She is a Master Docent at Phoenix Art Museum, and has enjoyed many visits to Taos.
RSVP online or call 480-488-2286.
Cost: FREE
Introduction to Firearms & Firearms Safety
Friday, January 24, 1:00-3:00 pm
Basic introduction to different types of firearms. What makes them different and how they work. Safe handling, use, and proper storage of firearms. Safety will be stressed throughout the presentation. Q&A to follow presentation.
Steve Snider has been around firearms for 60 years and took a hunter's safety course at age 12. He has taken numerous safety and technical shooting courses and currently holds Arizona concealed carry permit. He is certified M16/ARIS, Glock Armorer, worked for a gun shop for 3 years before opening U Build Rifle Company in March 2017. U Build Rifle sells, repairs, and builds custom rifles as a Class 3 Dealer.
RSVP online at dfla.org or call 480-488-2286.
Cost: FREE
Vision Board Party
Saturday, January 25, 10:30-3:30 pm
A vision board is a collage representing things you would like to attract to your life. We will begin with a short guided meditation to get grounded – clear of our intentions and dreams for 2019. Please be punctual as to not disturb the group meditation. You'll cut pictures and phrases out of our huge assortment of magazines (or your own magazines and photos). Glue the images and words onto a piece of poster board and place it somewhere you can see it on a regular basis — then watch the magic happen! A special bonus: enjoy a lesson in using the power of Feng Shui on your vision board with Ro Rusnock, owner of Elements and Energy.
BRING: poster board (maximum size 22 x 28) glue sticks and scissors (labeled with your initials).
BRING To Share: Yummy and healthy lunch item.
We will provide: magazines, water and iced tea, plates, utensils.
Purchase tickets online or call: 480-488-2286
Cost: $30.00
Reinvent Yourself: Steps to Plan Your Next Act
Wednesday, January 29, 1:00-3:00 pm
The best way to predict your future is for you to create it yourself. Awaken your undiscovered possibilities! This introduction workshop is designed to inspire and assist individuals to clarify the challenges of life's transitions. Assess your interests, personal style, existing talents, and experiences. Develop options and strategies to reinvent yourself. Explore the possible need for new skills with awareness of retirement trends and where you fit. Leave with a miniature bio and manual that will guide you in launching your new direction/identity, and help you implement the transition process. Facilitators Peggy Arneault, MA, LPC and Barbara Hatton, MA, LPC.
Tickets available online or call 480-488-2286
Cost: $49.00
Chasing Centures with Author Ron Parker
Thursday, January 30, 2:00-3:30 pm
Chasing Centuries takes the reader along on an exciting and little know adventure at the crossroads of archaeology and botany. Travel with author Ron Parker as he explores the depth and duration of human/agave co-evolution across the desert southwest, and discovers unusual agaves apparently associated with ancient archaeological sites.
Ron Parker is an outdoorsman, xeric plant enthusiast, and amateur botanist who spends half his time gardening, and the other half exploring natural habitat across Arizona and neighboring states; primarily chasing agaves and archaeological sites. He has been studying agave populations in Arizona for many years.
RSVP online at dfla.org or call 480-488-2286.
Cost: FREE
MONTHLY PROGRAMS
Socrates Café – Foothills Forum
Thursday, January 2, 10:00-11:30 am
This is an opportunity to discuss a wide range of interesting topics with friends. The requirements for participation are an interest in discussing meaningful questions and respect for others regardless of their opinions. We do not seek consensus. We welcome people with a wide diversity of experiences and opinions. Past discussion topics have included:
When do the law and justice differ?
How does greed influence our social and economic systems?
What can be done to fix public education?
How can US immigration policy be fixed?
How can we fix our healthcare system?
Is Cave Creek a racist community?
Should we have a flat income tax?
What should we do to improve relations with North Korea?
Topic this month: What is the impact of modern technology
No registration.
Cost: FREE
Writer's Connection
Friday, January 3, 1:00-3:00 pm (1st Fridays)
Today's world is literally at a writer's fingertips. A few keyboard strokes can open the information gates to help you create stories that are distinctively credible and compelling. This Month: What's the difference between self-publishing and independent publishing? with Carrie Severson – It comes down to your philosophy about team. Are you a team player? Or do you work best on your own? One way to get your book out into the world is to do it all yourself. The other way is to work inside a team and partner with various players. Join Carrie Severson, the Founder of The Unapologetic Voice House, to get your questions about independent publishing answered. Carrie Severson has been in the storytelling industry for more than 20 years. She's been a writer, editor, essayist, public speaker, publicist, story coach and now publisher. She started The Unapologetic Voice House in 2019 after her hopes of signing with an agent came to an end. She created the independent publishing house to support writers who have big dreams without big platforms. She's walked that journey and found the rainbow at the end of the path. You can check her out online at www.theunapologeticvoicehouse.com.
RSVP online or call 480-488-2286.
Cost: FREE
Literate Foodie Club
Monday, January 6, 12:30-2:30 pm (1st Mondays)
Love food, books, cooking, and conversation? We will explore all these and more. Topic: We begin 2020 with an especially fun meeting! We will read Chai Another Day, a mystery set in a Seattle spice shop, by award-winning author Leslie Budewitz. Cindy Gibson will be discussing spices; a spice survey for all of you; and our special treat, a video interview with the author, Leslie Budewitz herself. Give yourself a break after the holidays and join us!  Facilitated by Dana Rakinic & Jan Kruse. Questions? Contact danarakinic@gmail.com or jan-kruse@cox.net. Tickets online or call 480-488-2286. Program limited, register now!
Cost: $10
Death Café
Wednesday, January 8, 12:30-2:30 pm (2nd Wednesday this month only)
Death Cafe is a gathering to talk about death and dying. The aim is to increase awareness of death to help people make the most of their (finite) lives. It is a global, non-profit movement begun in London in 2011: to date, more than 7,000 Death Cafes have been held in 63 countries. Death Cafe does not promote beliefs, agendas, or products, nor is it a bereavement or grief support group. Join us for open, respectful, interesting conversation about topics relevant to all of us but often considered "dark" or even taboo. From more information go to www.deathcafe.com
No registration.
Cost: FREE
Library Book Club
Thursday, January 9, 10:00-12:00 pm
Tuesday, January 28, 10:00-12:00 pm
Book Club is now offered twice every month! Same book, same facilitator, different days. Choose which day is best for you to join. This month: The League of Wives by Heath Hardage Lee. Everyone is welcome!
No registration.
Cost: FREE
Music Appreciation
Thursday, January 9 & 23, 4:00-5:30 pm
Fran Rosenthal, Music Enthusiast, will educate and entertain, as she takes us on a tour of music throughout our history. Topic January 9: Elgar's, Enigma Variations, and Strauss' Don Quixote Topic January 23: Magnificent late 19th Century and early 20th Century masterpieces. Romantic and such intriguing music.
RSVP online or call: 480-488-2286.
Cost: FREE
Longevity, Healthy Aging, and Regeneration
Friday, January 10, 11:00-12:00 pm
This discussion will revolve around a variety of studies on the habits of those who have lived into extreme old age. These studies range from the 1800's to present day. We will discuss what these studies have in common, what patterns are emerging, how do we change our patterns and what will the outcome be for the average person.
Karen Cimaglia's lifestyle change began several years ago and has constantly evolved. Karen had become aware of what aging had begun to do to her body and began to research options for corrective measures. This journey provided amazing discoveries about herself and others. Karen has corrected many of her ailments as well as assisted others along the same path. Karen's research has led her into the areas of philosophy and metaphysics, which has provided a great deal of insight into the longevity and health practices of centurions past and present.
RSVP online at dfla.org or call 480-488-2286.
Cost: FREE
Chapter2Books Special Sale!
January 10, 11, & 12
Biggest used bookstore in the North Valley! More than 15,000 books, as well as DVDs, CDs, and audiobooks, starting at just 50 cents! Located inside Desert Foothills Library at 38443 N. Schoolhouse Rd., open 7 days a week, or check us out on Amazon. Donations are welcome, and help support the library! www.Chapter2BooksAZ.com. 480-488-2777.
Memoir Writers' Group
Monday, January 13, 10:00-11:30 am (2nd Mondays)
Are you writing a memoir, personal essays, or creative non-fiction? Join our group to share stories and receive constructive feedback. All levels welcome. Organized by Elena Pavlova.
No registration.
Cost: FREE
Get Lit Book Club
Tuesday, January 14, 5:00-6:30 pm (2nd Tuesdays)
Your Librarians Caitlin, Sara, and Ashley invite you to a new style of book club; Get Lit Book Club. This fun and informal gathering will be found at a different, local restaurant or watering-hole each month to help support our local community. Books will include non-fiction, classics, contemporary fiction, and memoirs to list a few. Everyone is welcome! This month: How to Stop Time by Matt Haig at The Horny Toad in Cave Creek. Registration required at dfla.org or call 480-488-2286 so we may give accurate numbers to the restaurant for setup. Cost: FREE to join and we encourage you to eat, drink, and be merry to support a local business.
Literary Salon
Thursday, January 16, 10:00-12:00 pm (3rd Thursdays)
An informal discussion of books, film, and theater led by a facilitator. No requirements to read or see any particular film, play, or book. Everyone is invited to share ideas and reflections on the selected theme. This month: This Month: Favorite Detectives – Who is your favorite detective? Why do we like detective novels and films? There is the fictional Sherlock Holmes and his sidekick Doctor Watson. Monsieur Poirot? Father Brown? Charlie Chan? Nick and Nora Charles from The Thin Man by Dashiell Hammett or his other character Sam Spade. Remember Jessica Fletcher played by actress Angela Lansbury in the popular TV series Murder, She Wrote. Sue Grafton popularized Kinsey Millhone in her alphabet series. And there is Helter Skelter, a 1974 book by Vincent Bugliosi and Curt Gentry. Bugliosi served as prosecutor in the 1970 trial of Charles Manson. Come and share your favorite whodunit.
No registration.
Cost: FREE
Drum Circle facilitated by AARP
Tuesday, January 21, 4:45-5:45 pm (3rd Tuesdays)
Join us for a fun and interactive drum circle led by trained HealthRhythms facilitator, Frank Thompson. Drum circles are a form of recreational music-making proven to reduce stress, boost the immune system, promote joy and a sense of well-being, and to build community. All drums and percussion instruments provided. No musical experience required! If you have a heartbeat, you can drum. Open to all adults, all ages.
No registration.
Cost: FREE
Foothills Music Club
Friday, January 24, 4:00-5:30 pm (4th Fridays)
Inspired by Cave Creek's rich musical community experience, Music Club was created for music enthusiasts to give an open sign up to play music and storytelling. Cave Creek's most musical library offers a peaceful and beautiful place for self-expression and positive interaction to develop your strong musical spirits. Julie Harding will be presenting a journey of nature-based music also the music of Frank Lloyd Wright's Father William C. Wright. Stories of a very musical household where music is a fundamental notion and recognized as an important
No registration.
Cost: FREE
MahJongg 101: Brain Healthy Fun
Mondays, January 27 – February 28, 1:00-4:00 pm
Learn the foundations of how to play this stimulating rummy-like tile game. Fun, challenging, and addictive it helps to improve memory, decision-making skills, and patience. Instructor provides individual attention in a small-group friendly setting and guides students in understanding MahJongg and how the game is played. The 2019 Mahjongg Card is required available at www.nationalmahjonggleague.org
Class limited to 8 students, minimum 4 students
Registration required online at dfla.org or call 480-488-2286.
Cost: $90.00 for a 4-week series
Art Critiques
Monday, January 27, 4:00-5:30 pm (4th Mondays)
Art critiques are a wonderful way to get feedback on the art you are doing. This will be a group participation with Nicolette being the coordinator. Bring 1-2 pieces of work and come join us and learn from each other.
Nicolette Maguire Bonnstetter taught art history, art methods, and worked with preservice teachers at the University of Nebraska- Lincoln. She is a studio artist working in acrylics and mixed media.
No registration.
Cost: FREE
Craft N Chat
Mondays, 1:00-3:00 pm
Do you knit, crochet, or practice another table craft? Join other local enthusiasts weekly for companionable creating and conversation. Any portable craft is welcomed! New crafters and all skill levels are always welcome!
No registration.
Cost: FREE
MOVIE SERIES
Monday Movies at the Library
Every Monday, 2:30 pm
New releases, with a foreign film once each month! Check our website www.dfla.org for titles.
No registration.
Cost: FREE
Music @ the Movies
Thursday, January 2, 2:00-5:00 pm (1st Thursdays)
Join us for a celebration of movies with interesting or significant music. Movies range from dramas, musicals, comedies, and more! Hosted by music enthusiast, Annis Scott. This Month: A Late Quartet – For 25 years, the Fugue, a string quartet, has wowed music-lovers with its performances. However, as the musicians prepare to celebrate a milestone season together, cellist Peter (Christopher Walken) informs his comrades: he has Parkinson's disease and must soon retire. In the fallout from the shocking announcement, competing egos clash, long-simmering resentments bubble to the surface, and marital infidelity rears its ugly head. Also stars Philip Seymour Hoffman. No registration. Cost: FREE
Around the World in 9 Films
Friday, January 10, 3:00 pm (2nd Fridays)
Movies are a great way to learn about different cultures — how people live, love, laugh, and cope with hardships and tragedy. This series will explore films from nine different countries, each one telling the story of individuals caught up in conflicts unique to their culture and country, and yet at the same time, linking a thread of humanity that stretches across the globe. A post-film discussion, facilitated by Gary Zaro, Humanities Professor from Paradise Valley Community College (PVCC), will follow. This Month: A War (R, 2015, Denmark, 101 minutes)
RSVP online or call 480-488-2286
Cost: FREE
Cinematic Reflections: Little Known Stories of WWII
Friday, January 17, 3:00 pm (3rd Friday) World War II is one of the best known and widely depicted conflicts in history. This film series will explore little known stories from that war — stories filled with daring, intrigue, and sometimes such improbability that they have to be seen to be believed. At the heart of each one are the men and women who made World War II modern history's seminal event. A post-film discussion, facilitated by Gary Zaro, Humanities Professor from Paradise Valley Community College (PVCC), will follow. This Month: The Innocents
RSVP online or call 480-488-2286
Cost: FREE

TECHNOLOGY AND DIGITAL CONTENT
E-Media & Library Digital Content Help
Every Tuesday, 10:00-11:00 am
Downloading eBooks and eAudiobooks can be easy through the library's digital collection! Each week there will be an informal drop-in class for anyone with questions about Overdrive, RB Digital, Cloud Library, or any of the apps the library offers. We will show you how to download the apps to your phone or tablet and how to navigate the digital collection. No question is too small! Please bring your device and have your library card ready. For Apple users your Apple ID will be needed.
No registration.
Cost: FREE
Teen Tech Help
Saturday, January 11, 10:00-1:00 pm (2nd Saturdays)
Get help with many of your technology needs; e-mail accounts, apps, and downloading e-books, setting up devices, Windows 10, websites, and more! Bring your device or use a library computer to get your questions answered. Contact Imogen for more information; imogenbrooks01@gmail.com. No appointments needed; 1st-come, 1st-served. Stop by the circulation desk to check-in for Teen Tech Help.
Introductory to Technology
Sunday, January 12, 1:00-3:00 pm
A group of high school seniors will hold introductory courses on different topics each month! They will be able to answer any questions you have about your tech so come on in! This month: Introduction to MacBook & Windows; how to use computers.
Imogen Brooks is a senior at Desert Mountain High School. She is a Teen Tech helper at our Library and wanted to do more to help everyone who comes to the Library. Sarah Glomski is a senior at Desert Mountain High School. She wants to be more involved with helping everyone who comes to the Library with their tech needs. Jessica Keane is a senior at Desert Mountain High School. She is involved in sports and service clubs. She would love to help more by teaching tech at the Library.
No registration.
Cost: FREE
SPANISH OFFERINGS
Intermediate Conversational Spanish
Every Wednesday, 10:30-12:00 pm
Informal chat session using various books, flashcards, etc. No instructor.
No registration.
ONGOING HEALTH & FITNESS CLASSES
Gentle Yoga
Every Sunday & Wednesday, 11:00-12:00 pm
You are only one yoga class away from a good mood! Yoga for every body through a slow flow of controlled poses; you'll begin strengthening your heart and bones, improving balance, and sharpening the mind. Chair Yoga offered on the last Sunday of every month. Please bring a yoga mat or light blanket.
Questions: Contact instructorMarina Kachur, at 480-510-6572 or yokama14@gmail.com.
Cost: $8 cash, paid to instructor at each class
Yoga Inspired Soul Play
Every Monday, 9:15-10:30 am
A hybrid yoga class suitable for all levels, includes a multi-variation of styles of yoga infused with play – bringing us to our true inner child space. Body movement of dance, body awareness movements for strength, balance, resilience, and flexibility. Meditation – guided visualizations, guided energy, and breath flow, use of voice via chant.
Questions: Contact instructor Jennifer Mathews, jen72mathews@yahoo.com or 480-707-8377
Cost: $8 paid to instructor at beginning of class
Yoga Fusion
Every Thursday, 12:00-1:00 pm
Please join Elizabeth Boisson for an intermediate-level course of Yoga Fusion on Thursdays from 12-1 pm! We will start with breathing exercises, go through a series of stretching movements to open our hearts and our hips, and then move into Vinyasa or Flow yoga and several standing sequences, including balance exercises. We finish with 5 minutes of Savasana at the end of class. Questions: Contact instructor Elizabeth Boisson: 480-363-5275 or evboisson@yahoo.com.
Cost: $8 cash, pay to instructor at each class
Tai Chi – Qigong for Everyone!
Every Friday, 9:00-10:00 am
A discipline that can be practiced and benefits gained at any age – you are never too old! A blending of Qigong and Tai Chi, with deep breathing, repeated gentle motions, and stretches to improve health, balance, agility, and flexibility. Wear loose clothing and bare feet.
Questions: Contact instructor Bina Bou: 480-284-1300 or bina.b75@gmail.com. Cost: Prepay instructor $40 cash for 5 classes; or $10 drop-in
Practical uses of Reiki and Various Energy Modalities in Meditation, Relaxation, Healing, Health, and Overall Self-Care
Wednesday, January 8 & 22, 10:30-11:30 am (2nd & 4th Wednesdays)
The discussion will begin with an explanation of the energy body; how it works and functions. We will review what effects this unseen energy force and how you use it. We will play with the energy for a better understanding of how you use and control your energy body at the present and how you can consciously control more of the energy that makes up all that is you. Questions: Contact instructor Karen Cimaglia: rockinvibs21@gmail.com or 602-721-7714.
Cost: $8 cash, pay to instructor at each class
MONTHLY SUPPORT GROUPS
Caring for the Caregiver
Monday, January 6, 10:00-11:30 am (1st Mondays) Taking care of yourself is essential in being able to take care of your loved one. Join us for this opportunity to fellowship with other caregivers. Led by Hospice of the West facilitators. No registration. Cost: FREE
"The Healing Pathway", After the Loss of a Spouse or Partner
Monday, January 13 & 27, 9:30-11:00 am (2nd & 4th Mondays) Join us on this Journey that will guide you to find a "new normal" as you process through your personal grief journey. Led by Hospice of the West facilitators. No registration. Cost: FREE
Health and Nutrition with Dr. Jacquie
Wednesday, January 15, 1:00-2:30 pm (3rd Wednesdays) Open dialogue support group about energy, weight, and social life altered by digestive problems due to leaky gut and other ailments. Facilitated by Dr. Jacqueline Greenfield.
Twenty years as a Naturopathic physician integrating conventional with Natural and Traditional Chinese Medicine, coaching, and personalizing nutrition utilizing functional lab analysis and epigentics, and treating pain syndromes with ultrasound guided advanced regenerative stem cell, growth factors, and PRP injection therapy when necessary. No registration. Cost: FREE