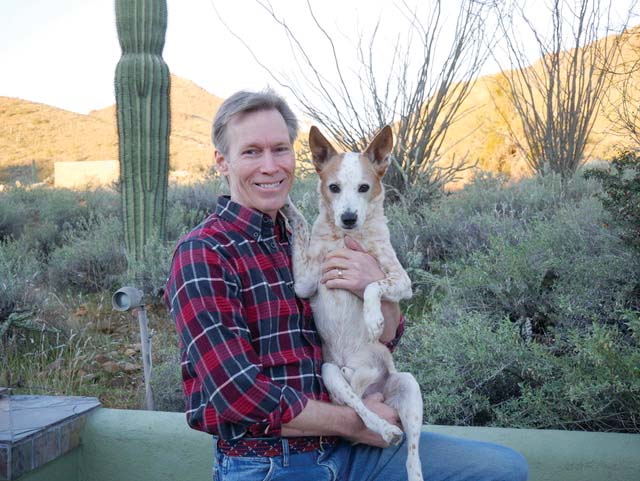 CAVE CREEK – For cats and dogs, going to the vet is often stressful. Car rides panic some cats. Dogs can recognize the medicinal smells from veterinary clinics and attempt to turn tail at the door. Now, there is an alternative with Roadrunner Mobile Vet. Dr. Spencer Maguire, a 1995 UC Davis School of Veterinary Medicine grad, comes to YOU! Not only is this practice received much better by felines and canines, Maguire said, "I can't imagine doing anything else!"
Maguire takes a special interest in geriatric pets, but he can treat puppies and kittens as well as cats and dogs in their prime. He takes temps/weights, draws blood, vaccinates, writes and dispenses Rx meds, brings a microscope to analyze all-too-often debris from ear issues, even has portable urinalysis equipment. If a pet needs to see a specialist, Maguire has a list of referrals.
He does health certificates for travel. Comprehensive, full service, convenient, caring.
His approach is patient. "We [his wife Valerie frequently accompanies him] spend a lot of time sitting on the floor waiting for a pet to come to us," he explained. "Not only do house calls save time, but we have fewer interruptions and pets act more naturally. We can see how a dog may be unstable on his guardian's tile floor or witness how a cat may be challenged by a higher step."
Many pet owners seek in-home euthanasia services … for infinite reasons. Sometimes it's as simple as not being able to hoist a big pooch in the car. Oftentimes it's to make a kitten as comfortable as possible, knowing "Garfield" feels safest at home. Regardless of the motivation, Dr. Maguire will be there with compassion and empathy to help send a beloved pet over the Rainbow Bridge. "We probably get the most cards from clients after a euthanasia thanking us for helping them at such a challenging time."
When you use Roadrunner Mobile Vet, owners are in the loop with treatment plans and cost. Maguire lets you know when he's on his way. He allows plenty of time to troubleshoot and treat, ALL IN THE COMFORT OF YOUR HOME. For details, see www.roadrunnermobilevet.com.
Schedule appointments by phone at 602-935-7147 or at info@RoadrunnerMobileVet.com (Note: it's helpful to have any medical records prior to a visit from Dr. Spencer Maguire and his Roadrunner Mobile Vet unit).