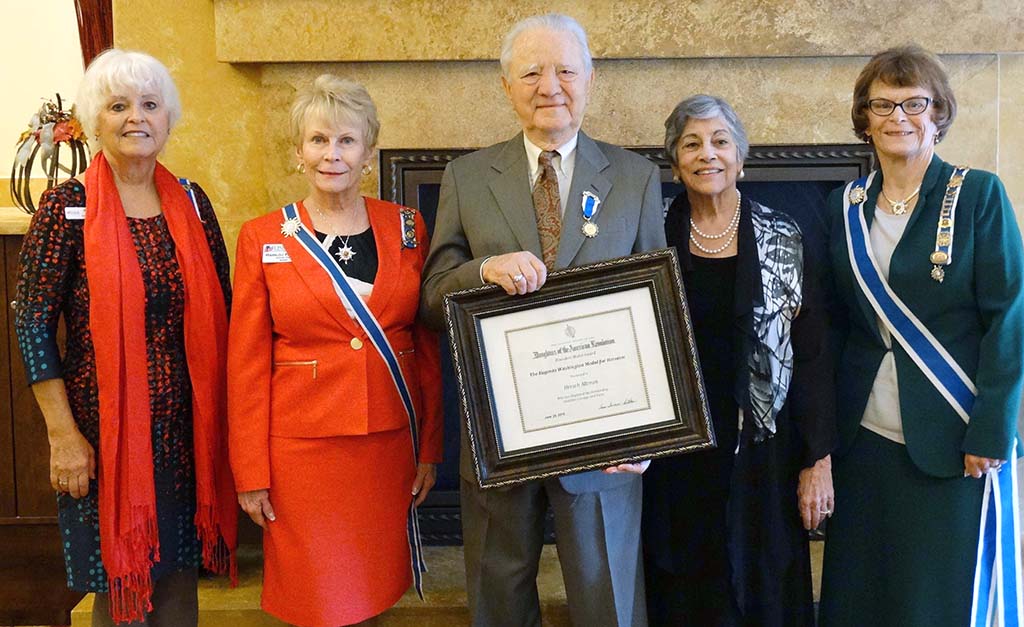 On Monday, November 25, 2019, former Boulders resident Hersch Altman was presented with the National Society Daughters of the American Revolution's prestigious Eugenia Washington Founders Medal for Heroism. Arizona State Regent, Marilou Fellman represented the Arizona Society and Stephanie Troth, Vice President General of the National Society represented the National Society. The award was initiated by Vicki Bobo, Black Mountain Foothills Chapter Regent in Carefree/Cave Creek after Dr. Altman spoke to the chapter in November 2018 at Desert Foothills Library. The event was held at Vi at Silverstone keeping Hersch and Laura near their friends and making it easy for many to attend to attend or watch on the in-house streaming TV.
Don Bobo gave a powerful summation of all nomination letters entitled "Why Hersch?"
To think of a 10-year-old boy evading the Russians and Germans during the Holocaust for four years is difficult to imagine. His mother, father, and three sisters had perished – he was alone. The hunger, cold, and fear – and above all the loneliness – totally unimaginable as he ran from place to place. Hiding, seeking shelter. Then having to wait in Italy four long years to be able to join his uncle in the United States. A traumatized Hersch Altman was unable to tell others what happened so he found an outlet by writing his memories on bits of scrap paper. He started out with a family photo but that too was lost.
Reading his poignant book "On the Fields of Loneliness" is quite descriptive of his tragic young life. But his life goes beyond these 4 years of horror. Arriving in the United States with help he started his school years which were remarkable, his fifty years of professional life were remarkable which included Navy service, and his service to others in the form of speeches on why this should not happen again has been remarkable.
Hersch Altman truly heeded his dying mother's words "Be a good boy, Herschel"
For questions to learn more about Daughters of the American Revolution and to see if you might have a Patriot gene, check our website http://blackmtnfoothills.arizonadar.org