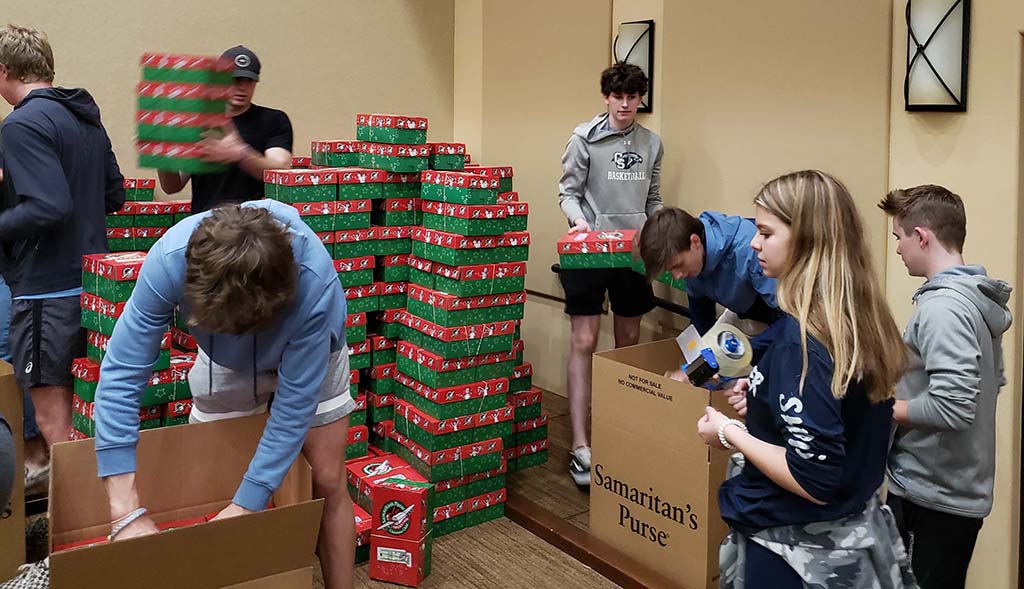 Falcons boys' basketball kicked off the season with a 3-1 effort over the Thanksgiving weekend and prepares for the 2019-2020 schedule. Photos are from the Team Building Community Service Project on Nov 19th. Held at Light of the Desert Church, where the team packed Christmas Boxes into large shipping boxes and loading them in to the shipping truck. Operation Christmas Child Shoebox was a success as these boxes will be sent out to needy families all across the globe. Boxes included toys for children and basic necessities for the whole family. It will truly put a smile on the faces of thousands. There were over 2k shoe boxes sent out.

The Falcons squad has home games on Dec 5th, 6th, and 16th.
Dec 5th is foothills food bank night when canned food items for the food bank will be collected.
Dec 16th is Youth night and Silent night. Youth with school id and Paying adult get in free. Silent night is a tradition that the NETS does every year. Ugly xmas sweaters, Santa, x mas hats, you name it as its usually the largest student section of the year.

ROSTER:
VARSITY- CSHS BOYS BASKETBALL
Alek Severkowski- #1 Senior
Chris Elletson – #3 Junior
Hogan Riddle- #5 Junior
Joey Liberio- #10 Sophmore
Carson Woods- #11 Junior
Noah Dutcher- #13 Junior
Tate Roderick- #20 Junior
Peyton Richardson- #21 Senior
Cole Caruso- #23 Junior
Nate Williams- #25- Junior
Brandon Pederson- #30- Junior
Nolan Hokanson- #33- Senior
Brandon Youngkrants- #35 Senior
Connor Benson- #40 Junior