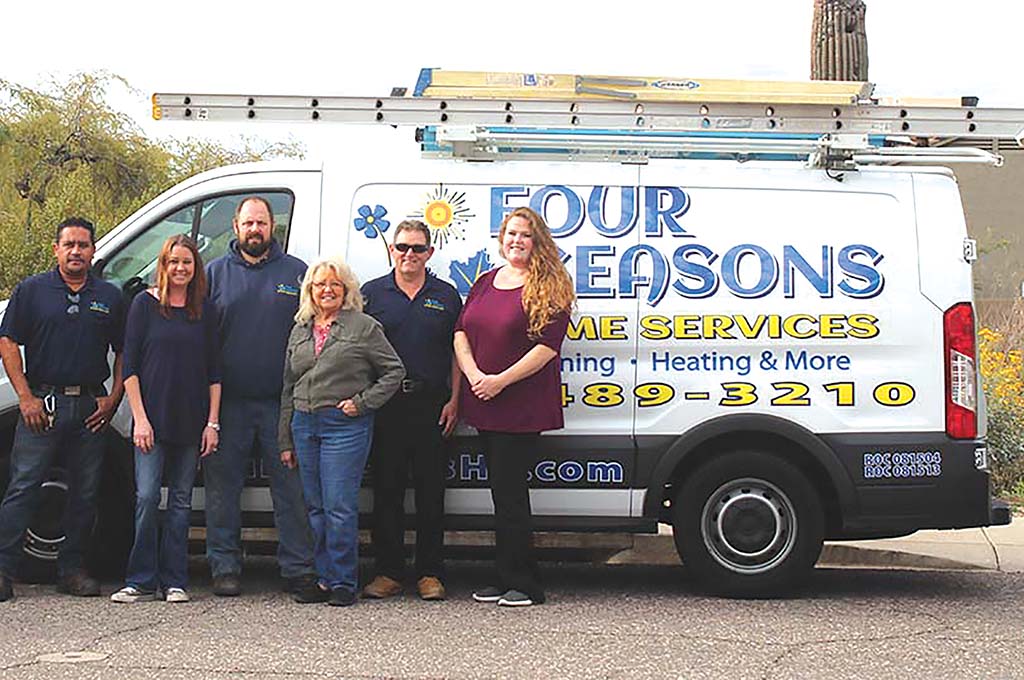 CAVE CREEK – Woe is the heating side the HVAC system, virtually ignored most of the year given Arizona's moderate climate. But take it from Kevin and Jessica Morriston, owners of Four Seasons Home Services, "heating system maintenance is still important!"
Jessica explained, "If you haven't fired up the gas in your unit [if applicable], it's smart to make sure it will operate safely. Also, if you get that burning smell the first time you use your heat, it's dirt that has built up. Maintenance will take care of that."
Right now, HVAC tune-ups are $65, so take advantage of the savings.
There's an advantage to smaller, family owned and operated businesses, and that is that everyone can talk to each other and confer. Both Jessica and her righthand admin assistant, Britni Pemberton, have found when winter rolls around, folks with heat pumps panic when blasts of chilly air blow instead of the expected heat. "That's just the defrost cycle on a heat pump and it's perfectly normal. We advise giving it 30 minutes and if still no heat, we'll send someone out."
The Chicago native who has been in Arizona for 12 years assured there's no charge to cancel a call prior to a tech's arrival. "If you're a maintenance service contract client, you get priority and same day service," Pemberton added. Service contracts are $145 per unit and come with a host of benefits along with two Complete Peak Performance Maintenance visits per year. See fourseasonshs.com for details.
Snowbirds, did you know Four Seasons has a homewatch sister company called Scottsdale Customized Home Services? If you're embarking on a cruise for the holidays or are thinking ahead for someone to keep an eye on the house once Mother Nature's heat returns, call 480-489-3210 to set up an appointment, whether for home watching, HVAC, plumbing, handyman services or electric.