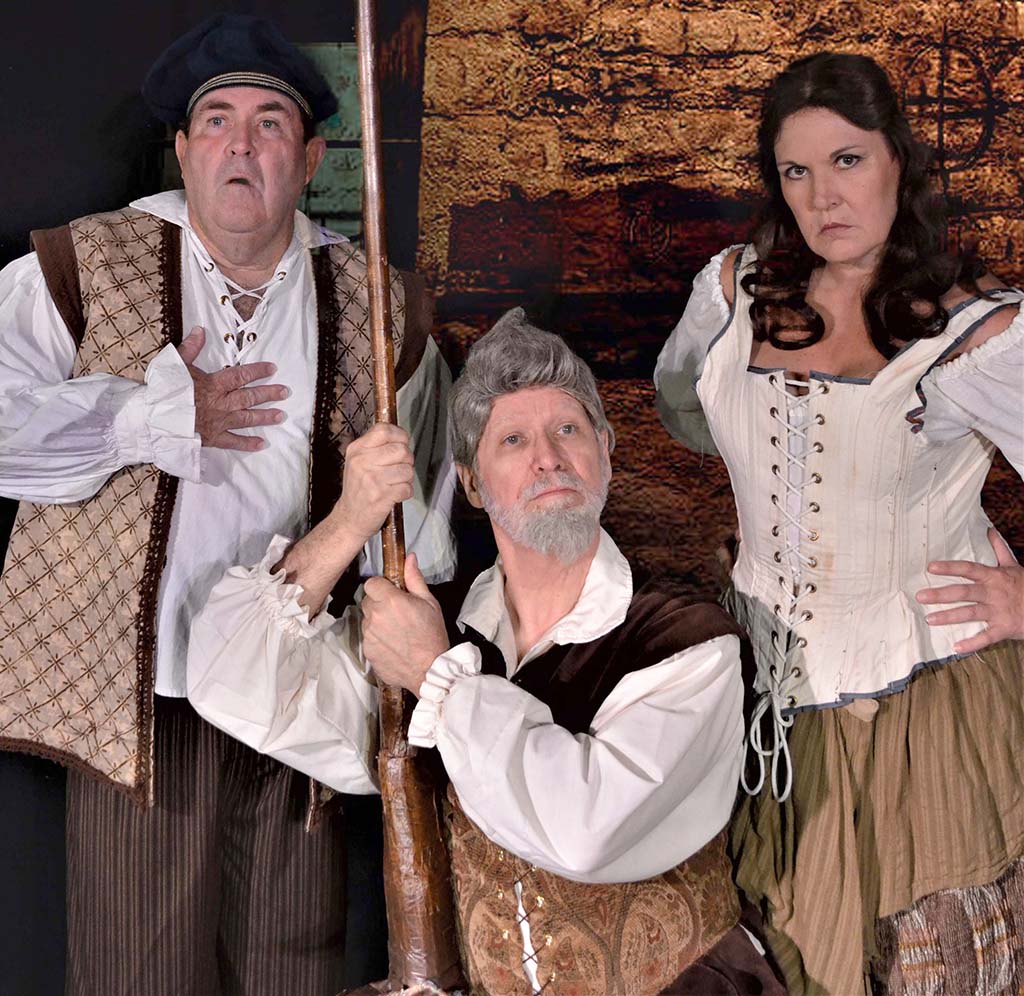 Man of La Mancha

Written by Dale Wasserman. Music by Mitch Leigh. Lyrics by Joe Darion
Original Production Staged by Albert Marre
Originally Produced by Albert W. Selden and Hal James

Fountain Hills Theater
11445 N Saguaro Blvd., Fountain Hills, AZ 85268
www.fhtaz.org

Nov. 8 -24, 2019 Thursdays, Fridays and Saturdays at 7:30pm and Sundays at 2pm.  
Reservations: (480) 837-9661 x3 Visa/MC/Amex/Discover or visit fhtaz.org. Individual tickets are $35.00 for Adults and $18.00 for Youth 17 and under.
Fountain Hills Theater announces the opening of the 'Impossible Dream' musical Man of La Mancha!
Inspired by Miguel de Cervantes' seventeenth-century masterpiece Don Quixote, Man of La Mancha is one of the most successful musicals in Broadway history. Powerful, brutal, hilarious, and heartbreaking, Man of La Mancha celebrates the perseverance of a dying old man who refuses to relinquish his ideals or his passion. The celebrated score includes "The Impossible Dream," "I, Don Quixote," "Dulcinea," "I Really Like Him," "Little Bird," and "To Each His Dulcinea."
While the story is inspired by Miguel Cervantes' great novel "Don Quixote," librettist Dale Wasserman framed his tale as a play-within-a-play, and included the character of Cervantes himself. The audience first meets Cervantes in prison, where he is awaiting trial by the Spanish Inquisition. He presents the story of Don Quixote to his fellow prisoners­—assuming the character of Don Quixote—and invites them to "enter into his imagination.' They oblige, and in turn participate in telling the tale, while enacting its many colorful roles.
Man of La Mancha is produced by Meghan Ramos and directed and choreographed by Noel Irick, who has won the ariZoni Award as Best Director for 2 separate productions of this show. The show is musically directed by Robin Peterson. Man of La Mancha stars Peter J. Hill reprising his multiple award-winning turn as Cervantes/Quixote.
 Man of La Mancha will play Nov. 8 -24, 2019.  Performances are Thursdays, Fridays and Saturdays at 7:30PM and Sundays at 2PM.  Individual tickets are $35.00 for Adults and $18.00 for Youth 17 and under. Seniors receive a $5.00 discount on all Thursday performances. Group rate discounts are available. Veteran and Active Duty discounts.  All performances are at Fountain Hills Theater on its Mainstage Too at 11445 N. Saguaro Blvd. (The Corner of Saguaro and Rand). Tickets are available through the Theater Box Office at (480) 837-9661 x3 or by visiting fhtaz.org.  Box Office Hours are 12:00PM-5:00 PM Tuesday through Saturdays. For additional information not contained in this press release, please call Fountain Hills Theater Artistic Director, Peter J. Hill at (480) 837-9661 EXT. 7.  
Man of La Mancha
is presented by arrangement with
Tams-Witmark, A Concord Theatricals Company
www.tamswitmark.com
ABOUT FOUNTAIN HILLS THEATER
Fountain Hills Theater presents 3 regularly scheduled seasons of productions in their two theaters. The Theater's year-round offering includes Mainstage, Mainstage Too!, and Youth productions. Additionally, special events, community outreach, and educational arts programming for our youth is also offered. The Mainstage (often called the "big") theater seats 130 and is devoted to medium and large-scale popular musicals and plays including the best of Broadway and Off-Broadway. No seat is more than 35 feet from the stage. The Youth/Mainstage Too! (also called the "little" theater) is a smaller, more intimate 90-seat, thrust style auditorium that offers thought-provoking, inspiring and sometimes challenging productions including Broadway musicals, original plays, musicals, and art works. Most of the youth productions are performed in the more intimate, smaller theater. Both stages often run productions concurrently. Special events are offered throughout the season on both stages as well as in community centers. The Theater has been in operation as a professionally-directed community theater for over 30 years. The Mission of Fountain Hills Theater is "to engage, inspire and entertain diverse audiences, train and support our youth, and celebrate the essential power of the performing arts." Fountain Hills Theater is a 501(c)(3) organization. All gifts are tax deductible. The Theater is 100% funded by ticket sales and donations. Volunteer opportunities are available. Fountain Hills Theater is located at 11445 N. Saguaro Blvd., Fountain Hills, AZ 85268. Phone: 480.837.9661. Fax: 480.837.5972. The Box Office is open Tues.- Sat. 12pm-5pm (closed Sun. and Mon.). The website is fhtaz.org.