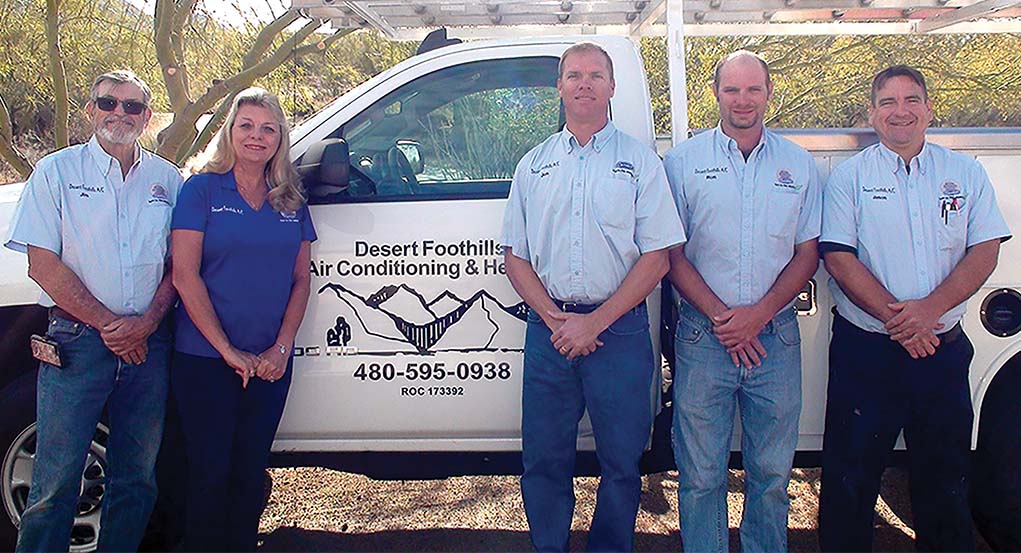 CAVE CREEK – Arizonans made it through yet another sizzling summer so it's that time again, time for furnace service. And the owners of Desert Foothills Air Conditioning and Heating are again offering a super stellar savings price of $44 per unit! "We certainly have our share of heat," Jon Babcock said, "but it wasn't that long ago we had snow!" Regardless of the season, it's definitely smart to maintain your HVAC system so you are comfortable year-round. In addition, routine maintenance will: provide longer-lasting equipment, reduce utility bills, reduce repairs, protect your investment.
Babcock added that through Dec. 15, Carrier is offering rebates of up to $1,350 for qualifying units. If that isn't enough of an incentive to upgrade, consider the phase out of R-22 freon and the fact its price keeps increasing. There may not be a better time to buy a new HVAC system nor from a more honest, friendly and easy-to-work-with company!
Since its founding by Jim and Donna Martens in 2002, Desert Foothills Air Conditioning and Heating has been embraced by their community, so the family-run business makes it a point to be available not only during typical business hours but after hours and weekends as well. They keep busy and are growing and are always looking for local qualified HVAC techs. If you have the skills and live in the area, give them a call at 480-595-0938.
Not only did Desert Foothills Air earn the prestigious 2017 Carrier President's Award, regular folks sing their praises, too! "This is a terrific business. They came out immediately to take care of our AC. Great value, great to work with, Ron was an awesome technician, and, of course, he was so kind even with the heat over 107!" (Rhip Worrell)
Call 480-595-0938 to set up your $44 tune-up special or visit www.desertfoothillsac.com for details on products and services.