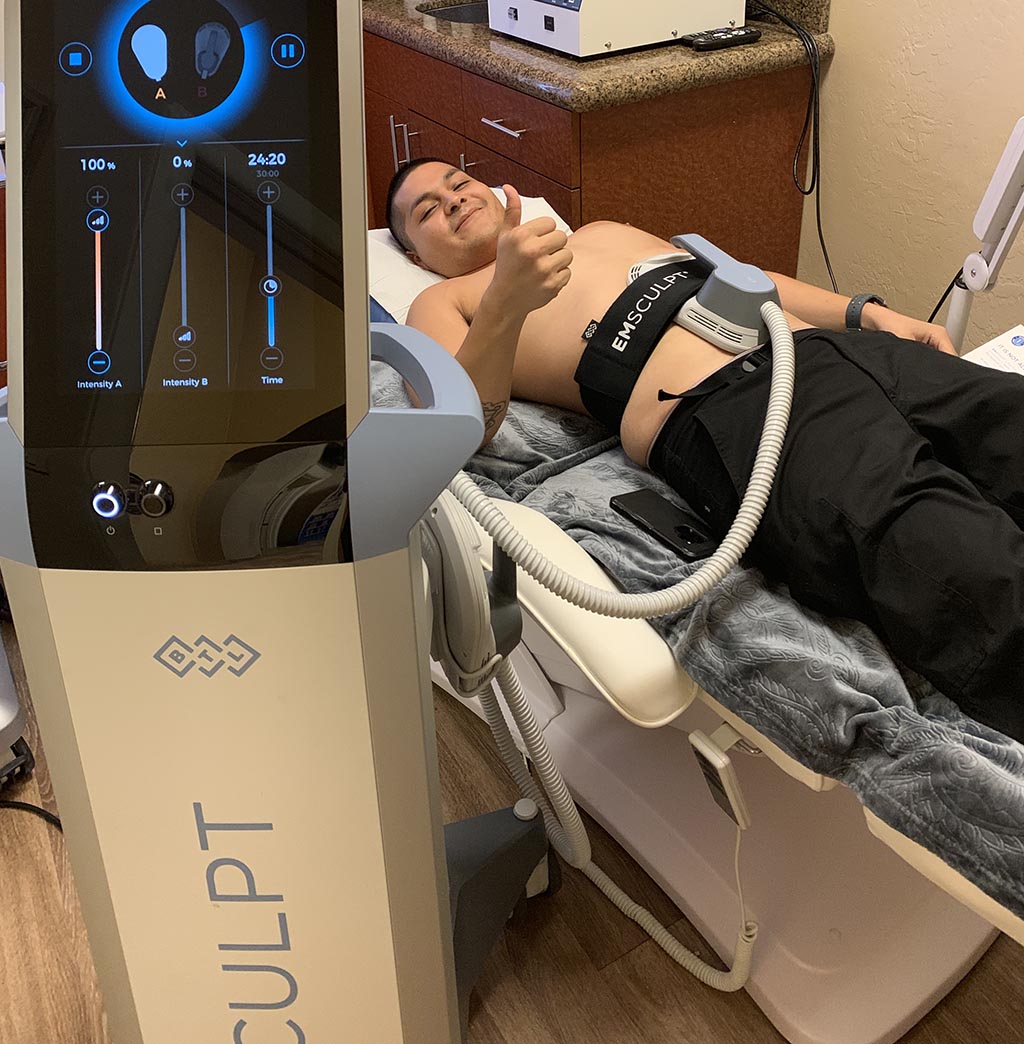 CAREFREE – The clients at Revital-AZ Laser & Medical Spa asked for Emsculpt, an FDA-approved electromagnetic procedure that provides noninvasive body contouring to men and women, and owner Rosie Andaverde, R.N. and her partner/medical director, Dr. Mark Biliack answered by launching this new technology. Do note, "unlike CoolSculpting, SculpSure and Ultrashape that are geared only towards fat loss, newcomer Emsculpt is intended to build muscle and implode fat cells."
Curious? Revital-AZ will be hosting an open house on Sat., Sept. 28 from 11 to 2 so as to highlight Emsculpt. (RSVP is encouraged and appreciated at 480-629-5776.) In addition to learning about Emsculpt, promo pricing will be offered to participants. Pair it with CoolSculpting and save big!
For a more detailed preview of what Emsculpt is … "Emsculpt is a nonsurgical procedure that creates muscle definition and burns fat in your butt and around your abs and obliques. It also recently gained approval for treating biceps, triceps, thighs, and calves.
"The procedure works best for people who are already relatively fit and want to firm up.
"Using high-intensity focused electromagnetic energy, the Emsculpt device delivers electromagnetic pulses to the muscles and creates supramaximal muscle contractions, activating more muscle fibers than do the contractions you'd achieve through normal exercise.
"One 30-minute session produces nearly 20,000 muscle contractions. Contracting repeatedly without rest stresses the muscles, triggering rapid changes at the cellular level that make them grow bigger and stronger.
"To supply energy for so many muscle contractions, neighboring fat cells break down, via a process called lipolysis, and release fatty acids. Fat cells are damaged to the point where they die, and the body naturally eliminates them.
"The result of the combined action of muscle tightening and fat-cell destruction is stronger, more defined muscles.
"Emsculpt can also reduce muscle separation in the abs, a symptom of diastasis recti, a condition where your abdominal muscles separate (usually during pregnancy) and create a belly pooch."
Learn more from the experts at Revital-AZ Laser & Medical Spa located at 7401 Easy St, Ste D. Also, visit Facebook, Twitter or Yelp for stellar reviews.