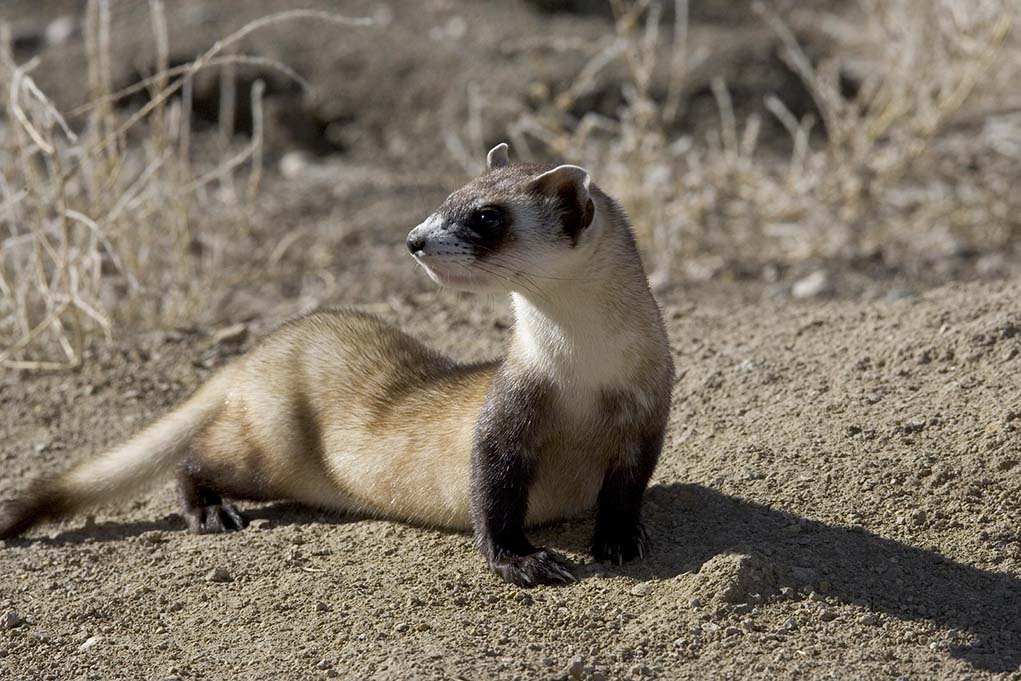 Volunteers can help spotlight endangered black-footed ferrets
SELIGMAN — The Arizona Game and Fish Department is seeking volunteers to assist with fall spotlighting efforts to help document the population of endangered black-footed ferrets in Aubrey Valley and on the Double O Ranch, both near Seligman. 
As part of the recovery effort, the department has scheduled two five-night spotlighting events — Sept. 19-23 and Oct. 17-21. The spotlighting method involves using high-powered lights to locate and identify black-footed ferrets. Their eyeshine is reflected by the spotlight and helps surveyors with identifying and locating these elusive, nocturnal carnivores.
Volunteers must have the ability to stay attentive from 8 p.m. to 6 a.m. while spotlighting for black-footed ferrets and use, or learn how to use, a Global Positioning System (GPS). Volunteers can sign up by emailing azferret@azgfd.gov – with "fall spotlighting" in the subject line – by Sept. 13 for next month's project and Oct. 11 for the later event. Space is limited. 
Volunteers are reminded to include their full name, a contact phone number, month(s) and night(s) available to spotlight, and full names of others who also will be attending (a parent or guardian must accompany any youth under 18). Volunteers also should note any equipment they can bring, such as GPS, clipboard, headlamp, pen, binoculars, walkie-talkies, compass, cordless rechargeable spotlight, backpack or 4X4 vehicle.
These events will be conducted to assess the black-footed ferret population before winter. The objectives include trapping those animals that were not caught in the spring, to trap older ones that need a canine distemper or plague booster, and to trap juveniles (or "kits") to administer vaccinations. 
For more information about the black-footed ferret recovery effort, visit the department's website at www.azgfd.com/wildlife and click on "Nongame and Endangered Wildlife."  
OATMAN — The sun is already baking off what's left of the warm morning air, when Arizona Game and Fish bat biologist Joel Diamond carefully walks to the edge of a loose mound of gravel, and tosses a rock into the abandoned mineshaft below.
Gates at abandoned mines protect bat colonies, public safety
He listens carefully as it bounces off the wall of the decades-old mineshaft, again and again as it quickly disappears into the abyss. He notes that the absence of sound from the final bounce — about 100 feet below — serves as proof that one misstep in the middle of the vast desert would certainly be fatal.
The mine, located south of Oatman, Ariz. is one of thousands of relics that serve as testament to Arizona's storied mining history. And while these mines also provide excellent bat habitat, many were abandoned wide open and are serious public safety hazards.
To help address the issue, the Arizona Game and Fish Department, in partnership with Arizona State Mining Inspector and U.S. Bureau of Land Management, installs gates designed to keep people out of the abandoned mines, while allowing bats easy access to the cool roosts deep inside.
"These structures have helped to keep people from going into and disturbing bat roosts," Diamond said, noting that the mine is home to a nursery colony of California leaf-nosed bats. "With nursery roosts, if you go in at the wrong time, you can cause all the females to abandon their babies. And since bats are long-lived creatures, it will take a long time to recover that population. If you walk in, you may accidentally kill an entire generation of animals."
AZGFD began installing the gates in 2017, with a focus on conserving and protecting wildlife and the adventure-seeking public. Since then, the department has placed about 75 of the structures statewide.
Last month, Diamond and his crew pounded steel stakes into the ground to anchor a 36-foot by 30-foot-wide cable net over the top of the steep mineshaft. The structure was primarily designed to protect motorists from boulders that break loose from steep hillsides along highways.
"Before this was installed, the edges were very slick," Diamond said sitting near the now-secured mine opening. "If you were to take a wrong step, you could have slid right into the bottom and it would have been a one-way trip — there's probably no coming back. By installing these structures, we're able to protect the public and bat habitat."
Exceptional care is given to complete the work when the mines are empty so the bats are not disturbed, otherwise the animals may abandon the roost.
"It's our hope that through this work, these efforts will lead to long-term persistence of bat colonies," Diamond said.