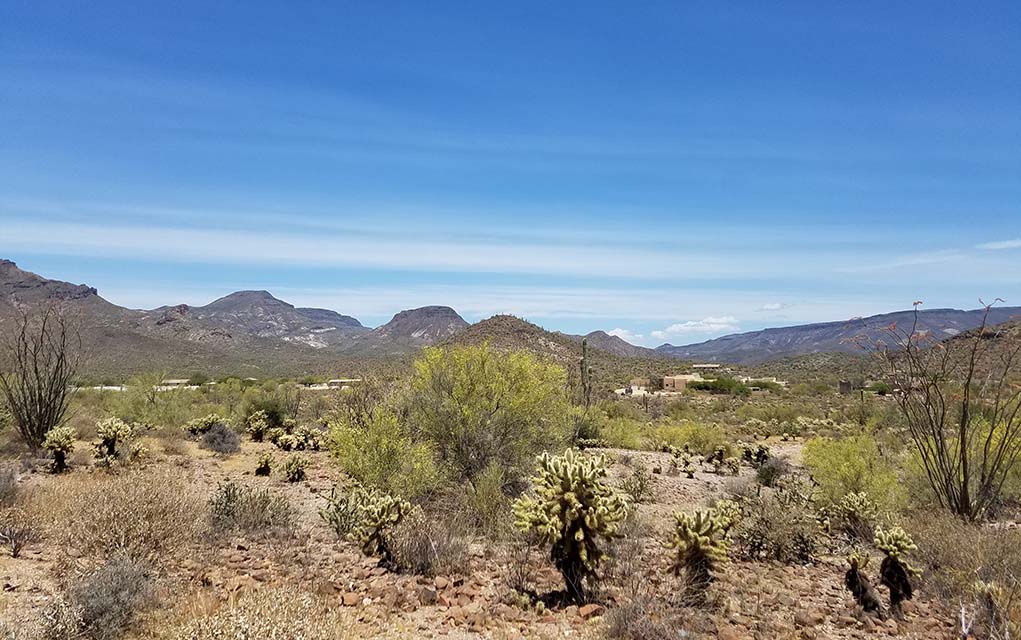 Exactly twenty-three years ago, a kind of perfect storm erupted in the Cave Creek Community. A voice of concern and protest sounded off about the impending development of Spur Cross Ranch (SCR) by developer John Lang. Proposed was some 664 dwelling units with a variety of club houses, commercial ventures and retail, golf courses (believe it or not) which would add an extra 6,400 car trips per day on the sole-access Spur Cross Road and worse, destruction of 900 years of ancient archeology, pit houses, surface dwellings and funerary sites.
I formed Friends of Spur Cross Coalition (FSCC) in 1996, then asked a few locals to come together; —Barry DiSimone, Gail Clement and Tim Thurmund to help in leading this effort.
Sonoran News was the foundation in successfully getting the FSCC's effort publicized and gaining an interested voice if not a "roar" reflecting the town's abject rejection of the notion of developing SCR. So, if not for Don Sorchych and the information given from Sonoran News for protection and preservation of SRC out to the public, with articles and editorials being published weekly we may not have accomplished so much in so little time.
The movement grew rapidly and exploded with meetings where I would report results of research and milestones. We then all would strategize about "next right steps" to take to accomplish the preservation of SRC. It was not just FSCC local groups of hundreds who met over and over again to build support. We appealed to Cave Creek Mayor Tom Augherton, who using his talents as a State of Arizona operative, and successfully involved Governors Hull and Symington, the County Supervisors and State legislators.
But first, the plan amendment at the County had to be stopped.
Early in the Battle, when FRCC needed funds to hire land use, water, and other experts. Melissa Paxton and many other members of the community jumped into action. Mellissa hosted fabulous, well-managed Art Auctions at the Carefree Inn and other locations where countless local artists donated art for the auction cause.
It seems all these efforts struck a cohesive chord. With Victory – after a long three year, daily intensive battles against John Lang, the development was stopped after FRCC worked in getting Senator McCain's direct intervention, along with State Parks, County Parks (SRCC is NOT a "park") and Town of Cave Creek combined, finally joined to fund to purchase to specifically PRESERVE Spur Cross Ranch for $23M which was final when Mayor Tom Augherton signed the Official Document with the State of Arizona and County Representatives on February 16, 1999. Preserved forever, but always remember, NOT without our Watchful eye and oversight.
Many have commiserated in the last two decades that the Preservation of Spur Cross Ranch was the most successful grassroots originated land preservation effort in Arizona history. Which is True!
But, what was preserved? What is the future levels of protection that will be accorded to this Sacred Property? Oh, MY, there's the WORD; "Sacred" and please remember "Sacred" is what was Preserved! SCR is sacred because it is a 2250-acre CEMETERY and Outdoor Living History Museum, which did and in the future does require measures to prevent damage or destruction of the Tribal Artifacts.
But, the "icing on the cake" which needs to be dealt with NOW are the last two remaining pieces of private property bordering Spur Cross. One of those are Harmony Hollow, a 28 acre parcel bordered on three sides by Spur Cross Ranch. Harmony Hollow came on the real estate market at a price substantially over appraisal price which presents some challenges for Mellissa Paxton's new effort in assisting in preserving Harmony Hollow. Melissa did a presentation at Town Council on Monday 7/15, but it did not seem to result in the energy and enthusiasm as we had hoped. But Harmony Hollow does complete the Preservation Puzzle and needs to be preserved. Does it host archeological artifacts, not sure, maybe not. Our deep and abiding concern is that it never Host Development of structures, whether private, commercial or government. Those would be COMPLETELY inconsistent uses next to a Native American Cemetery and Living History museum.
So, I whole heartedly endorse the current efforts to preserve Harmony Hollow and put it in perpetuity protections. I hope and pray that this effort can move towards a true and just preservation result, a cause greater than one's own self-interest, as John McCain said to me and others. We hope and pray for a result that is consistent with history, a result in preservation which Senator McCain would agree with, Gov. Hull would agree with, and most importantly, former and current Native American Tribal Leaders would agree — that this is a proper use of the Sacred Land! Good job for protecting the land!
I am Faithful that Cave Creek "Can Preserve Again"!
Thank you to "EVERYONE" who volunteered in "The Historic Effort" —all who gave of their time and lives to "Preserve Spur Cross Ranch" -— Again, Thank you.
– submitted by Gary Schmitt
Founder and President, Friends of Spur Cross Coalition