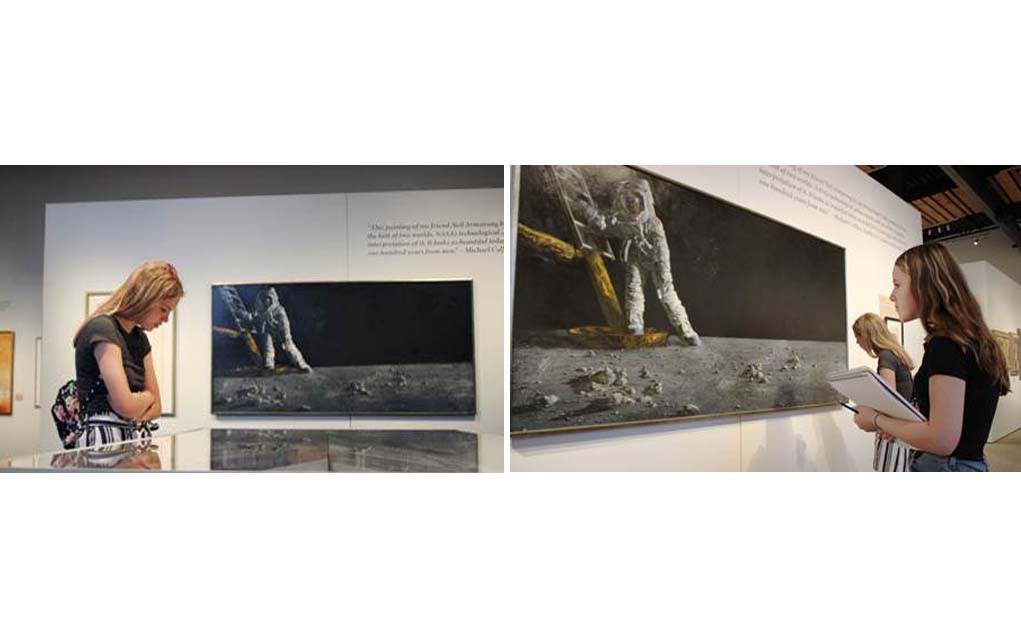 Two Old Town Scottsdale arts & culture institutions — Scottsdale's Museum of the West (SMoW) and Scottsdale Artists' School (SAS) — teamed up to teach youth art students all about NASA space art.
This week SAS is running its Space Art Camp for ages six to 17 years old teaching them to draw, paint and sculpt many aspects of space adventure. Just across the street, SMoW is celebrating the 50 anniversary of Apollo 11 all year with a special exhibition: Paul Calle's Life of Exploration: From the Mountains to the Moon, featuring artwork by Paul Calle, an official NASA Artist who was there the morning of July 16, 1969, the day of Apollo 11 liftoff, sketching various activities including breakfast, suiting up and the walk-out to the space craft. The SMoW exhibition showcases Calle's range of artistry including postage stamp designs, Western art, sketches of famous figures in history like JFK, as well as an entire section of Calle's NASA artwork including The Great Moment, an eight-foot-wide depiction of Neil Armstrong's first steps on the moon, the 1969 First Man on the Moon stamp design and sketches from the famed morning of liftoff.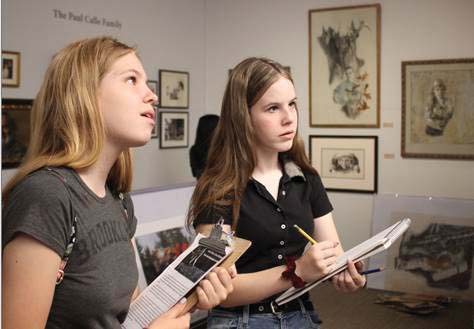 The students spent the morning reviewing the Calle exhibition, learning about his role as an official NASA Artist and his legacy as a superior gestural sketch artist, who often sketched several times before painting to get his artistry the way he wanted. 
Students not only observed his art, but were given tips on the values of light to create depth and the opportunity to study and draw some of his work, providing hands-on inspiration.
Please see these thumbnail images below, courtesy of SMoW, which were taken at this morning's Space Camp session at SMoW.
Caption Detail: Scottsdale Artists' School (SAS) students, Brooklynn Fallon and Lydia Eaton, study Paul Calle's The Great Moment, an eight-foot wide painting depicting Neil Armstrong's first steps on the moon, July 20, 1969. The students are attending Space Camp at SAS and the group utilized the Paul Calle exhibition at SMoW as a learning tool today. This exhibition is showing at SMoW through October 11, 2020 and was designed to celebrate the 50th anniversary of Apollo 11. Scottsdale Artist's School's summer youth camps run weekly through August 1.
Additional News Note: July 20, 2019, is the official celebration of Apollo 11's 50 Anniversary. SMoW is celebrating in a "cool" way – in air conditioned, always 72-dgree comfort here in Scottsdale on Saturday, July 20, the day that Neil Armstrong made his first steps on the moon with the exclusive airing of The Day We Walked on the Moon, a Smithsonian Channel documentary that marks the 50th anniversary. The film celebrates man's first steps on the lunar surface with interviews from key figures in Mission Control, contemporary astronauts, and the families of Buzz Aldrin and Neil Armstrong. SMoW is among a select few Smithsonian Affiliates in AZ airing this exclusive film beginning July 20, which in 1969 was THE DAY Neil Armstrong first walked on the moon. In fact, the exact time is 7:56 p.m. Phoenix time July 20. This Smithsonian Channel film will air at 11 a.m., 1:00 p.m. and 3:00 p.m. throughout the day on July 20 in SMoW's Virginia G. Piper Charitable Trust Theater and also every Saturday and Sunday at 1 p.m. through August 2019. Museum admission is required to view the film and includes the full museum tour featuring our exclusive Paul Calle exhibition.
Please contact me or Skye Fallon, Director of Marketing & Communications
Scottsdale Artists' School, 480-990-1422 or sfallon@scottsdaleartschool.org, for more details on SAS's Space Camp and other summer camp programs.