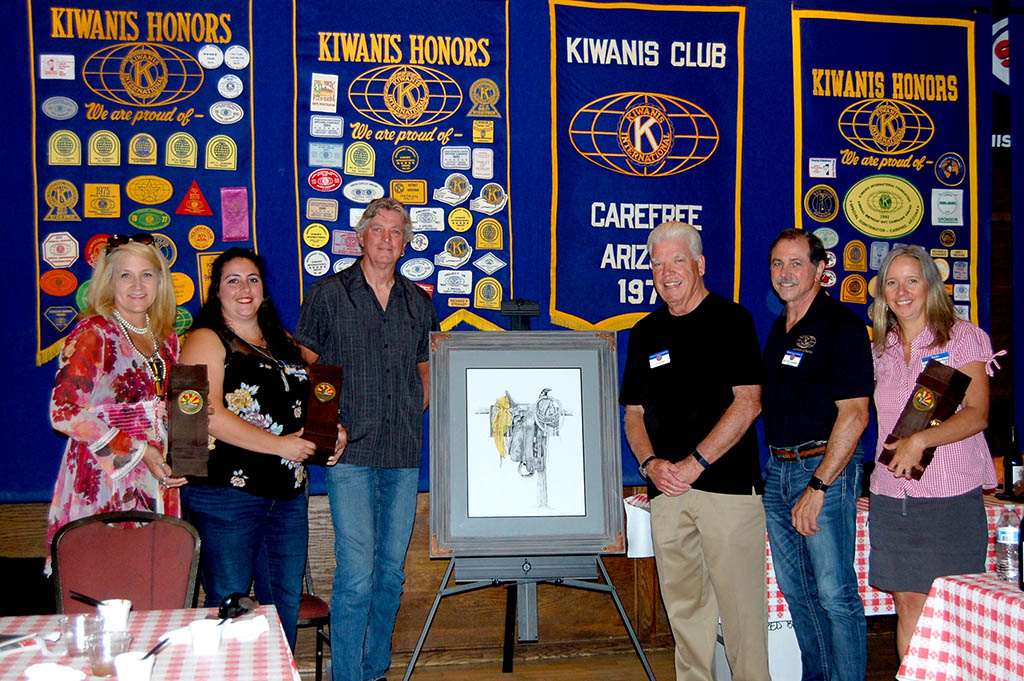 Kiwanis wine label unveiled
The new Kiwanis wine label was presented at the meeting of June 5 for the Kiwanis Club of Carefree. Ed Edling, Club Chairman of the Wine Committee, introduced the guest speakers, each of whom played a crucial role in the development of the label.
First was Pat Bell-Demers, Executive Director of the Sonoran Arts League, who assisted with each phase of the art competition. Bell-Demers called for artists to submit their work, narrowed down the finalists, contacted the winner, and helped finalize the label. She spoke about the partnership between the Sonoran Arts League and the Kiwanis Club of Carefree and the important work that the clubs do for the community.
Edling then introduced Julie Bergman, a freelance graphic designer and the owner of Coyote House Design. Bergman contributed her expertise by creating the layout and format of the label and working with the winery.
Next was Kim Musket, Assistant Winemaker for Arizona Stronghold winery. Musket gave a fascinating presentation on the wine-making process at Arizona Stronghold. Musket and her colleagues at Arizona Stronghold participated in the wine selection and labeling.
The final speaker was the winner of the art competition, Jack Schilder. While Schilder has worked in several media, he is passionate about drawing with graphite pencils. Schilder lives in Cave Creek with his wife Laura, and his art can be seen online at www.jackschilderart.com or in person at the Sonoran Arts League and at El Pedregal at the Boulders. Schilder was awarded $400 for his winning piece entitled Yellow Slicker, which was displayed at the meeting.
Help wanted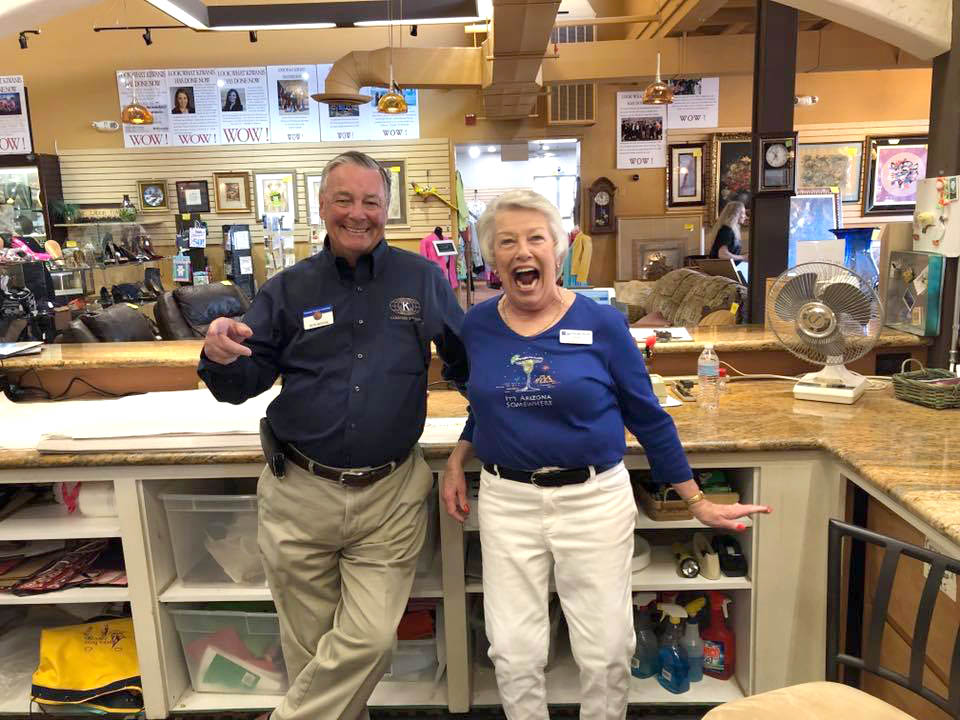 Kiwanis needs volunteer cashiers, volunteers for the roadies team, and a part time customer service representative.
Cashiers volunteer on Saturdays from 9:00 a.m. to 1:00 p.m. or 1:00 p.m. to 4:00 p.m.
The roadies team are strong volunteers that assist picking up donations. They work Wednesday, Friday, and Saturday from 7:30 a.m. to 12:00 p.m.
The Part Time Customer Service Representative must be able to lift 50 pounds and work Tuesday through Saturday from 8:00 a.m. to 4:30 p.m.
The donations and volunteers hours given the past year, Kiwanis was able to give $280,000 in scholarships to local 2019 graduating seniors.