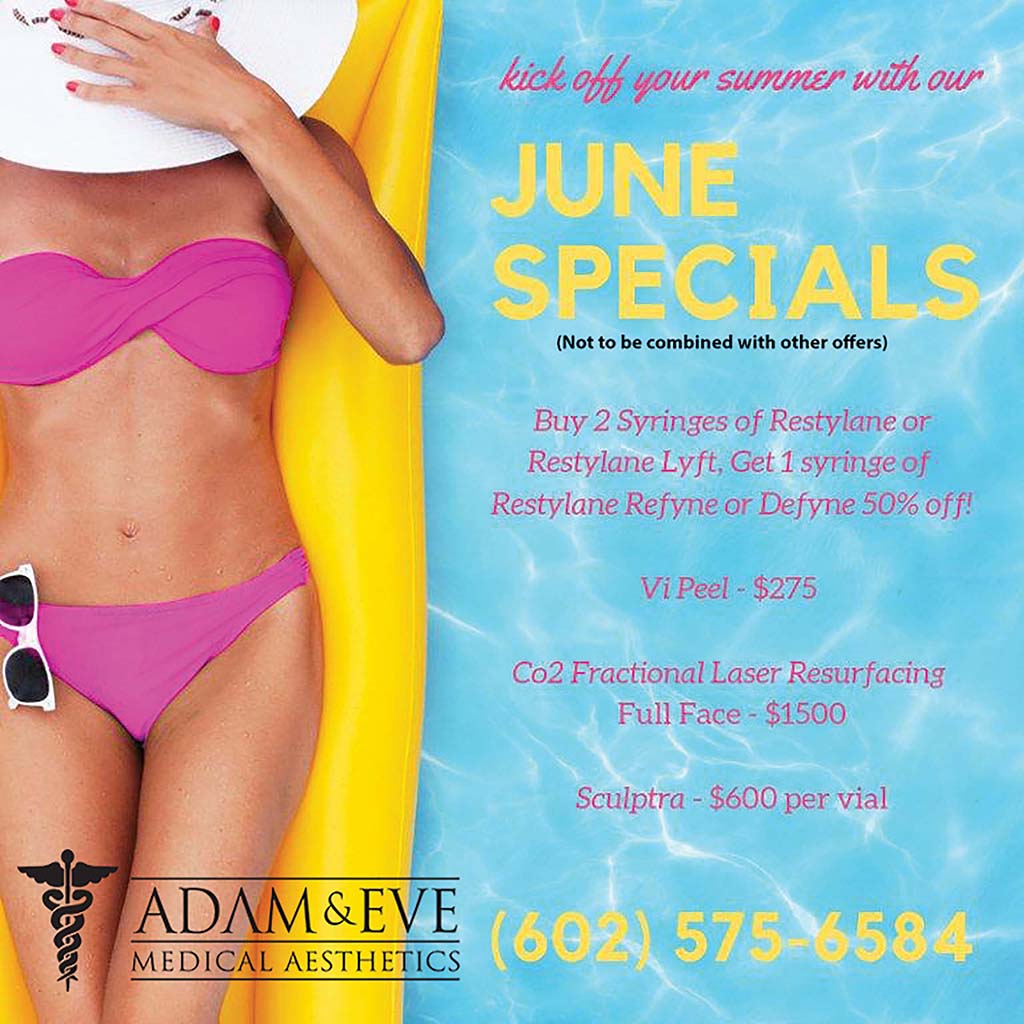 SCOTTSDALE – Vacation season is coming. Do you want to look sensational for selfies in San Diego? How about the family reunion in Rio? Whether you do a staycation or jet off to lands unknown, the beauty professionals at Adam & Eve Medical Aesthetics want men and women to look their very best!
"Our number one strong suit is we are a family, not only amongst those who work here, but people will come by early for their appointments and want to share their lives. We'll ask 'how was your trip?' or 'what's your granddaughter up to?' We have that kind of relationship with our clients. Of course, many of our girls have been here since opening [in 2009]," offered Tracy Gibson, marketing manager.
Barbara Slusher, practice manager, added, "We have experienced people and offer a broad range of services. We get so many referrals and our reviews are stellar."
What can folks expect at Adam & Eve Med Spa? Lots of injectables! "We do a lot of Botox on men, and they are very faithful about coming back for their next treatment," Gibson offered. Expect the better known – Dysport, Restylane, Voluma – but also Belotero and PDO Threads, a minimally-invasive procedure for tightening sagging skin. Not sure what's right for you? Adam & Eve offers complimentary consults!
Lasers tackle anything from hair reduction to vein and tattoo removal to photofacials that treat sun spots, acne, large pores, rosacea, uneven pigmentation and an overall dull complexion.
"We concentrate on getting skin to a healthy state and don't do simple froufrou facials," Gibson assured of their facials that address skin congestion, lack of radiance, fine line and wrinkles, even skin sensitivity. Additional aesthetic treatments include extractions, chemical peels, waxing, permanent makeup, microneedling and dermaplaning.
It's not just about the face at Adam & Eve. Ask about Sculpsure for fat reduction, Femtouch for vaginal rejuvenation, Sclerotherapy to eliminate reticular/spider veins, Vitamin B Complex/B Fat Burner injections and B12 shots.
Adam & Eve Medical Aesthetics is open Mon – Fri (9a.m.-7p.m.) and Sat (10-5) and is located 31309 N Scottsdale Rd, Ste 100. Walk-ins welcome; appointments by calling (480) 575-6584. Go online at adamandevemedspa.com, FB and/or IG for information and monthly specials.