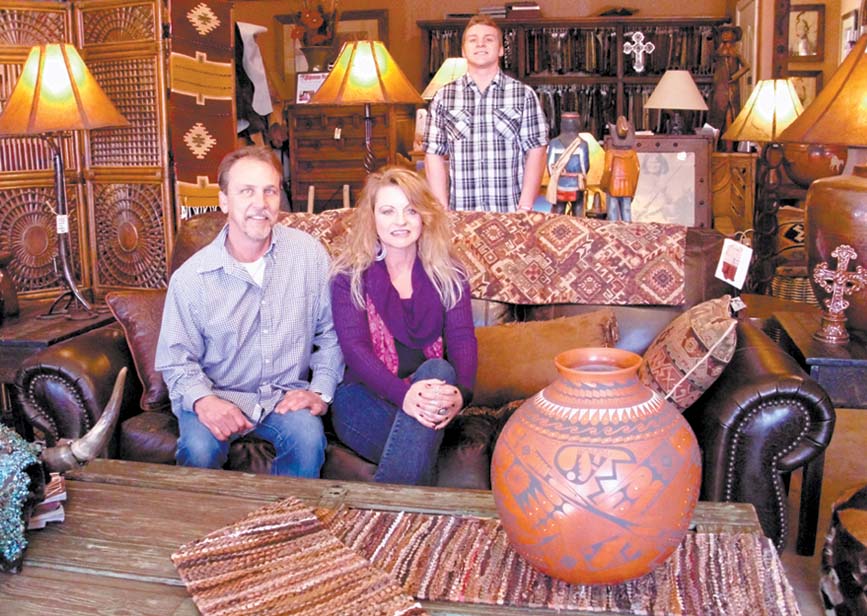 CAVE CREEK – Out West Interiors takes pride in reinventing itself, expanding, growing. Most recently, owners Beverly and Robert Sexton, along with son Zack, have brought in more Arizona artisans, crafters of furniture made from barnwood from Montana and Texas, mesquite from the Lone Star State, natural Arizona turquoise, reclaimed metals, treasures from the desert in saguaro ribs, hand-hammered copper, leather. It's often one of a kind, because shoppers can request their own specifications to fit a suite, room or whole house. Out West is not Old West, cowboy-style furnishings; it's Spanish, Modern, Western, Southwestern, Traditional, Contemporary and exactly what neighbors are seeking for homes, casitas and businesses.
Because business is booming, the inventory has never been better! "We have a great selection right now, and because we are expecting more items, we have $50 to $150 off art and lamps," Zack offered. "We also have $100 to $500 off furniture."
Out West Interiors is family owned and operated, and the Sextons believe in treating their customers like family. Come in and they're happy to show you around, heap praise on the artists who lend their talents to making such incredible heirloom-worthy furniture and accessories and make you feel as though you've been welcomed into an extension of their home. They are knowledgeable and quick to remind folks they offer free in-store design consultations. Their success is reflected in the countless referrals and many online reviews.
One shopper summed up Out West the best: "It's a spot on the map. A true destination." If you've not been in since Out West
Interiors has increased its square footage, stop in and marvel at the visual feast that is the colors, the textures, the patterns, the embellishments, the lines and styles.
Out West is open seven days (Mon – Sat: 10 a.m. – 5 p.m. / Sun: 12 – 4 p.m.) and is located at 38252 W. Jacqueline Dr. Visit online at www.outwestinteriors.com or phone 480-575-8000 with queries.