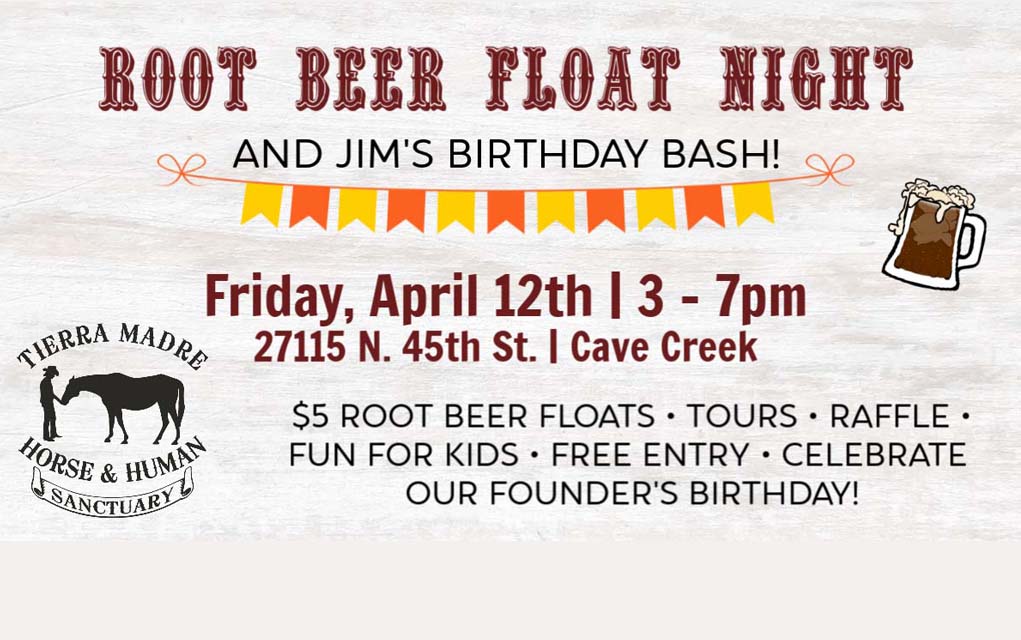 Tierra Madre to host benefit.
Bring the family out on Friday, April 12, for root beer floats! This fundraiser will not only help with Tierra Madre's medical bills, it doubles as a birthday party for our founder and president, Jim Gath!
Directions: https://tierramadrehorseandhumansanctuary.org

Each guest gets a raffle ticket for the chance to win a beautiful one-of-a-kind painting by one of our horses. Snack on your root beer float while you tour our ranch and get up close and personal with some of the herd. Our horses love to make new friends of all ages!

Have a large family or lots of friends? We do discounts for big groups of cute kids.

Have a dietary restriction but still want something delicious to eat? Contact Alexis at alexisrferri@gmail.com or (480) 208 – 6896 to request an alternative.

"We hope you'll join us for what will be a fun celebration of our mission of helping humans and horses alike as well as our founder's birthday!"

Tierra Madre is a 501(c)(3) nonprofit organization located in Cave Creek, Arizona. To learn more, visit our website (https://tierramadrehorseandhumansanctuary.org) or follow us here on Facebook!