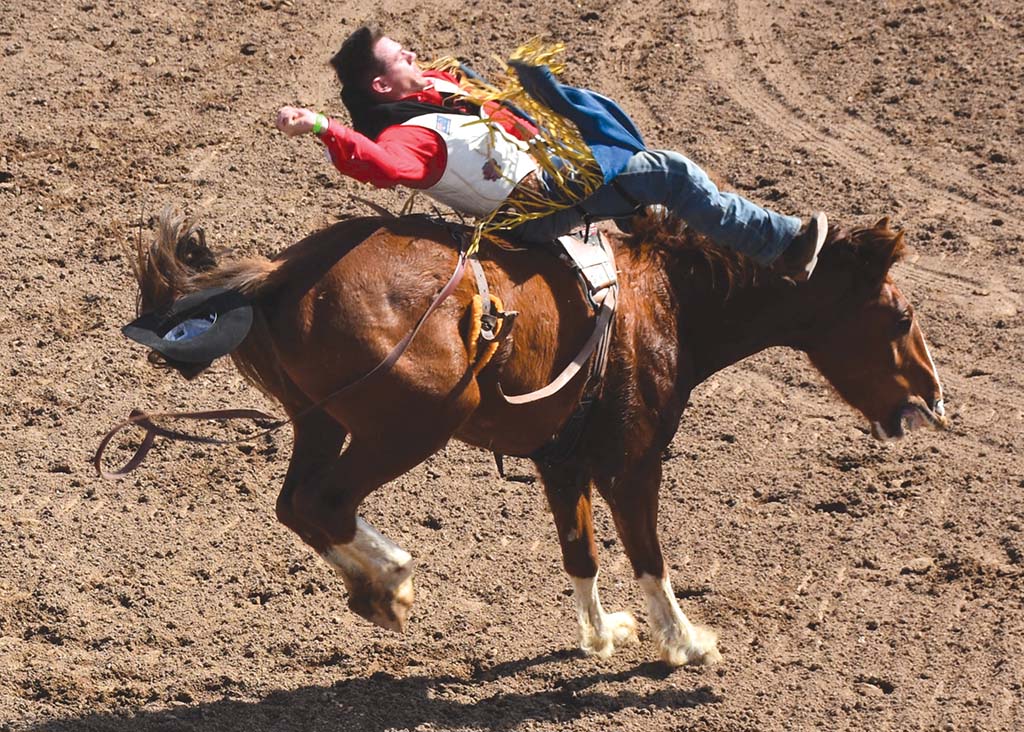 Cave Creek recently held its 42nd Annual Cave Creek Rodeo Days Rodeo and events like mutton bustin', a golf tournament, and the PRCA-sanctioned rodeo itself were the highlights of the weekend. Prior to that, the traditional rodeo parade was held and Mayor Ernie Bunch proclaimed the rodeo as "a rousing success."
Golf
Bunch said he played in the golf tournament with his 82-year-old father, and even though they didn't do too well and that it was more of a social thing for him, Bunch hoped the other participants enjoyed the game.
The winners of the tournament:
Cave Creek Car Wash team, consisting of David Blair, Randy Blair, Jake Southwick and Justin Matthews, placed first.
iSolved team, consisting of Mark Tritico, David Hoopes, Lee Best and Robbie Hendrix placed second.
CMPC team, consisting of Richard Cooper, Bob Murdock, John Pattee and Stan Kastner placed third.
"We had a great turnout with fabulous weather and fun was had by all the players and volunteers," Cave Creek Rodeo secretary, Lynnette Guinn, stated. "The golf tournament is an annual tradition and is one of the rodeo events that helps kick off Cave Creek Rodeo Days Week."
Rodeo
As for the rodeo itself, Mayor Bunch said his favorite part was the bullriding. Many of the bucking animals there were high-quality, he said – and the most any participant scored on the animals was 80 points.
"I'm looking forward to next year,"he said.
Winners and their times for each rodeo performance:
Bareback Riding: Delvecchio Kaye, Round Rock, AZ, 79.5 points
Barrel Racing: Haley Wolfe, Flora Vista, NM, 15.48 seconds
Bull Riding: JC Mortensen, Paulden, AZ, 88.5 points
Saddle Bronc Riding: CoBurn Bradshaw, Beaver, UT, 83.0 points      
Steer Wrestling: Luke Branquinho, Los Angeles, CA, 4.4 seconds
Tie Down Roping: Hunter Reaume, Wickenburg, AZ, 9.3 Seconds
Team Roping: Tom Richards/Nick Sarchet, Humboldt, AZ, 4.7 Seconds
Rodeo Days treasurer, Danny Piacquadio, said attendance this year was up, there was over a $40,000 ticket sale increase, and more than $10,000 worth of beverages and merchandise were sold.
"It met all our expectations," Piacquadio said, "more than we anticipated."
Mutton Bustin'
Another event that took place was the annual Mutton Bustin', a chance for children between the ages of 4 and 7 to try their hand at a rodeo career. They ride sheep, much like the older competitors will ride a bull, and try and stay on for as long as they can.
The winners for each age group:
Age 4 – William Yishi – Phoenix
Age 5 – Rhett Wasson – Fountain Hills (two-time winner, also won the 4-year-old group last year)
Age 6 – Colton Duce – Phoenix
Age 7 – Gunner Ronnie – Spring Valley
Beth Cornell, president of Cave Creek Rodeo Days, said the rodeo had an amazing turnout on Sunday for their Military and First Responder's Day, and had received many compliments via email about the performances.
"Overall, the rodeo was just much higher energy this year and well attended," she said.
Cornell, Bunch and Piacquadio all stressed how important the volunteers' efforts were this year. Cornell said there were a lot of people who had dedicated countless hours to make sure this event was a success, putting in roughly 25 hours a month herself.
"Without the volunteers, it just wouldn't happen."
Macie Williams is a second year journalism student at Arizona State University's Walter Cronkite School of Journalism and Mass Communication