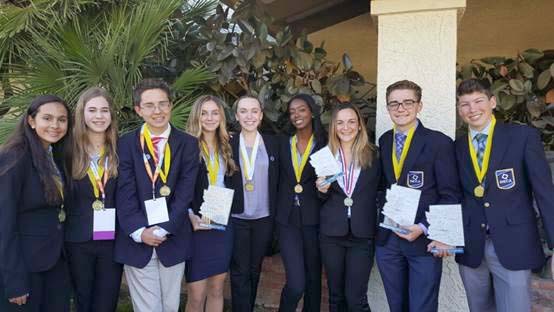 Cactus Shadows High School DECA members competed in State DECA Competition on February 28, March 1 and March 2 at the Arizona Grand Resort Hotel to determine who would qualify to represent Arizona at the International DECA Conference in Orlando, Florida.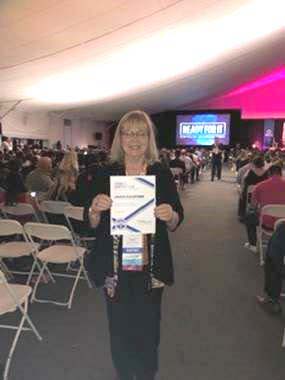 The chapter and several of Cactus Shadows students came back with multiple awards and the Falcons had 6 members qualify to attend the International DECA Conference.
State DECA Finalists for the 2nd Day of Competition were Isabelle Bridgeman, Jaclyn Russek, Chance Taskey, Sarah Weiss, Megan Walker, Ashley Wilkins, Lilly Ellison, Andrew Scola, and Luke Sample.
CSHS Senior DECA Elite Members were Megan Walker, Ashley Cantin, and Sarah Weiss.
CSHS DECA Seniors-Top 10% Test Score were Megan Walker and Sarah Weiss.
Student Based Enterprise-Gold Award went to Lily Ellison and Andrea Williams- Qualify ICDC. Lily Ellison took 4th Place State DECA, Business Growth Plan-Qualify ICDC.
1st Place Role Play-Hospitality Team went to Jaclyn Russek and Isabelle Bridgeman.
1st Place Role Play Hotel and Lodging Management and 2nd Place, State DECA, Hotel and Lodging Management went to Sarah Weiss-Qualify ICDC.
2nd Place State DECA, Entrepreneurship Team went to Andrew Scola and Luke Sample-Qualify ICDC.
Louise Rochford, CSHS DECA Advisor, received the 20 Years of Service Award from DECA.
CSHS DECA received both the Elite and Affiliated State DECA Chapter Awards and the six members that will be attending the ICDC Conference and Competition which is April 26-May 1 are Bryce Coup, Lily Ellison, Luke Sample, Andrew Scola, Sarah Weiss, and Andres Williams.
Interim-Principal, Jim Swetter said, "Our DECA program at CSHS continues to impress. Louise Rochford always does a great job getting our students ready for competition. She is truly an assist to our CTE program. Congratulations to our DECA members for their performance at State; and good luck to those who qualified for international competition. CSHS is very proud of your accomplishments!"