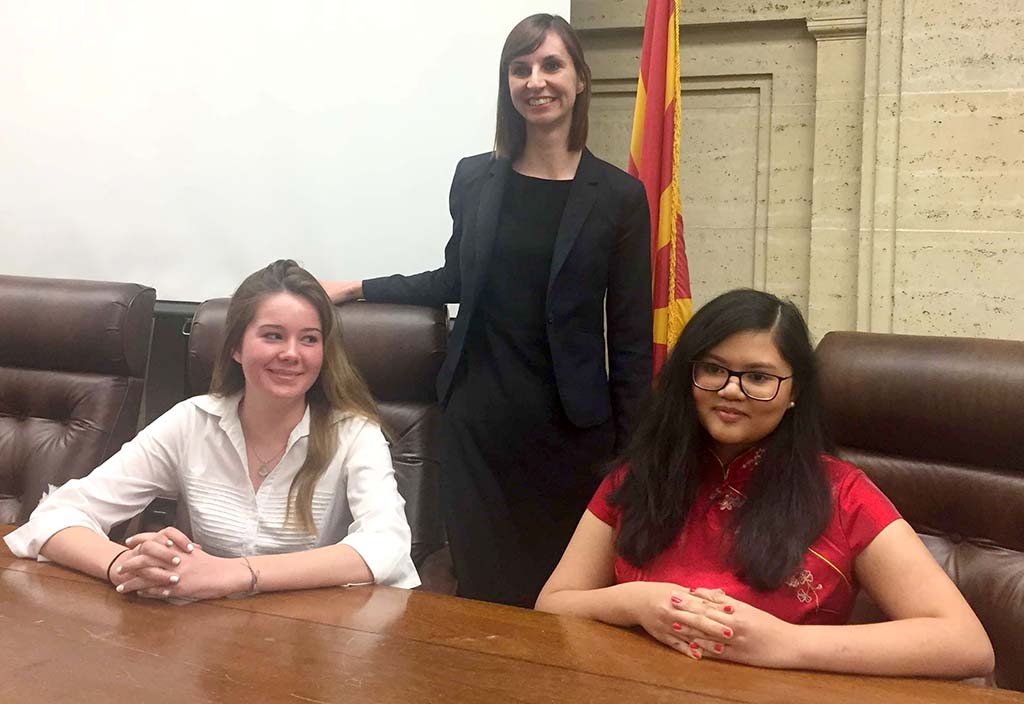 Cactus Shadows High School is pleased to announce that freshmen, Sophia Barnedo and Tilda Hanlon-McGregor took 1st and 2nd place, respectively, in the 2019 Polly Rosenbaum Writing Contest from over 100 submissions.
The Arizona Educational Foundation (AEF) sponsors this contest. Their website notes that the contest is named for Polly Rosenbaum, a former House Representative in the Arizona State Legislature and teacher who passed away in 2003 at the age of 104. This writing contest is a long-standing tradition honoring Mrs. Rosenbaum, who believed Arizona's young people are the state's greatest resource. The writing prompt this year was "If you could create a new political party, what would it be called and what would it stand for?"
Ms. Tracy Clay is Sophia's teacher and Ms. Christine Marsh is Tilda's teacher. Ms. Clay said, "Sophia was so excited to win a second time! I love that the contest allows the students to show off their creativity while still thinking critically about an issue. It provides a place for them to voice their hope for the future."
You may recall that Sophia had won this contest last year as an 8th grader attending Sonoran Trails Middle School. Her teacher was Shelley Kniffen and her original poem entitled "Respect" took first place.
Superintendent Burdick said, "CCUSD's talented student writers continue to excel and share their thoughts and opinions with us. We are so thrilled for their accomplishment and are extremely proud of them."
First, second and third place winners in each category were recognized at an event in their honor at the Arizona State Capitol's Historic Supreme Court on Statehood Day on February 14, 2019 with Superintendent Hoffman in attendance!
Cactus Shadows High School is an A+ School of Excellence and a World Class High School for the 21st Century. For more information, contact Mr. Jim Swetter, Interim Principal, at jswetter@ccusd93.org or visit our website www.ccusd93.org .