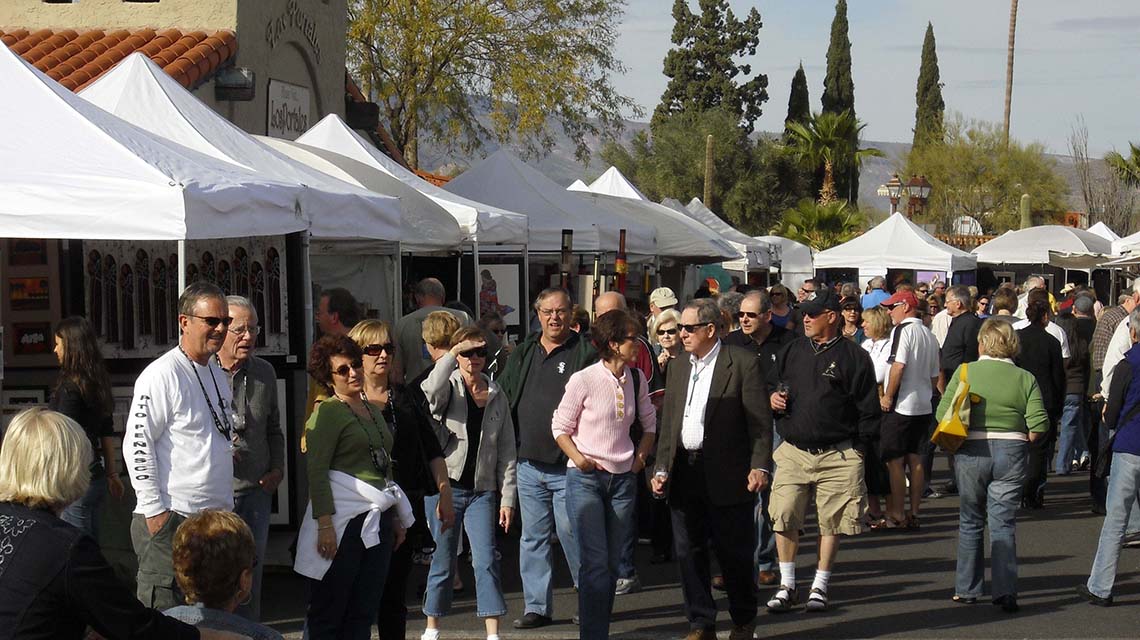 CAREFREE – Fine artists from around the globe will converge along Ho Hum and Easy Streets in downtown Carefree on Friday, Saturday and Sunday, January 18, 19 and 20 for Thunderbird Artists' 26th Annual Carefree Fine Art & Wine Festival. The popular show features more than 150 renowned, juried artists who will showcase and sell their original work from 10 a.m. to 5 p.m. each day.
"Our first show of the year includes many diverse, talented artists, but we are particularly excited to showcase the breathtaking work of our featured artist, acclaimed sculptor Austin Casson," said Denise Colter, president of Thunderbird Artists.
 
Casson will exhibit steel wildlife sculptures with an emphasis on birds of prey.  
 
"I have always been fascinated by hawks and owls," Casson, a Temecula, California resident, said. "Years ago, I banded ospreys in Idaho and golden eagles in southern California. There's nothing more amazing than holding a baby golden eagle in your hands."
 
Casson grew up on a farm in upstate New York and he credits both of his parents for his creativity and talent.
 
"I have my mother's eyes and my father's hands," he said. "My mother was a Pratt Institute graduate and an accomplished painter, and my father was a hardworking finance executive and a skilled craftsman."
 
While he has been sculpting for more than 30 years, he fell into it by accident due to a work dilemma.
 
"I had an extensive career in marketing, and while working in the golf industry, I came up with the idea of creating three-dimensional, miniature sculptures of famous fairway golf holes as small gifts, such as bookends and desk sets," he said.
 
While he had no intention of becoming an artist, he couldn't find anyone who could create the sculptures better than him. The idea took off and before long, his sculptures were in 3,500 stores worldwide. He sold his business nine years later and decided to focus on fine art.
 
The accolades mounted as collectors around the world sought his work. One of his earliest bronze eagle sculptures was presented to the late President George H. Bush, five of his sculptures are in the World Golf Hall of Fame, and he created the trophy sculpture for the Breeder's Cup at Santa Anita Racetrack.
 
He enjoys the challenge of working with different sculpting materials.
 
"Bronze has the advantage of being repeatable, but I can create large public art pieces with both steel and concrete. Steel is one-of-a-kind, and it's the only medium that will allow me to create delicate patterns, such as a bird's feathers," he said.
 
Throughout the three-day festival, patrons can take in live music and enjoy wine tastings, microbrews, and a variety of festival food. Admission to the Carefree Fine Art & Wine Festival is $3 for adults, and free for children 17 years or younger. Parking is free all weekend. For information, call (480) 837-5637 or visit www.ThunderbirdArtists.com.