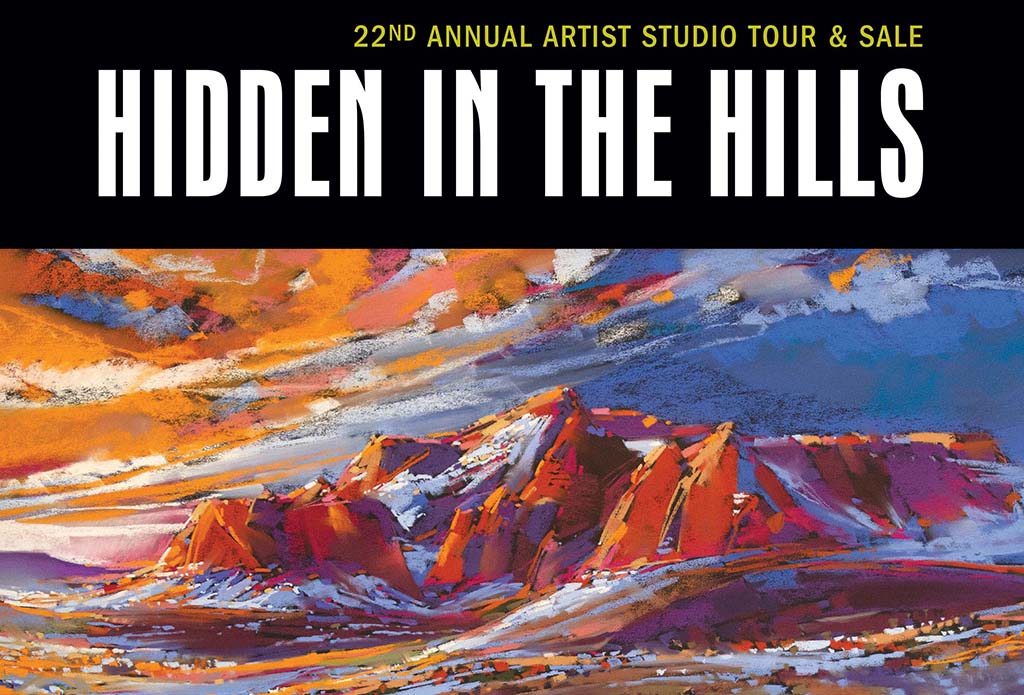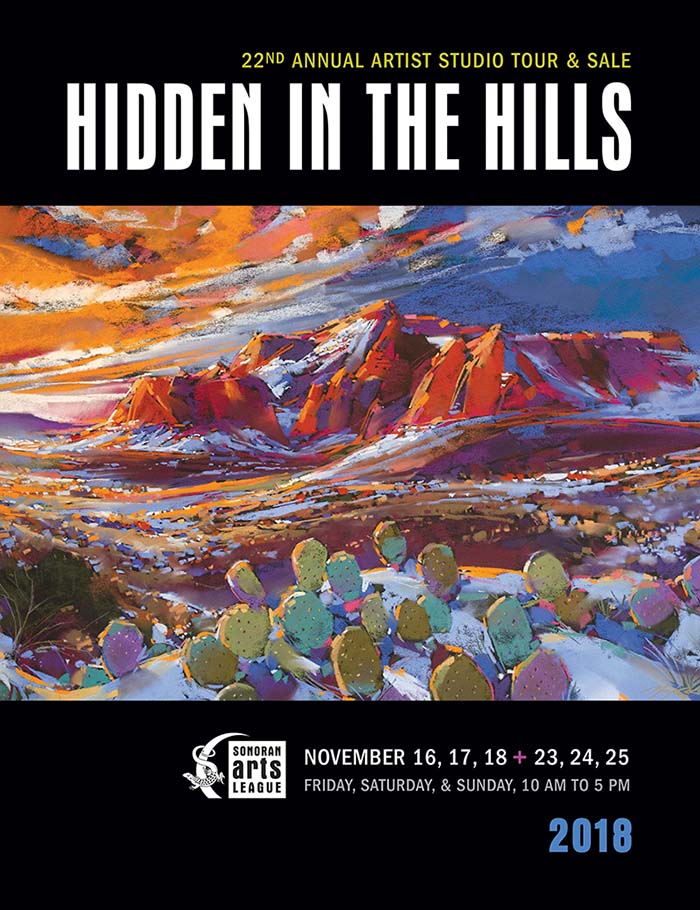 CAVE CREEK – They're nestled in the hills of the north Valley, some off the beaten path, but many of them have received national acclaim for their original works of art. And, lucky for art collectors and those seeking original holiday gifts, 44 of them will open their art studios during the last two weekends of November and invite guest artists to join them during the 22nd Annual Hidden in the Hills Artist Studio Tour and Sale.
A signature event of the non-profit Sonoran Arts League, Hidden in the Hills (HITH) is Arizona's largest and longest-running artist studio tour. This year's event features 174 artists at 44 studio locations throughout the scenic Desert Foothills communities of Cave Creek, Carefree and North Scottsdale.
The free, self-guided studio tour offers art enthusiasts a rare chance to observe artists at work in their private studios, which are open to the public from 10 a.m. to 5 p.m. Friday, Saturday and Sunday, November 16, 17 & 18 and November 23, 24, & 25. Each studio also has one or more guest artists who will demonstrate how they create their art while displaying and selling their work.
Michael McKee is the Directory Cover Artist
A staple of the Hidden in the Hills event has been the four-color, glossy artist directory, which includes a comprehensive listing of participating artists with an image of their art, a large, easy-to-read map of the studios, and visual highlights from participating artists and community art partners.
Earlier this month, participating artists were invited to submit original pieces for consideration of the artist directory cover during a selection process. More than 120 pieces of art were submitted, and the committee chose a striking landscape painting, "Sedona Snow," by pastel artist Michael McKee to be the featured artwork on the directory cover.
A Cleveland, Ohio native, McKee spent many years working as a portrait artist, illustrator, graphic designer, and creative director. A trip to Chimayo, New Mexico in 1997 was life-changing as he was immediately drawn to the range and density of color found in the texture of the high desert landscape. While witnessing a stunning sunset with his wife, Cassandra, he ran his fingers through the earth and realized it felt like soft pastels. Upon his return home, he began experimenting with pastels, creating landscapes and abstract expressionisms with fresh, bold shapes and rich color.
The couple moved from Chicago to Arizona in 2013, where McKee draws much of his inspiration from his desert surroundings and his travels throughout the Southwest.
"There were many strong entries this year, but Michael's painting took our breath away," said HITH marketing chair Carole Perry, a glass artist who has opened her studio to patrons for all 22 years of the tour. "His use of color is both calming and powerful. Whether he's painting a jagged desert hill, a sunset, or an abstract expressionist piece, his work stirs emotions and has a lasting effect on many people."
Art enthusiasts can find details about participating artists, custom-build their own map or download a map at www.HiddenInTheHills.org. In addition, the Sonoran Arts League's Center for the Arts will serve as the information headquarters and Youth Art Studio No. 1 for the popular art tour. Visitors can pick up artist directories, maps and inquire about other tour details prior to and during the tour. Youth artists will also showcase, demonstrate and sell their artwork at the League's Center for the Arts. The League office is located at 7100 E. Cave Creek Road, Suite 144, at Stagecoach Village in Cave Creek. For details, call (480) 575-6624.
About the Sonoran Arts League:
Based in Cave Creek, Carefree and N. Scottsdale, Arizona, the Sonoran Arts League is a 42-year-old non-profit, volunteer-based, arts service organization dedicated to actively advancing art, artists, and art education, affirming the belief that art and artistic awareness is essential to the well-being of life and the community.
The 780 members participate in community outreach programs, public art programs, youth mentoring and art education, as well as free veteran art programs and special art programs. Throughout the year, the League produces several popular events, including the annual Hidden in The Hills Artist Studio Tour and Sale, Sonoran Small Works Art Show, Sonoran Festival of Art Extravaganza, April for the Arts, and the Holiday Artisan Markets. In addition, the League partners with the Foothills Food Bank each year to support the annual Empty Bowls Project.  
By building strong partnerships with area towns, resorts and libraries, the League brings free art to the public. Art in Public Places programs include: The Gallery at el Pedregal and the Boulders Resort, the Desert Foothills Library, as well as the town of Cave Creek and Anthem, Arizona.
A new Center for the Arts at Cave Creek's Stagecoach Village, where the League is headquartered, provides the public with opportunities to create art and learn new skills. The Center also facilitates art events, festivals, exhibitions, shows, group activities and art experiences, and free veteran and youth art classes, providing plenty of opportunities to "Be A Part Of The Arts."