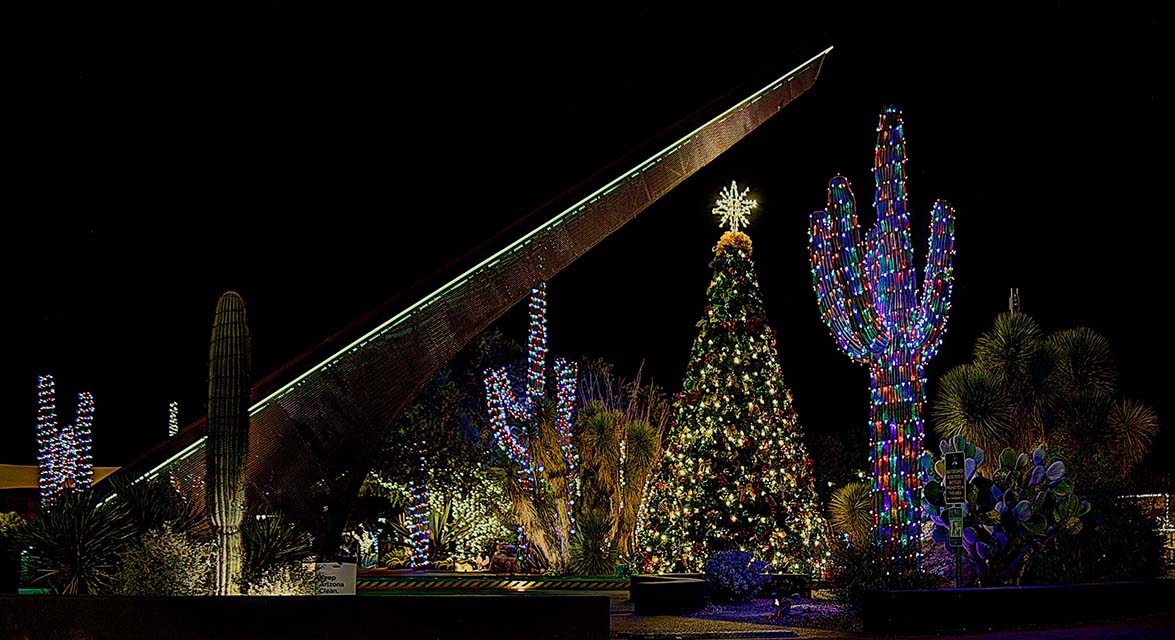 CAREFREE – Christmas in Carefree returns to the Carefree Desert Gardens, with a full weekend of holiday-themed events, as well as special celebrations to welcome in the spirit of the season.
"Every year the "Christmas in Carefree" programs are strengthened through new activities to better meet the desires of our residents," noted Carefree Mayor Les Peterson. "We believe that the program scheduled for this holiday season will be particularly well received and enjoyed by all."
This year's official tree lighting will take place on Friday, Nov. 30, at 6 p.m. at the iconic Carefree Sundial. The giant 25-foot Christmas tree and the Gardens will be illuminated for the first time during this holiday season with thousands of twinkling lights sparking throughout the desert landscape. The ceremony will include performers from local churches and CCUSD student choirs. The tree lighting will be followed by a special screening of the beloved holiday film, The Polar Express, in the Sanderson Lincoln Pavilion. Free hot chocolate and holiday treats will be available, along with snacks for purchase, and a keepsake Carefree Holiday Bell will be gifted to each child/family in attendance.
Congregants from Temple Chai, as well as members of the Jewish Social Group of Cave Creek and Carefree will host a Chanukah Menorah Lighting every evening beginning Sunday, Dec. 2 through Sunday, Dec. 9, from 5–6 p.m. in the Sanderson Lincoln Pavilion. Local families will be invited to light the menorah each evening, with a special ceremony on Sunday, Dec. 9 that will include the Temple Chai Cantor and Choir. Each evening's service is open to attendees of all denominations and faiths.
A full weekend of holiday-themed events begins on Friday, Dec. 7 at 10 a.m., with Christmas in Carefree returning to transform the Carefree Desert Garden into a weekend-long "winter" wonderland, featuring an open-air Holiday Market, live music daily, and a Holiday Happenings area for families, which will include jolly bounce houses, family-themed activities and Santa's Carefree Workshop. On Saturday, Dec. 8, Breakfast with Santa will be held at 9 a.m. in the Sanderson Lincoln Pavilion, the Carefree Community Holiday Parade will kick off around the town at 3 p.m., and a Holiday Fireworks display will launch beginning at 8:30 p.m. The festivities continue through Sunday, Dec. 10, with a Holiday Pet Parade and Blessing, a Christmas Cookie Contest, and more seasonal fun.
For more information about these events, including how to become a sponsor, parade participant or vendor, visit ChristmasinCarefree.com, or call 480-488-3686.