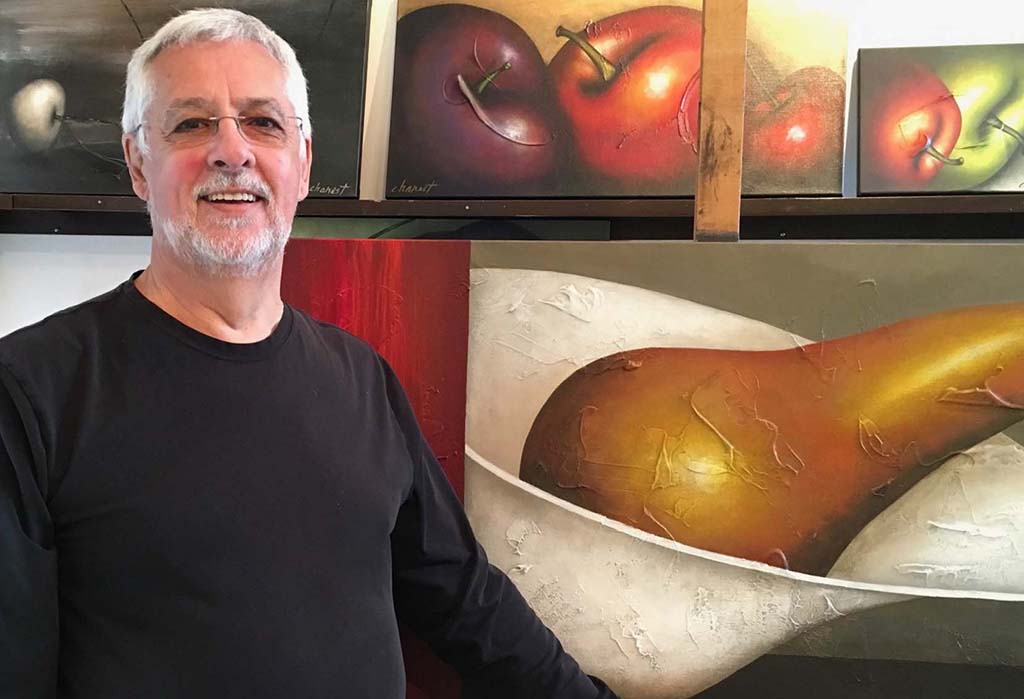 Canadian still life painter, Gilles Charest, is featured artist
CAREFREE – The award-winning Thunderbird Artists kicks off the arts season with its 25th Annual Fall Carefree Fine Art & Wine Festival taking place Friday, Saturday and Sunday, November 2, 3 & 4 along Ho Hum and Easy Streets in downtown Carefree. The popular Carefree show features 150 renowned, juried artists who will showcase and sell their original work from 10 a.m. to 5 p.m. each day.
Canadian still life painter Gilles Charest, the festival's featured artist, is returning for his third Carefree show with Thunderbird Artists.
"Gilles is an accomplished painter and sculptor whose work is pure in composition," said Denise Colter, president of Thunderbird Artists. "He is a self-taught artist whose mastery of color is evident in his sensual, still life fruit paintings."
Born in Montreal, Charest studied education, literature and administration at the University of Montreal and at the Hautes Études Commerciales school. He taught for a few years before co-founding an advertising agency. An art collector and enthusiast, he has been devoting much of his time to painting since 1990.
For Charest, fruits are more than just fruits.
"The pear represents a woman, the apple a man, the cherry youth, the plum the unknown, and the grapes everything related to the group, the team, the family," Charest said. "If you accept to venture into my imagined world, everything becomes possible. My works are not still lifes – they are full of life!"
He is also drawn to fruits because they are a pretext for transmitting an emotion.
"What's most important for a painting is not only what we see, but also what we feel and imagine. I don't paint from models – I am guided by inspiration. If I work from a sketch, I most often quickly distance myself from it. My imagination takes me elsewhere," he said.
His subjects are simple, which is why the pairing of color and light plays an essential role and gives life to his paintings. In his search for unconventional textures, he uses a 'smearing' technique.
"I paint with acrylics and don't mix colors on a palette. It's directly on the canvas that I superimpose color, to create mixtures that are difficult to reproduce from one time to the next. The smearing technique consists of using brushes to blend colors directly on the canvas. Everything is created in the moment," he said.
Charest will exhibit more than 20 still life paintings and one slate sculpture at the Carefree festival. In addition, photos of his bronzes will be on display. Patrons viewing his work may also be interested to know that the titles of his paintings are not arbitrary.
"They give flavor, dimensions and a story to the painting. A big apple becomes "Man of my life" and a pear and cherry become "Mother's love." I like painting with ambiguities," he said.
Throughout the three-day festival, patrons can take in live music and enjoy wine tastings, microbrews, and a variety of festival food. Admission to the Carefree Fine Art & Wine Festival is $3 for adults, and free for children 17 years or younger. Parking is free all weekend. For more information, call (480) 837-5637 or visit www.ThunderbirdArtists.com.