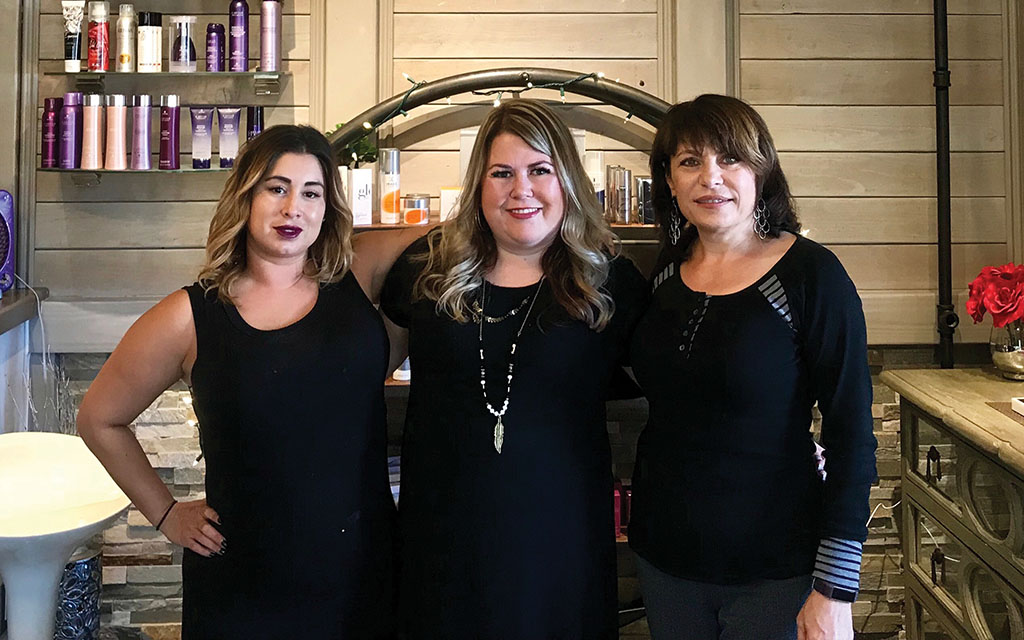 CAREFREE – It's okay to look scary for Halloween, but any other time of the year, you want to visit L Skincare, a complete skincare boutique, for your best you. Lindsay Jackson Pennino, the "L" in L Skincare, and team have made it their mission to be a one-stop shop in beauty. From massage (60 and 90 min options), manicures, pedicures, facials, to microdermabrasion, peels, hair removal, laser treatments, spray tans, even B12 shots, Jackson Pennino is always looking for ways to save L Skincare clients cash!
"Right now," she said, "we have outstanding specials starting at $35 for a shampoo and blowdry." Pictured are the talented and professional stylists (L-R) Carrie Stanovich, Kim Randall, Tatiana Makarova (and Sarah Merseal, who is not in the photo) who are ready to make your locks luxurious!
If you're happy with your hair, get in on the limited-time facial specials: Purchase one microneedling facial, receive the second half off. Or, purchase one chemical peel, receive the second one half off. Currently, clients can also get a free B12 shot with any facial purchase.
Jackson Pennino knows both men and women want smooth skin – free of lines and wrinkles, so she's offering injectable specials as well. Purchase any two syringes of Galderma filler and receive the third for half price.
Magic happens at L Skincare, and if you haven't tried a treatment (or two), you need to! Lindsay and her whole team genuinely care for and love all their clients. So make the call, (480) 488-1441, set an appointment at 7208 E. Ho Rd, and make the end of the year all about you! Visit http://l-skincare.com for greater details.