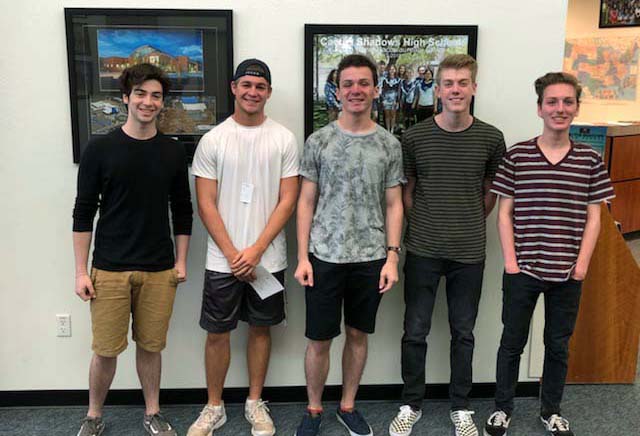 James Swetter, Interim Principal of Cactus Shadows High School, announced today that Benjamin Gerst, Jared Modic, Gabriel Ozaki, Luke Rodriguez and Noah Steward have been named Commended Students in the 2019 National Merit Scholarship Program.  A Letter of commendation from CSHS and National Merit Scholarship Corporation (NMSC), which conducts the program, was presented by the principal to these scholastically talented seniors.
"I am very proud to announce that Cactus Shadows has a National Merit Scholar semi-finalist and five students receiving a Letter of Commendation.  I am so proud of these students!  Through their hard work they were able to accomplish such a prestigious honor. It is well deserved!", said Mr. Swetter.
About 34,000 Commended Students throughout the nation are being recognized for their exceptional academic promise.  Although they will not continue in the 2019 competition for National Merit Scholarship awards, Commended Students placed among the top 50,000 scorers of more than 1.6 million students who entered the 2019 competition by taking the 2017 Preliminary SAT/National Merit Scholarship Qualifying Test (PSAT/NMSQT®).
"The young men and women being named Commended Students have demonstrated outstanding potential for academic success, "commented a spokesperson for NMSC.    "These students represent a valuable national resource; recognizing their accomplishments, as well as the key role their schools play in their academic development is vital to the advancement of educational excellence in our nation."
Superintendent Burdick added, "Our students continue to perform at the highest levels—a credit to their dedication to academic excellence, guidance and instruction from their teachers along the way and support from their families who emphasize the importance of education.  Congratulations to these talented students. "
Cactus Shadows High School is an A+ School of Excellence and a World Class High School for the 21st Century.  For more information, contact Mr. Jim Swetter, Interim Principal, at jswetter@ccusd93.org or visit our website www.ccusd93.org .