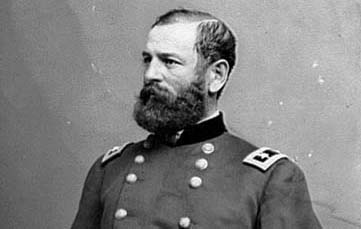 Scottsdale Civil War Roundtable proudly presents "The Court Martial of Fitz John Porter" by Matthew Borowick on Tuesday, Oct. 16, at the Scottsdale Civic Center Library.  Doors open at 4:30, the program begins at 5:45 pm. The organization invites you to attend as their guest.  Everyone is welcome.
The program will feature a discussion of the defeat of the Union forces in the Second Battle at Manassas in the summer of 1862, and the finger-pointing and questions about who was responsible for the defeat. The criticism and blame fell upon Major General Fitz John Porter, a rising star in the Union Army. Porter was court-martialed but spent the next 24 years of his life trying to clear his name.
Presenter Matthew Borowick is a volunteer at Manassas National Battlefield Park, a regular columnist for the Civil War News, and the author of The Civil War Round Table Handbook. He is  Interim Vice President for Advancement at Seton Hall University, and has served as Executive Director of the Civil War Library and Research Center. 
Scottsdale Civil War Roundtable meets the third Tuesday of every month (except June-July-August) in the Scottsdale Civic Center Library auditorium, 3839 N. Drinkwater Blvd.  Speakers include well known Civil War experts from around the country. The lecture series is supported by Individual and Family Memberships.  The membership also supports Civil War Battlefield preservation through the Civil War Trust.
For more information: 480/699-5844 or www.scottsdalecwrt.org