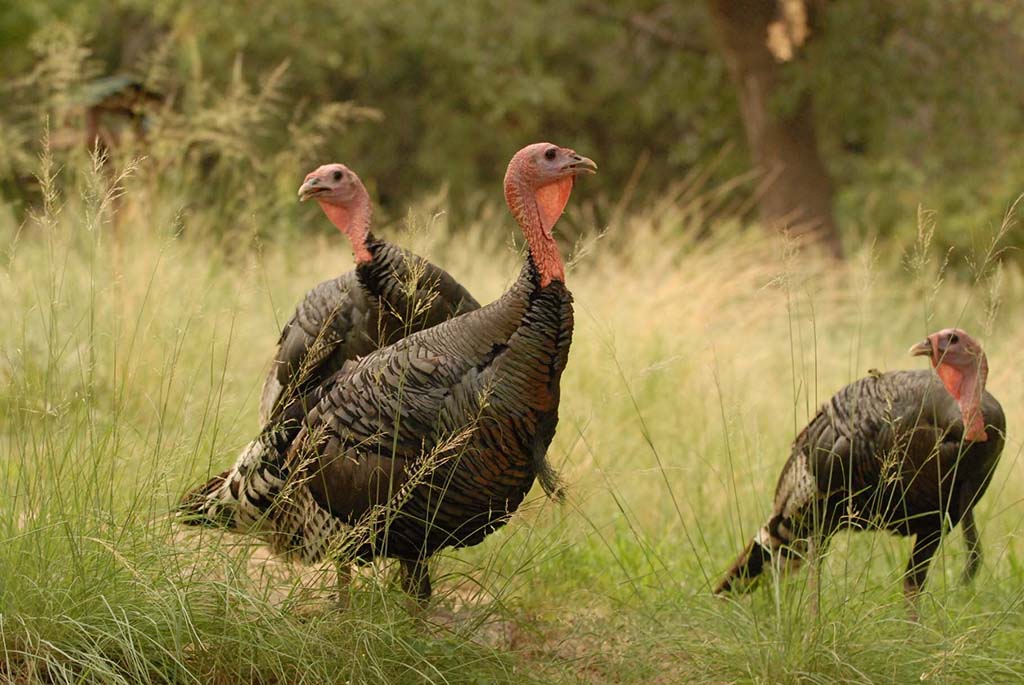 PHOENIX – The Arizona Game and Fish Department (AZGFD) is accepting online applications for 2019 hunt permit-tags issued through the draw process for spring turkey, javelina, bison and bear.
To apply online, visit https://draw.azgfd.com/, follow the instructions, and then select the "Enter the Draw" button. AZGFD must receive all online applications no later than 11:59 p.m. (Arizona time) Tuesday, Oct. 9, 2018.
The online form has a new look and improved functionality. Applicants should be aware of the following changes:
1. The hunt party is established at the beginning of the application process, not at the end.
2. If a person does not qualify for a youth hunt, those hunts that have been designated as "youth only" will not show in drop-down hunt selection fields.
3. If an individual selects that he/she is military and opts to put in for actual hunts, the main drop-down selection fields and those for military hunt selection will be provided on the same screen. The customer can only select five hunt numbers.
Here are some tips for using the new online application system:
1. Applicants must possess a valid Arizona hunting license or hunt/fish combo license to apply online for a hunt permit-tag, so make sure you and your hunt party members have current licenses (they must be valid on the last day of the application period – Oct. 9, 2018). If you don't have your license and want to apply for the draw, it is highly recommended that you purchase your license before applying. Short-term licenses are not valid to apply for the draw.
2. Know your license number and Sportsman I.D. (as well as the license numbers, Sportsman I.D.s, birthdays and other relevant draw information of your hunt party) prior to starting your draw application. If you need to find your Sportsman I.D., log into your AZGFD Account Dashboard. If you have never done business with the Department before, call (602) 942-3000 between 8 a.m. and 5 p.m. (MST) Monday through Friday, and press option 7 to have a Sportsman I.D. generated for you.
The "2019 Spring Turkey, Javelina, Bison and Bear Hunt Draw Information" booklet is available online at www.azgfd.gov/draw. Printed booklets also are available at department offices and license dealers statewide.
This year, consider buying a combo hunt/fish license and get the best of both worlds — hunting and fishing! It's only $20 more (for state residents) than the price of an individual hunting or fishing license. And remember, youth hunt/fish combo licenses (ages 10-17) are only $5! Visit https://www.azgfd.com/bestofbothworlds/.
Meanwhile, the department encourages applicants to consider purchasing PointGuard when applying online for a hunt permit-tag. PointGuard ensures if a successful applicant is unable to participate in a hunt for any reason, the accumulated bonus points that were expended to draw that hunt permit-tag will be reinstated.
Applicants first must sign up for a free AZGFD portal account to purchase PointGuard (visit www.azgfd.gov, click on the "My Account" button in the upper right-hand corner of the home page, then select the "Create Account" option). PointGuard is $5 per species, per applicant, purchased at the time of completing the online application, or prior to the application period deadline.
For more information on the hunt draw, visit www.azgfd.gov/draw, or call (602) 942-3000. For more information about PointGuard, visit https://www.azgfd.com/hunting/pointguard.