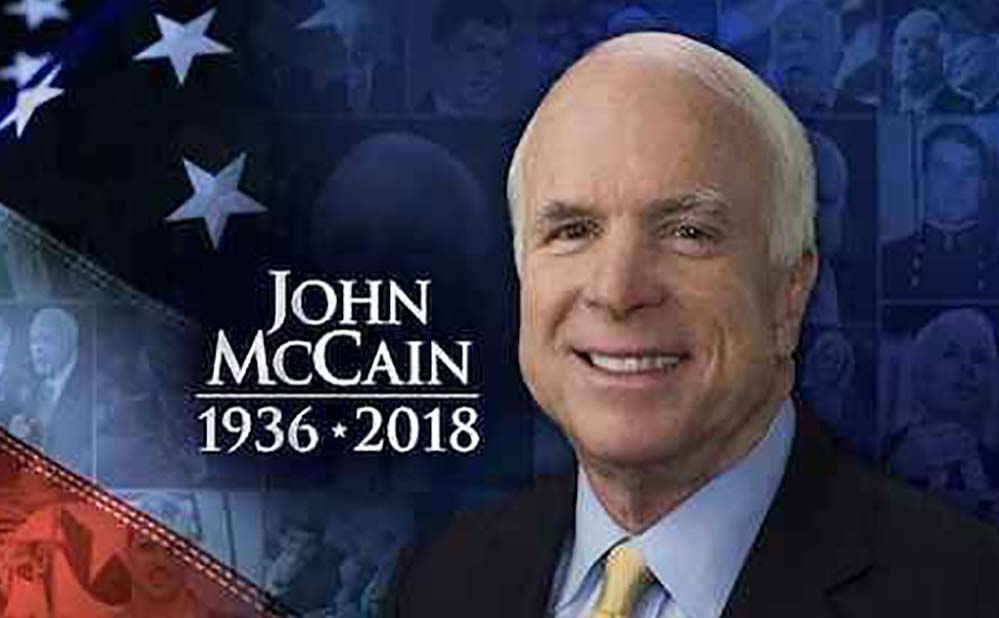 On Saturday, six-term Arizona senator and decorated Vietnam War veteran Senator John McCain passed away from an aggressive form of brain cancer. He died at his ranch near Sedona, Arizona, at age 81.
Arizona Governor Doug Ducey released information Sunday morning that the late Sen. John McCain will lie in state at the Arizona Capitol on Wednesday, Aug. 29, which would have been McCain's 82nd birthday.
"This is a rare and distinct occurrence for a truly special man. John McCain is Arizona, and we will honor his life every way we can," Ducey said.  "McCain is Arizona and the state will honor the six-term senator in every way possible.
Arizona's primary election is Tuesday, the day before McCain will lie in state at the Arizona Capitol. McCain is only the third person to be given that honor.
A private ceremony will be held with state officials at 10 a.m. After that ceremony, the public is welcome to attend and pay their respects in the Arizona State Capitol Rotunda from 2 p.m. until 8 p.m.
Afterwards a motorcade will head from the Capitol to North Phoenix Baptist Church where a public service will be held on Thursday, Aug. 30. Doors will open at 8:15 a.m. and all attendees need to be in their seats no later than 9:30 a.m.
Those not able to attend can watch the livestream of the Arizona State Capitol viewing or the funeral service will be available view both on JohnMcCain.com.
Speakers will include his kids, Bridget McCain, Andy McCain, Joe Biden, Grant Woods, Tommy Espinoza and Larry Fitzgerald.
On Friday, Aug. 31, the late Republican senator will then lie in state in the U.S. Capitol rotunda. Followed by a national memorial service celebrating the life of Sen. McCain in Washington D.C. on Saturday, Sept. 1.
On Sunday, Sept. 2,  a private memorial service will take place at the U.S. Naval Academy Chapel in Annapolis, Maryland.
Former Presidents George W. Bush and Barack Obama are both expected to speak at McCain's service in Washington before he is buried at the U.S. Naval Academy in Annapolis, Maryland.
An American Hero
PHOENIX — Governor Ducey today released the following statement on the passing of Senator John S. McCain:

"John McCain is one American who will never be forgotten.

He was a giant. An icon. An American hero. But here at home, we were most proud to call him a fellow Arizonan. Like so many of us, he was not born here, but his spirit, service and fierce independence shaped the state with which he became synonymous.

Angela and I join all Arizonans in praying for Cindy and the entire McCain family during this difficult time and offering our full support.

As we mourn his passing and celebrate his truly phenomenal life, we're also faced with the void John McCain's absence leaves in the heart and soul of our nation.

John McCain fought for America every day — from the Navy through Vietnam to the U.S. Senate. He fought for what he thought was right, even when it wasn't popular. His dogged patriotism and passion for country made him an inspiration, and a model, for all of us.

John McCain was about more than politics. He brought us above partisanship and challenged us to be great.

He once told us, 'We're Americans, and we never give up. We never quit. We never hide from history. We make history.'

May his life and legacy continue to inspire us to build a future for this country, and a history for this country, that would make John McCain proud."