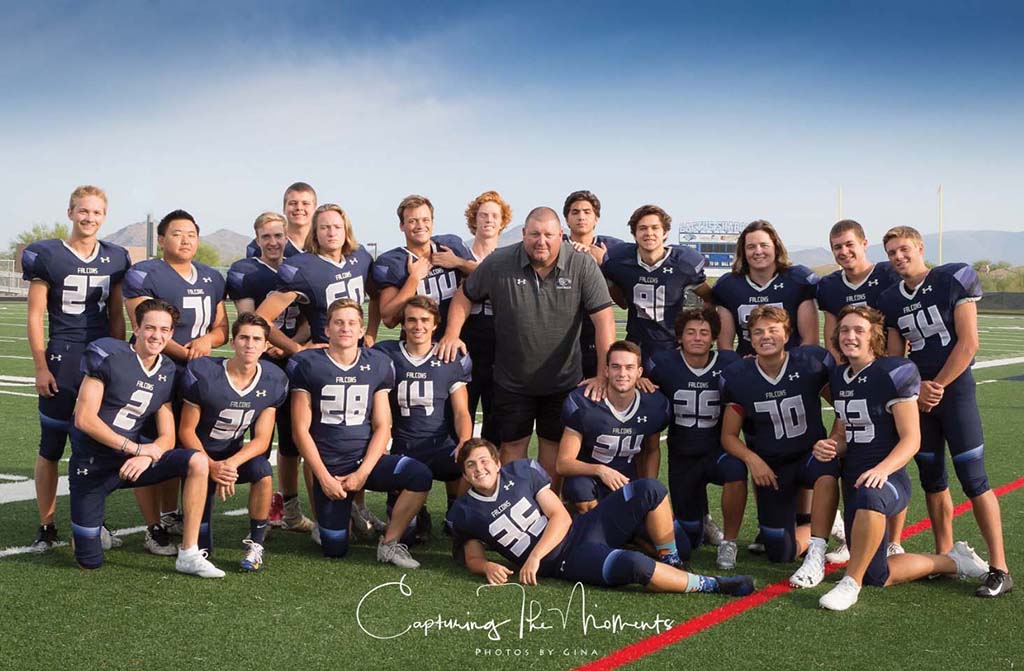 (Editor's note: commentary, photos and results will be added as the seasons unfold and are submitted.)
Monday, Aug. 6, was the beginning of the fall sports season for the Cactus Shadows Falcons and all preseason sports camps have concluded. Tryouts have also concluded, bringing the CSHS Falcons teams into high gear to prepare for this upcoming season.
Football
Head Coach: Mike Hudnutt
Cross Country
Head Coach: Jessie Nelson
A majority of the team has been training through June and July to build a foundation for the competitive season. This season looks promising with a good blend of experienced, talented returners and new team additions with a lot of potential. I expect to have approximately 35-40 athletes (boys and girls combined) this season.
Our season kicks off with two (2) fundraisers and team events. Saturday, August 18 we will host the Falcon XC Intra-Squad 5K. Family members, friends, alumni and community members are welcome and encouraged to come participate. We race on the 5000M home Cross Country course, a combination of road and desert trails. The run starts and finishes at the CSHS Stadium (park at the Fine Arts Center), entries are $20 cash or check and 100% of the money goes directly to the team. Race time is 6:30am.
The following week the Falcons will participate in the Falcon Challenge, exclusive to current team members. All team members are supposed to get pledges to support their efforts as they complete the loop around Black Mountain. Many team members start from the school, loop around the Mountain and finish at Cactus Shadows – just shy of 11 miles. There are also drop off points at 9 miles, 7 miles, and 5 miles. For most runners this event pushes them to run further than they've ever run. The post-run enthusiasm is contagious and a fun way to lead into the first official race.
Our competitive season starts with a Dual meet vs. Horizon High school 9/1 followed by the Fountain Hills Invitational on 9/8.
Volleyball
Head Coach: Zach Davis
Cactus Shadows volleyball has finished undefeated in their regular season schedule for two years in a row, winning their Region, but just shy of a state tournament final berth each year. The program's dedication to growth, culture, and leadership are all contributing factors to past successes and will again help the Falcons through another competitive season. Although graduating five seniors, the volleyball program continues to find depth from all grades. The Cave Creek area is a hot spot of talented athletes where most of these young ladies play club volleyball year round, many on USA Volleyball nationally qualifying teams. Bringing together such incredible talent into a high school program creates a unique competitive environment where players thrive in all aspects of the game.
Although competing in the tougher 5A conference this year, Falcon Volleyball is setting its goals high again. With several returning leaders to its program, Cactus Shadows will quickly develop the rhythm and teamwork necessary to qualify and steadily compete in regular season matches and the state tournament this year. Falcon Volleyball's first home match is Tuesday, September 4th, and the team hopes everyone can come out to watch in Cactus Shadows main gym. For more information on schedules and rosters, you can visit www.cshsvolleyball.com.
Boys Golf
Head Coach: Steve Gurule
Girls Golf
Head Coach: Mark O'Bryan
The Lady Falcons have won 6 overall state championships in their history including the last two. This year we are going for three in a row. The 6 titles are second most for girls in Arizona, and this year's team is strong as well. Top players are Senior Izzy Cantwell, Junior Emily Shimkus, Sophomores Kylee Loewe, Shanna Schuckman, Madison O'Sullivan, and Heather Barkley. We have 13 girls on the team who work hard and we will do our best to repeat as state champions.
Swim & Dive
Head Coach: Eric Niebch
Cheer (All Year)
Head Coach: Britt Dodd
Pom (All Year)
Head Coach: Cindy Knuteson
The Falcons Athletic Club is hosting its 2nd Annual Falcon Casino Night & Auction on September 15th, 2018 at Harold's Cave Creek Corral to raise funds for the athletic programs at Cactus Shadows High School. The event will be held from 6pm-11pm.