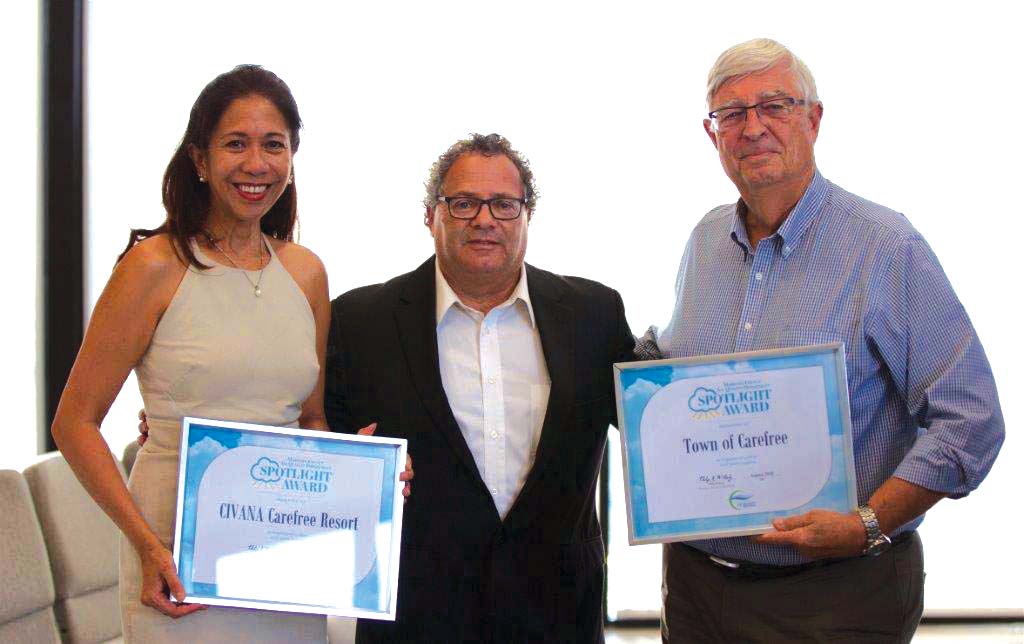 Carefree Town Council Meeting Summary
Tuesday, August 7, 2018

Consent Agenda
The Town Council approved items on the Consent Agenda, including:
– A liquor license for a new restaurant opening at the site of the previous Carefree Bistro restaurant, located at the intersection of Cave Creek Road and Hum Road
– A "Tour de Scottsdale" bicycle special event on October 7th, with the cyclists route consisting of Tom Darlington, Cave Creek Road and Pima Road
Spotlight Award
The Maricopa County Air Quality Department (MCAQD) gave the special "Spotlight Award" to the Town of Carefree and CIVANA Carefree for the July 4th LED-lit Drone Show. The drones, which were illuminated and synchronized to form various 3-dimensional shapes, hovered around 300 feet in the air and proved to be a smart alternative to the smoke, noise pollution and fire danger of typical fireworks.
The Town of Carefree is pleased to have partnered with the CIVANA Carefree Resort to bring an innovative, exciting and environmentally sensitive event to Carefree's residents. The one-of-a kind LED-lit Drone show is the next generation of fireworks displays, and generated positive media support for CIVANA Carefree, the Town of Carefree and the State of Arizona with 440 media stations reaching over 30 million people throughout the United States and Europe. An estimated 4,000 to 5,000 people attended the event, which was planned and executed in 4 days.
The Spotlight Award presentation was made by Mr. Bob Huhn, Communications Director of the MCAQD. He said that the show was not only environmentally friendly since it eliminated all of the smoke and debris that are caused by fireworks, but also  appreciated by pet owners as well as veterans with battlefield experience suffering from PTSD. Mayor Les Peterson and Ms. Rianna Riego, Chief Branding Officer from CIVANA, accepted the award. Both are looking forward to an expanded version of this innovative event in the future.
Storm Water Ordinance
Stacey Bridge-Denzak, Carefree's Town Planner, made a presentation to the Council on Ordinance #2018-02. This is an Amendment to an existing Town Code which will address potential illicit discharges into the Town's storm water drainage system and is required by State and Federal statutes. This was the first reading of the Amendment, and it will be heard again at the September 4th Town Council meeting, with possible action by the Council at that time.
Enchanted Pumpkin Garden
Council member Cheryl Kroyer presented a summary of the 2018 event which will run from October 19th through October 28th. In addition to what the Town has offered in past years, the event will have an expanded kid zone, a petting zoo or pony rides, a haunted house and concerts.
The footprint for the event has been changed to include Ho Hum Road from the Pavilion to Spanish Village, which should facilitate greater access to retailers along Easy Street.
In addition, Council member Kroyer also announced a new signage and loyalty program for the downtown Carefree area themed "Keep it Carefree." Future Gateway signage, banners, window identification for retailers and communications will all feature this theme, designed to provide greater identification for retailers and to encourage all Carefree residents to shop and dine local.
The Council approved a liquor license and street closures for the event.
Leadership Foothills Program
Carefree resident Phil Corso made a presentation about the formation of a new organization, Desert Foothills Leadership, that would provide an opportunity for people to gain knowledge and contacts advantageous to becoming the future leaders in the Foothills. Council member Michael Krahe, PhD. will become the Board Chairman for this fledgling program, and will be actively seeking to pull together all of the elements necessary to make this program operational.
Veteran's Memorial
Council member Mike Farrar presented his thoughts on a Memorial to be constructed in the Desert Gardens. All members of the Town Council were in favor a Veterans Memorial, but Vice Mayor John Crane summarized the thinking of a majority of them when he stated that he thought that, to be the most meaningful to the people for whom it was intended, such a Memorial should be developed and brought forth from the community – and particular from veterans and the families of deceased veterans – rather than being developed primarily by Council members.
It was agreed that a group would be formed to take on the task of investigating all aspects of developing and constructing a Veterans Memorial within Carefree. Any Veteran who would like to participate in this project should submit their name to the Town Offices. You may do so by calling 480-488-3686, or by emailing Kandace@Carefree.org.
– Source: COINS on www.carefree.org.